Arsenal's jubilant players spared a few seconds each — in the immediate aftermath of Saturday's FA Cup final triumph — to slip on shirts numbered as a nod to the club's historic and continuing dominance of the competition, but it might as well have been to one man's excellence.
Pierre-Emerick Aubameyang already had those commemorative digits — 14 — plastered at the back of his shirt all game, delivering a performance that elevated Arsenal from a goal down to beat rivals Chelsea in the first of two all-London finals at Wembley in four days. Both of Aubameyang's goals came directly at the expense of Chelsea's mess of a backline, heightening manager Frank Lampard's need to shop for defensive reinforcement.
The former Chelsea boss' head, at the end of this Heads Up FA Cup final, was bowed by the crushing weight of two hamstring injuries, a dislocated shoulder, and a harsh sending-off. It's hard to imagine a final going much worse, but Lampard's young side could have had more of a fighting chance had Cesar Azpilicueta not been so clumsy as Aubameyang surged into the box in the first half, and Kurt Zouma not been so easily fooled by the Gabon star in the second.
Or maybe it wasn't so much the fault of the two defenders as it was Aubameyang's brilliance, blinding on days like these. Actually, he has been like this all season. At times, it has felt as though Aubameyang doesn't even belong in an Arsenal kit, given how much standards have dropped around him. His rich scoring form couldn't save the Gunners from their lowest league finish in 25 years but, at least in the FA Cup, it meant something.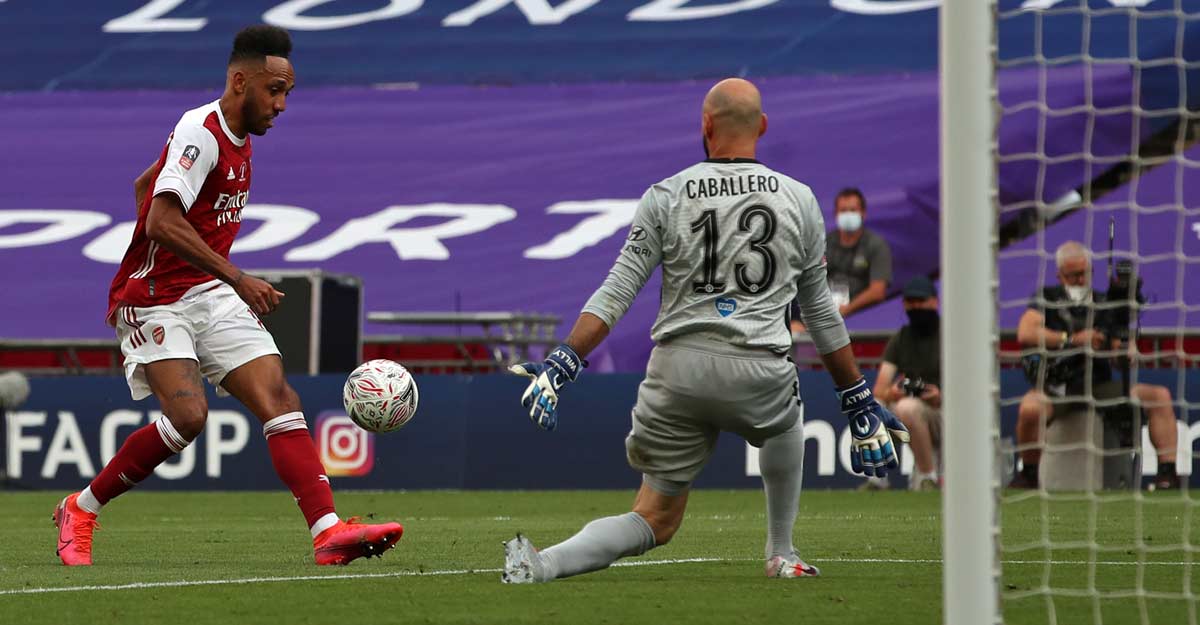 Aubameyang only got four goals — just enough to carry Arsenal through the semi-finals to glory, and against some of the league's finest sides. Arsenal do have their prints all over the FA Cup — their distinction as record winners, 14 times in all, duly reflected on their celebratory shirts — but this date at Wembley, like the last (with Manchester City), was undoubtedly Aubameyang's, and he didn't get much wrong until the very end.
In lifting the FA Cup trophy — heavy with silver and with history — off its perch, Aubameyang stuttered. He managed to pick it up – erroneously lifting the base along with it, clearly misunderstanding a helpful tip from a masked and gloved official standing nearby — and stumbled toward his waiting teammates.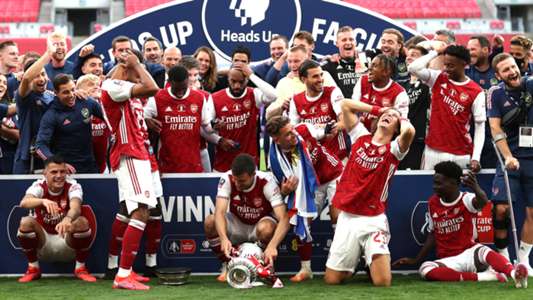 There, the trophy, well… fell.
Perhaps, it was the sheer nervousness he felt in that moment, or maybe the novelty of being the first captain in memory to lift the trophy with his feet planted on concrete grass. He did get it right, eventually, and hoisted the first tangible proof that Mikel Arteta's Arsenal project might hold some promise. Aubameyang could be the cornerstone on which that project is built, and while there might be some irony — certainly no shame, though — in the fact that Arsenal's future hinges on a 31-year-old, it looks just fine for now.
Aubameyang would himself savour the present. He has just become the first African to lead, as captain, an English club to major silverware. In the league, too, he finished as the top-scoring African. Last season, he secured one of three Golden Boots handed out, the others going to Merseyside-based compatriots Sadio Mane and Mohamed Salah; this term, with the same number of goals (22), he came a solitary strike short of the prize, but well clear of Mane and Salah.
True, Aubameyang hasn't had the sort of season that the aforementioned Liverpool forwards enjoyed — you know, winning the Premier League in record time and all — but he will feature as heavily in any conversation about who wins the next African Footballer of the Year gong. The most pressing conversation to be had, of course, is with Arteta and Arsenal about how much longer his stay in North London lasts.
First, though, the party.
NY Frimpong — Daily Mail GH