Ghana's vice-president, Dr Mahamudu Bawumia, turns 56 today. For someone who has been active on the political scene only a dozen years or so, Bawumia already has quite a body of so-good-you'd-like-to-hear-them-again quotes to his name. On this special day of his, Daily Mail GH throws back to some of the more memorable:
1. "You and I were not there."
The 2008 and 2012 presidential polls had come and gone, but Ghanaians were still warming to the banker-turned-politician, and the 2013 Election Petition saw Bawumia's stock rise greatly. And of all the claims he made so eloquently in Ghana's Supreme Court at the time, the line quoted above — uttered repeatedly in response to questions posed during cross-examination – has lingered longest in the memory.
2. "Corruption has been transformed under President Mahama, with headline cases such as Woyome, GYEEDA, Smartty's scandals, among others. Today corruption is running like a Ford Expedition coming from Burkina Faso."
Bawumia's sense of humour has always been remarkable, and in this jab at then President John Mahama (not the last, you'll see) over his regime's many corruption scandals, he was in full comic mode.
3. "I hear the incompetent one says he wants to come back. He wants to come and do more damage. As if he didn't do enough damage? Well, we are waiting for him. You have to remember what happened when we came to office. After many years of incompetent economic management, you cannot describe it any other than incompetent economic management."
There was a time when 'incompetent' trended in the Ghanaian media space, and the aforementioned use of the word by Bawumia — now in power — had a lot to do with it, courtesy another 'shade' sent Mr. Mahama's way. The term has since been applied by some detractors to Bawumia himself, and it is now firmly embedded in Ghana's political lexicon.
4. "I will single out for special mention one of the graduands today, Johnson Asiedu Nketiah. He is known as the general of mosquitoes and also the General Secretary of the NDC, even though I am told that as he came into this institution, he left all his "ntoatoa" behind the gate. As I shook his hand, I was wondering whether the physical training and exercises has added any more muscle to him but it appears as if it did not work. I am told that he did not come here to beef up the physical muscles but he came here to beef up the intellectual capacity of the NDC and also to enhance his case for being selected as running mate."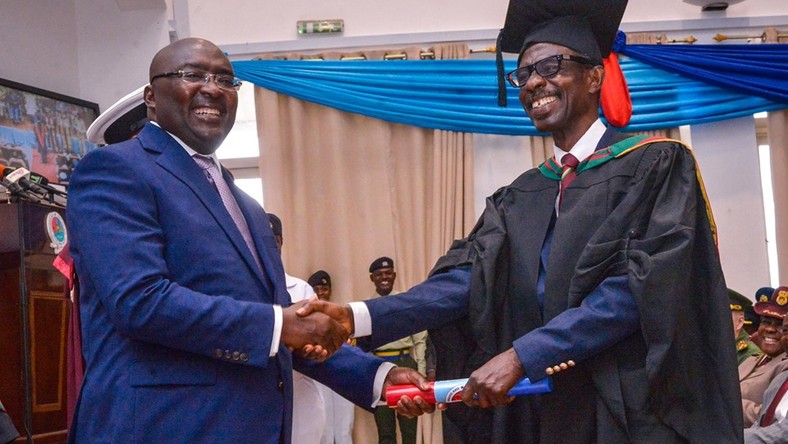 Now, if we hadn't known better — that Bawumia is actually "best of friends" with his subject on this occasion (2019's graduation ceremony at the Kofi Annan Peacekeeping Training Centre), as Nketiah himself claims — we'd have taken this statement rather seriously. Or would we?
5. "The data on the annual rate of depreciation of the cedi in recent years show that the worst performance of the cedi so far under the NPP government, the 8.4 per cent depreciation that we saw since 2018, that worst performance is better than the best performance under the previous government between 2012 and 2016. So our worst is better than your best. Then they say boot for boot; it is more like boot-for-chale wote."
Asiedu Nketiah may be more of a pal, but Mahama will always be Bawumia's favorite sparring partner. Here is Ghana's current Veep again, in April this year, playing on Mahama's "boot-for-boot" remark in defending his government's economic record. And, oh, just last week, when justifying the fresh hike in electricity tariffs, Bawumia borrowed the old line from the archives.
6. "When we came in, it [cedi] was running, essentially we have arrested it [cedi], and the IGP has the keys, he's locked it up, we want to make sure we pursue sound policies to keep the cedi stable, it has appreciated for this year."
Bawumia being, well, Bawumia. Since then, the cedi has broken jail and gone on rampage again, with even a change of IGPs failing to rein it in.
Source: Daily Mail GH