Watching the Black Stars play, it's always helpful to keep a glass of water or some beverage by your side — chilled, stuffed with ice cubes, and then some.
Why?
Well, because there is always going to be a moment or two when the Stars take your heart on a ride over hills and valleys. On a sweltering Tuesday night in Ismailia, against Benin — of all opponents, yes — there were far too many of such nervous moments.
Ghana were stung early by Mickael Pote's opener — a good thing, in hindsight, given how strongly the team responded: two well-taken finishes by Andre and Jordan, sons of Ghana legend Abedi Ayew, had the Stars 2-1 up before recess. For either man, it was the 15th goal of an undervalued international career. But Andre's doubles as a more special milestone, achieved on the same grounds where he scored twice as a teen while skippering Ghana to Fifa U-20 World Cup glory a decade ago.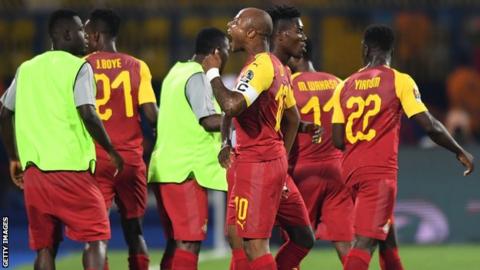 The strike, via a slight deflection that beat Beninois goalkeeper Fabien Farnolle at the nearer post, took the older Ayew's Afcon goal tally to nine — an all-time peak for any Ghanaian at the showpiece.
Until Gyan scores again, you say? 🤷‍♂️
Speaking of Gyan, the good old warhorse shared the bench with handicapped technical staff and worried teammates when, not long into the second half, centre-back John Boye picked up a second booking — the most insane of his life, surely — for ill-advised time-wasting antics, just when it looked like Ghana could have a crack at a game-winning third goal. For all he has accomplished in national colors, Boye has quite a rap sheet: first the dollar-kissing episode at Brazil 2014, then the own goal that followed against Portugal… and now this.🤦‍♂️
On the touchline, Gyan ranted and raved. Appiah, looking calmer but hardly comfortable with having a man less to work with, made a change — the second he had been forced into, following the earlier withdrawal of injured Thomas Agyepong. Off came Agyepong's replacement, the lively Samuel Owusu, whose Afcon debut lasted all of 23 minutes. Christian Atsu, having a stinker, could easily have been the sacrificial lamb, but conservative Appiah chose to stick with the 'devil' he knew. 😈
Ghana lost the initiative, Benin picked it up, and it was just a matter of time before the numerical advantage paid off. A deft flick by Pote — starting only because Stephane Sessegnon missed the game, mind — beat Richard Ofori moments after the Maritzburg United goalkeeper had punched clear a goal-bound freekick, ensuring the burly forward now stands tall as Egypt 2019's first two-goal man.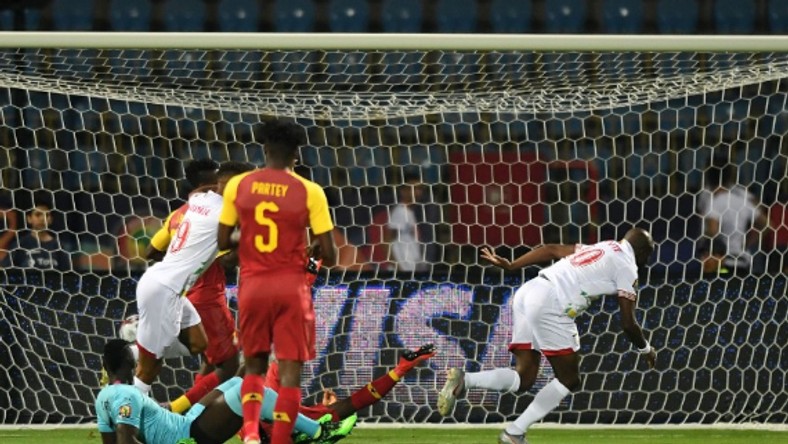 Ghana were on the ropes, and Benin — smelling blood — pummeled. But this was no Ali 'rope-a-dope' masterclass. There was no grand fightback from the four-time African champions, mainly because Appiah chose not to put up one; Afriyie Acquah's late introduction suggested Ghana were content to cling to a point rather than chase three.
In the very stadium where Ghana lost to Zimbabwe at the end of a nightmarish Egypt 2006 campaign, the Stars endured a scary start to Egypt 2019, barely escaping the ignominy of becoming the first in Afcon history to fall to lowly Benin. Between the Ghana team and the shirt a muted Thomas Partey started the game with, I'm not sure which left the pitch in a worse state. 🤔
Of course, we have seen all of this before, haven't we?
Ghana rarely ever commences tournaments in style, they say; this, after all, was the Stars' fourth Afcon opening-day draw since the turn of the century, and the seventh time in said period that they had failed to start off on a winning note.
From here, though, it only gets harder. Cameroon on June 29 won't be easy, and while there is still plenty of room for Ghana to wriggle its way out of Group F into the knockout rounds, Appiah has work to do in shuffling personnel and tweaking tactics. A merely improved performance will not be enough; only a win would brighten the prospects and calm the nerves of worried observers. Right now, Ghana tread the line between blip and blow, but Appiah refuses to "lose hope in [his] team" at this early stage.
"Wait for us in the next game," he promised at his post-match presser.
Oh, we will, Kwesi — only with our iced drinks well within reach, cubes and all. 🥃
Sammie Frimpong — Daily Mail GH