Prime Minister Boris Johnson has announced a second national lockdown for England to prevent a "medical and moral disaster" for the NHS.
He said Christmas may be "very different" but he hoped taking action now would mean families can gather.
Non-essential shops and hospitality will have to close for four weeks on Thursday, he said.
But unlike the restrictions in spring, schools, colleges and universities can stay open.
After 2 December, the restrictions would be eased and regions would go back to the tiered system, he said.
Mr Johnson said: "Christmas is going to be different this year, perhaps very different, but it's my sincere hope and belief that by taking tough action now we can allow families across the country to be together."
The prime minister told a Downing Street news conference that he was "truly, truly sorry" for the impact on businesses, but said the furlough system paying 80% of employee wages will be extended through November.
He said hospitals even in the south-west of England, where cases are among the lowest, will run out of capacity in weeks.
"Doctors and nurses would be forced to choose which patients to treat, who would get oxygen and who wouldn't, who would live and who would die," Mr Johnson said.
Takeaways will be allowed to stay open as pubs, bars and restaurants close and people are being told they can only meet one person from outside their household outdoors.
Mr Johnson, who chaired a cabinet meeting on Saturday afternoon, will make a statement to Parliament on Monday.
The UK recorded another 21,915 confirmed coronavirus cases on Saturday, bringing the total since the pandemic began to 1,011,660.
Another 326 people were reported to have died within 28 days of a positive test.
The UK is the ninth country to reach the milestone of a million cases – after the US, India, Brazil, Russia, France, Spain, Argentina and Colombia.
But the true number of infections is expected to be higher due to a lack of widespread testing at the start of the pandemic.
Prof Neil Ferguson, whose modelling was crucial to the decision to impose the first lockdown, said keeping universities and schools open meant infections would decrease more slowly this time.
He said the new restrictions could reduce cases by anywhere between 20% and 80%, adding that he hoped larger groups of people would be able to gather by Christmas "if only for a few days".
Mr Johnson had previously resisted pressure to introduce nationwide restrictions, saying they would be "disastrous" for the UK's finances and opting instead for a three-tiered system targeting local areas in England.
Ahead of the news conference, school and university unions called for education institutions to be closed and for teaching to move online in another national lockdown.
The National Education Union said it would be "self-defeating" to ignore how schools helped to spread the virus.
And "the health and safety of the country is being put at risk" by the insistence on keeping in-person teaching on campuses, the University and College Union said.
The month-long lockdown may suppress the virus, but what is less clear is whether the government will be in a better position to stop it rebounding.
There have been calls to fix the test and trace service, but that is easier said than done.
Testing capacity is being increased. In the coming days, the government is expected to announce its labs are able to process 500,000 tests a day. That should allow the system to speed up turnaround times.
But improving the tracing side of the service is likely to be much more difficult.
Councils in England are being encouraged to set up their own local contact tracing teams to support the under-pressure national system.
About a third of areas have now launched their own services and there are some encouraging signs in what's being achieved.
But questions are quite rightly being asked why this is only happening now as the second wave hits.
Significant levels of transmission are also being seen in care homes and hospitals, where one in six of the new daily admissions are suspected to be cases where patients have caught the virus in hospital.
Expect infection levels to come down quickly – and eventually that to translate to fewer hospital admissions and deaths.
But the true test of the lockdown lies elsewhere.
The British Chambers of Commerce said the new restrictions would be a "devastating blow" to businesses, which were in a weaker position now than they were in March.
Director general Adam Marshall said the government must increase business support and "must not squander" the extra time bought by another lockdown.
Elsewhere in the UK, Wales' First Minister Mark Drakeford said the 17-day "firebreak" there will end as planned on 9 November.
He said that his cabinet will meet on Sunday to "discuss any potential border issues for Wales in light of any announcement by No 10".
Scotland's First Minister Nicola Sturgeon has issued new advice that people should not travel to or from England , except for essential purposes, ahead of the nation's five-level system of restrictions coming into force on Monday.
The lockdown decision for England comes as scientists warned the NHS could be "overwhelmed within weeks" and documents suggested the UK was on course for a much higher death toll than during the first wave.
Sir Jeremy Farrar, director of the Wellcome Trust, said the current restrictions were not enough to stop the virus spreading and without action, "there's absolutely no doubt that many more of us would have seen loved ones die, suffer with long-term Covid symptoms or from other illnesses".
Documents seen by the BBC, understood to be part of a presentation by the government's pandemic modelling group SPI-M shown to Mr Johnson, show projections by several different groups of the likely course of the disease.
All models predict that hospitalisations are likely to peak in mid-December, with deaths rising until at least late December before falling from early January.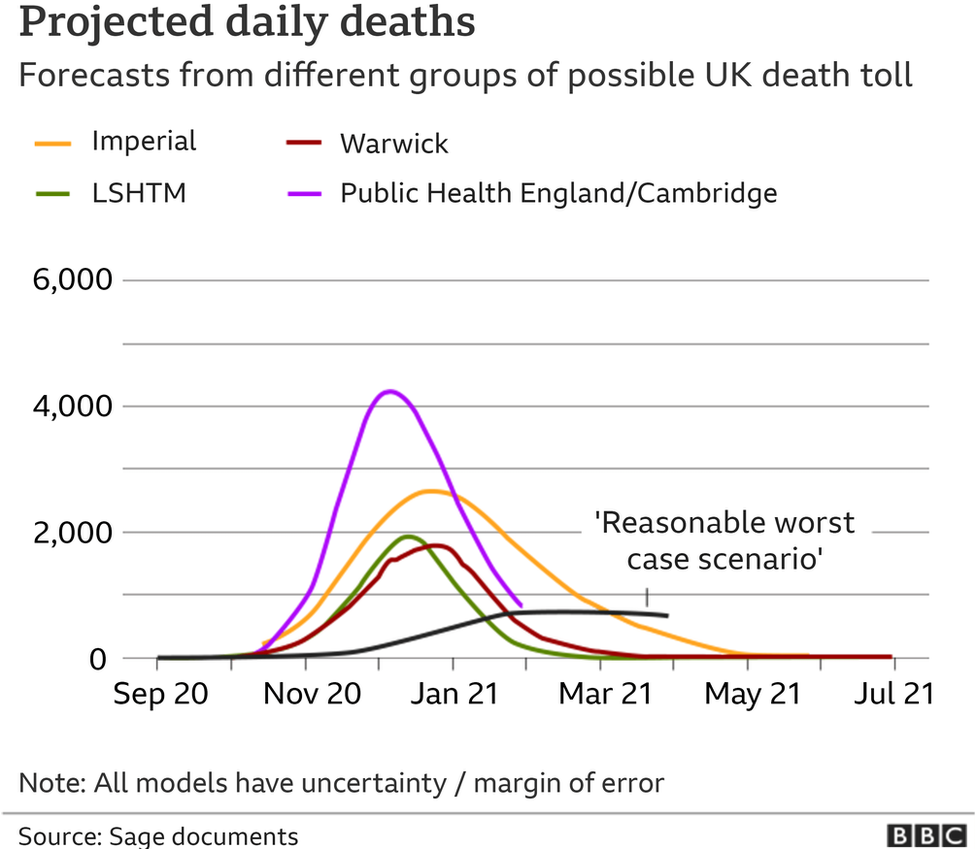 A separate document circulating in government – based on NHS England modelling from 28 October – warns that the NHS would be unable to accept any more patients by Christmas, even if the Nightingale hospitals are used and non-urgent procedures cancelled.
It warns that south-west England and the Midlands will be the first to run out of capacity, potentially within a fortnight.
These latest papers come after a statement from the Scientific Advisory Group for Emergencies (Sage) revealed that Covid is spreading much faster in England than the predicted "worst-case" scenario.
Source: BBC