If you doubted just how seriously Asante Kotoko and Aduana Stars deem games between the two clubs, the 90-odd minutes of their latest meeting was all the evidence required.
In nine prior visits to Dormaa since Aduana joined Ghana's top-flight, record champions Kotoko hadn't won a game; their best, thrice secured, were draws. Two of those 'highs' have come in their two most recent trips, one in the Premier League and the other in 2019's Special Competition (when they scored for only the first time as Aduana's guests), and Kotoko must have seemed ever closer to pulling off an upset at the Nana Agyemang Badu I Park.
On Wednesday, the mood felt right. Aduana hadn't won any of their preceding four games, the latest being a 5-2 humbling at Liberty Professionals; just before that, they had narrowly escaped a shock defeat at home to Hearts of Oak, Kotoko's other nemesis. For the Porcupine Warriors, the odds couldn't have been better.
With ten men — yes, ten — they lined up, as their 11th player, midfielder Martin Antwi, sat out for some bizarre reason even head coach Maxwell Konadu admitted post-match that he "can't explain." Aduana played along, matching Kotoko's even number by enforcing a sit-out of their own on defender Farouk Adams. Action begun on the pitch — minutes later than at other match centers due to the whole senseless fuss — but on the sidelines run a sideshow that could well have been themed 'Who Blinks First?'.
It wasn't until the second half begun that both sides gave up on superstition way to reason and squared up in a proper 11-a-side. From left to right the pendulum swung, lingering at neither end till the very end. Even in a game that had seen so much drama already, there was still room for extra at the death when it seemed the combatants' 'ways and means' had nullified each other and Kotoko might just depart Dormaa with a point for the third time running.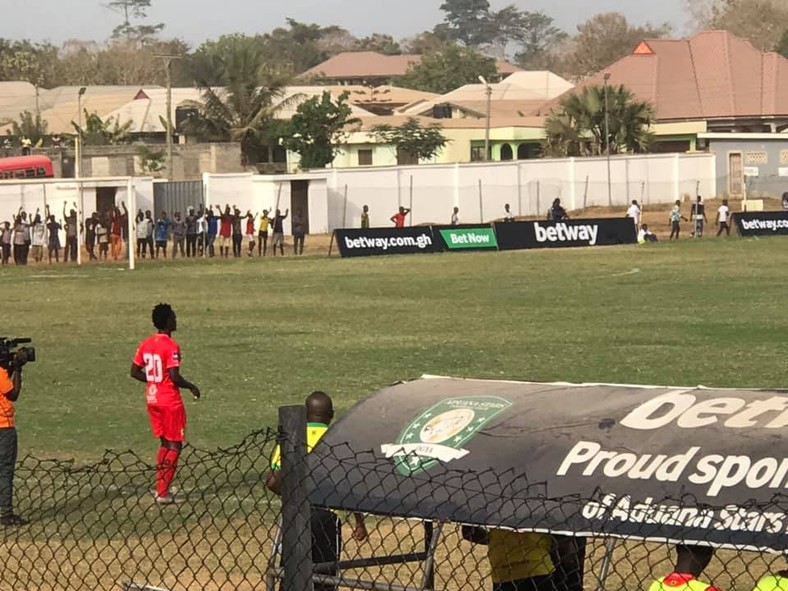 Samuel Bioh, the diminutive forward Aduana acquired two years ago, netted a late beauty to bring up his club's sixth home win against Kotoko; same as the number of losses they have racked up in Kumasi, incidentally. As the visitors filed out — tails firmly between legs once more and without the comfort of their own Baba Yara Stadium fortress to turn to — they looked every bit like a team beaten not just today, but perhaps for all time. Reliance on tactics had yielded little on these seemingly cursed grounds in the past, and faith in superstitious beliefs — so brazenly displayed, too — had proven even less effective this day.
Of course, Kotoko will be back here next season, but they'd almost certainly know what the result won't be. And who could blame them?
NY Frimpong — Daily Mail GH