Ghana has granted citizenship to 126 African-American diasporans as part of its 'Year of Return' celebrations.
They were administered the Oaths of Allegiance by a judge.
President Akufo-Addo said the ceremony is part of activities "commemorating the year of return, the 400th anniversary of the arrival of the first enslaved Africans in the Commonwealth of Virginia which was later to become part of the United States of America".
"Your decision to take up Ghanaian citizenship means you have agreed to respect and abide by the laws of Ghana and live in accordance with the tenets of Ghana's constitution. You have the responsibility of preserving and promoting the image of a country who's reputation amongst the comity of nations is today high." President Akufo-Addo noted.
"In all your actions, I urge you to guard jealously our country's image. It is a charge I am confident you will uphold" the President added.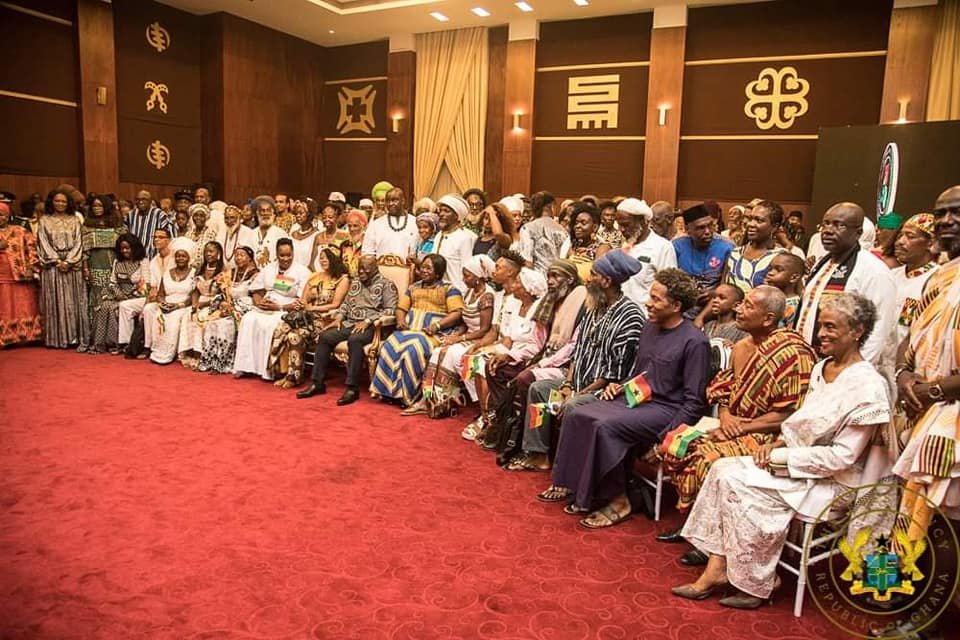 President Akufo-Addo, admonished the new Ghanaian citizens to make it a point to learn an indeginous Ghanaian language in order to speed up their process of reintegration.
"I suggest that to facilitate the process of reintegration, you learn at least one Ghanaian language of your choice, Akan, Ewe, Dagbani, Hausa or Nzema, amongst others" President Akufo-Addo stated.
Rabbi Kohain, in a response on behalf of the Diaspora Coalition said the entire group that has received Ghanaian Citizenship is overwhelmed by the honour done them. He pledged on behalf of his colleagues that they will do everything within their power to contribute positively to the development of Ghana which has become their new home.
The event was organized by the Diaspora Affairs of the Office of the President in conjunction with the Ministry of the Interior, Ministry of Foreign Affairs and Regional Integration and the Year of Return Secretariat.
Source: Daily Mail GH