The latest set of games in the 2019/20 Ghana Premier League (GPL) season treated fans to some exciting football and thrilling outcomes, and Daily Mail GH captures the biggest lessons and highlights of the matchday from a satirical perspective.
1. #BRINGBACKTHELOVEPAST
In bringing back the love for the GPL, a familiar narrative is playing out which is somewhat reminiscent of the championship's classic scripts from the mid-2010s. For one, Yahaya Mohammed is the league's top-scorer, Berekum Chelsea and Aduana sit atop the log, while Hearts-Kotoko games are drawing massive crowds and inspiring hopes of friendlies between the pair overseas. All that was left to confirm that the GPL is firmly riding a time machine back to the past was a Great Olympics-King Faisal thriller of a throwback on the menu and, well, we've just been served!
2. FAISAL ARE UP TO SOMETHING BUT…
You're probably feeling bad for King Faisal, we know. It's hard not to. The top-flight returnees remain the only winless team, and they can't seem to catch a break. Their last two games have seen them fight back from two goals down only to lose 4-2 (Inter Allies) and 4-3 (Great Olympics), contributing generously — yet vainly, ultimately — to the season's highest-scoring fixtures thus far. Somehow, they're the third most prolific club in the league (behind Allies on 13 goals and Aduana Stars on 12), and while those numbers have observers worried bewildered, we at WWLTW have it all figured out. Or maybe we haven't. Either way, we're sure it would all make sense when if Faisal win a game.
3. GOOD WEEK: MAMA ESSO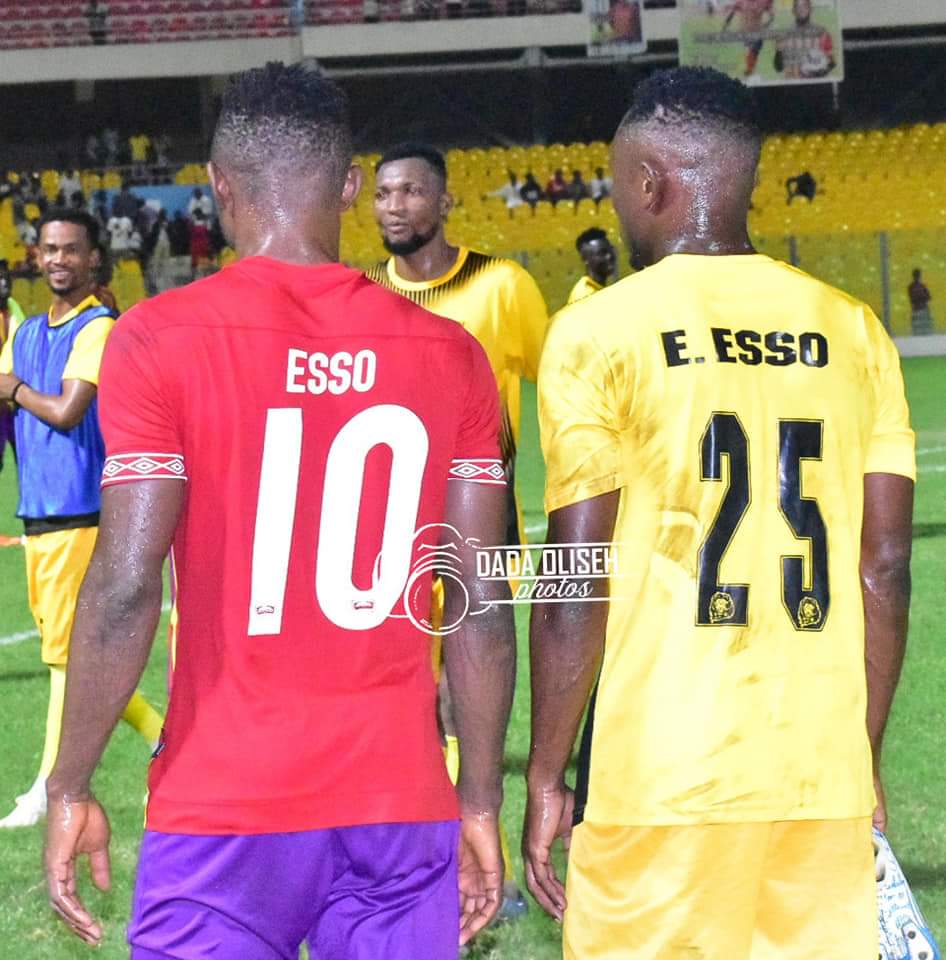 The battle between the Esso brothers — Joseph and Eric — was an interesting sideshow on Thursday night when Hearts welcomed Ashantigold, and one can only imagine the immense pride that would have been felt in the great Esso household. No member of that family would have matched Mama Esso's satisfaction, though, as he observed her boys stick to the lessons they were taught all those years ago regarding the importance of sharing whatever is at stake between them — be it lunch, biscuits or, ahem, points.
4. BAD WEEK: YAHAYA MOHAMMED
It's rare for a player to pick up WWLTW's 'Good' slot one week and 'Bad' the very next week (the opposite is just as true), but poor Yahaya has managed it. Our review of Week 7 hailed him for being a perfectly lateral inversion of Liverpool forward Roberto Firmino, but the Aduana forward has now lost that accolade after scoring his first away goal (his eighth overall, but who cares?). Even worse, it came as Aduana lost to Ebusua Dwarfs and slipped off the top. Really, 'wetin he gain'?
Jo Ansah & NY Frimpong — Daily Mail GH