Welcome to Shhh…Secrets of the Librarians, a new series (inspired by our long-running Secrets of the Book Critics) in which bibliothecaries (yes, it's a real word) from around the country share their inspirations, most-recommended titles, thoughts on the role of the library in contemporary society, favorite fictional librarians, and more. Each week we'll spotlight a librarian—be they Academic, Public, School, or Special—and bring you into their wonderful world.
This week, we spoke to writer and Libreria Ghana founder, Sylvia Arthur.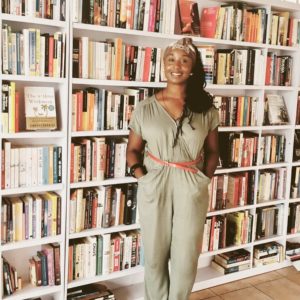 Book Marks: What made you decide to become a librarian?
Sylvia Arthur: I saw a need in Ghana for access to high-quality, contemporary, culturally-relevant literary fiction and narrative nonfiction so I decided to make my private collection of books open to the public. I wanted others to have the opportunity to acquire the same joy and knowledge that I have gained, and continue to gain from good books. I don't really see myself as a librarian in the traditional sense, though I do a lot of what a traditional librarian does. I help connect people to themselves, society, and the wider world through books. It's a privilege to be that link.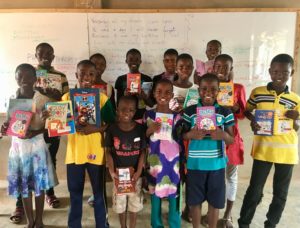 BM: What book do you find yourself recommending the most and why?
SA: I often recommend books by Ghanaian writers because there's a distinct lack of knowledge about the scope and depth of Ghanaian literature, even among Ghanaians. Nigerian writers, from Chinua Achebe to Chimamanda Ngozi Adicihie, are so well-known, on the continent and internationally, that when we think of African writers, we immediately think of them, and the elite group of post-colonial writers who came to prominence in the immediate aftermath of independence, in particular through the Heinneman African Writers series. Ghanaian writers tend to be missing from the public's literary imagination.
So I'll either recommend My Sister Killjoy by Ama Ata Aidoo, which is a feisty little book that skillfully and humorously turns tropes of Africa laid bare in Conrad's Heart of Darkness on their head, and which was itself recommended to me by a friend; or Mohammed Naseehu Ali's short story collection, The Prophet of Zongo Street, which is a delightful collection of short stories set in Ghana and the US, where they explore the immigrant experience. My personal favourite is B. Kojo Laing's Search Sweet Country, which is a mesmeric, roller coaster ride through a 1970s Accra still reeling from multiple coups and the wasteland of post-independence dreams as experienced through the lives of a series of quirky characters.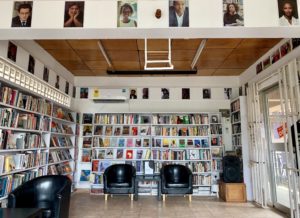 BM: Tell us something about being a librarian that most people don't know?
SA: Some people think we read all day but, since opening the library, which I run as a business, I've hardly had any time to read at all! I'm too busy trying to make ends meet and make it sustainable.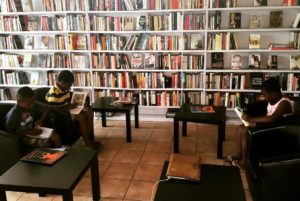 BM: What is the weirdest/most memorable question you've gotten from a library patron?
SA: Because I operate a one-woman library, I get to know my patrons really well and we end up having the most personal and intimate conversations. They tell me things they wouldn't otherwise tell someone else. I've had people seek my advice about everything from whether to change careers to whether to ditch long-term partners. Sometimes I offer an opinion but, more often than not, I recommend a relevant book that may help them out of their dilemma. That way it's on the author rather than on me!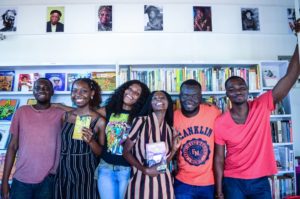 BM: What role does the library play in contemporary society?
SA: I think libraries play a vital role on three levels: 1) On the individual level, in terms of providing a safe environment for seekers in all their forms, as well as providing equal opportunity for personal development through literacy; 2) On the community level, by providing a place for meeting with others you may otherwise not meet, for exploring ideas and different ways of life, and shaping social interactions; and 3) On a societal level, by leading the way in showing how societies can develop through access to knowledge and appropriate social services. The interconnections between the three cannot be understated and the role of libraries in achieving this synergy between the individual and society should not be underplayed. Libraries are democratising spaces.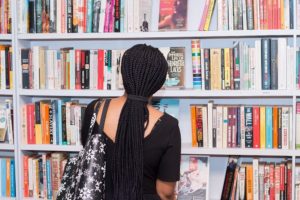 BM: Who is your favorite fictional librarian?
SA: I'm not much of a fiction reader so I really can't answer that question. Does that mean my librarian card is revoked???
Sylvia Arthur is a British-Ghanaian narrative nonfiction writer whose work explores identity, diaspora, politics, and place. She lives in Accra where she has turned her vast private collection of books into a public lending library, Libreria Ghana.
Source: Bookmarks.review