As part of efforts to battle the effects of climate change globally, some youth groups in the Ashanti region have made a strong call to city authorities to lead the charge for change.
The youth who were mostly United Nations Ambassadors and drawn from several tertiary institutions in Kumasi, on Friday September 27 marched through the principal streets, holding placards to also educate the general public on climate-related issues.
The groups included A Rocha Ghana, its Kwame Nkrumah University of Science and Technology Branch, Youth Alliance for Green Ghana, Tropeneos Ghana, Kasa Ghana and Forest Watch Ghana and GYEM.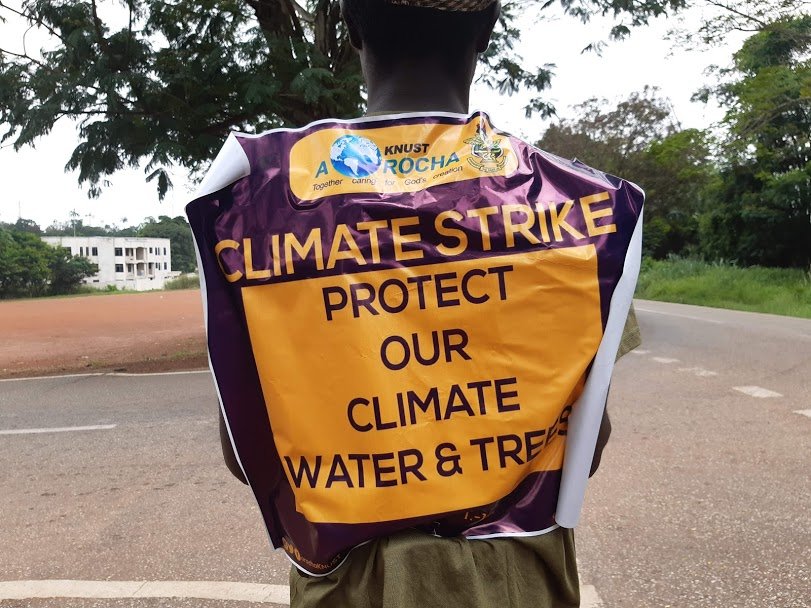 The UN has through most of its 17 Sustainable Development Goals, has renewed plans, dialogue and action to mitigate the effects of climate change and make the world a better place for everyone.
These are Goal 6 (Clean Water and Sanitation), Goal 7(Affordable and Clean Energy), Goal 13(Climate Action), Goal 14(Life below Water), Goal 15 (Life on Land) and Goal 17 (Partnership for the Goals).
Below is the petition presented to the Ashanti Regional Minister, Simon Osei Mensah (Hon.) and the Mayor of Kumasi, Osei Assibey Antwi (Hon.)
AN OPEN LETTER OF PETITION TO THE HONORABLE MAYOR KUMASI METROPOLITAN ASSEMBLY ON CLIMATE CHANGE
The youth, inspired by our faith, brings to the attention of the Honorable Mayor and his able team that: effort
Climate change is the single biggest challenge to ending poverty and ensuring the safety and security of future generations.
The impact of climate change is most severe for children, youth, women and the underprivileged living in extreme poverty.
It is still within our power to avoid the worst impacts of climate change if all our leaders act urgently for the common good of the people.
His Excellency Nana Akufo-Addo (President of our Republic) quoted at the on-going UN General Assembly Summit and I quote "Nature has been brutal this year in demonstrating to us that, our Climate is changing, and we are probably pushing our world to destruction".
The President further indicated that, scientists have spoken on the realities of climate change and it is time to direct our energies to what we can and should do to counteract the danger, and stop the unnecessary arguments.
From the above, we, the youth (from different institutions in Kumasi), urge you (Honorable Mayor) and your team of decision makers to take immediate and sustained action against human caused climate change. We write as concerned individuals (particularly youth of our beloved region and country), united in recognizing that, the science is unequivocal and our proud Garden City leaders and the citizenry must all respond.
Climate change threatens Ashanti region and Ghana's economy, national security and public health and safety. Some communities in the region are already experiencing its impacts (our rural farmers are crying over erratic rainfall patterns, city dwellers are shouting over strong heat waves, and there is always flooding at some major parts of the city when it rains etc.) Children, youth, women, low-income and minority groups are disproportionately affected.
At this crucial juncture in human history, the children, youth, women and the underprivileged look to you and your team to pick up the mantle of leadership: to take steps to strengthen, not weaken this region's efforts to tackle this crisis. With the eyes of children, youth, women, the underprivileged and unborn generations looking upon you and your team, and amidst uncertainty and concern about how your administration will address this issue, we ask that you begin by taking the following steps:
Bring back the glory of the once touted "Garden City" of Ghana, West Africa and Africa. Ensure that, our green public spaces are protected, regreened and replanted. All our water ways and lands that are to be protected should not be given to the rich for their huge mansions to the detriment of the poor (who suffer during flooding and disease outbreak).
Make Ashanti region a clean energy leader in Ghana and beyond. The vast majority of the people ultimately support renewable energy use and deployment. Embrace the enormous economic opportunities of transitioning to an energy-efficient, low-carbon society. Endeavour to expand democratized clean energy and boost the Garden City's competitiveness in Ghana and beyond. Remember that the new technologies in energy can offer the youth jobs (think of solar technicians etc.).
Reduce carbon pollution and our dependence on fossil fuels. Ensure that, all sectors work efficiently by integrating climate change actions into their programs. Assure us and ensure that the policies helping to cut greenhouse gas emissions, curb air and water pollution, and accelerate clean energy growth, innovation, and jobs – will stay in place and will be implemented to the latter. Take off polluting and road unworthy cars from our roads. Halt bushfires and illegal logging activities in our moist semi-deciduous ecosystems.
Enhance Ashanti region's climate preparedness and resilience. In the past years alone, floods, droughts, and wildfires has caused the region millions of Ghana cedis. As climate change continues to increase the frequency and severity of these extreme events, so too grows the burden on all taxpayers to pay for disaster relief and recovery. Help protect and strengthen our communities, economy, and natural resources by investing in modern, climate-resilient energy, transport, building, and water infrastructure.
Protect scientific integrity in policymaking. Ensure that there is scientific transparency and accountability without any political bias. Uphold these standards by appointing scientific advisors, agency leaders who respect and rely on science-based decision-making.
You have the support of the majority of companies, religious leaders, scientists, law enforcement agencies, and citizens to respond to the threats posed by climate change by reducing carbon pollution and expanding clean energy. We urge you to decide today to make a strong case for children, youth, women, underprivileged, and our Climate by addressing our concerns. Remember that the youth of today and children yet unborn will be watching with keen eyes.
All Concerned Youth Ashanti Region on the occasion of Global Climate Strike
The group later planted mahogany tree seedlings to crown the event.
Similar youth climate marches were replicated in the Greater Accra and the Savanna regions of the country.
Source: Daily Mail GH