Diego Armando Maradona's life was a tragedy. But it was a very beautiful one, the sort of short story that makes you cry because of how good it was and — when you think of it — how much better it could have been.
The tributes that have gushed forth — a real, relentless torrent — after his death on Wednesday tell, overwhelmingly, of how supremely gifted Maradona was, and how those gifts shone especially bright against the dark backdrop of his personal life, casting him as the kind of hero whose tale wouldn't have been so riveting if it weren't so tragic.
Some of the most touching words have come from Africa's biggest stars. A privileged handful, like Roger Milla, Peter Rufai, Mutiu Adepoju, Joseph Yobo and Yakubu Ayegbeni, got to play against Maradona the footballer/manager. Others, such as legends Didier Drogba and Samuel Eto'o Fils, have also spoken up about the impression Maradona had on them. The Ivorian described him as "the man behind [Drogba's] love for football"; Eto'o, who, like Maradona, played for Spanish side Barcelona, referred to him by that hallowed three-letter moniker that gave the Argentine an aura of divinity: "God."
And the wider continent also has reason to mourn, as African teams and individuals figured prominently in some of Maradona's most defining moments spent playing for, coaching, and supporting Argentina.
Only three of Maradona's 91 games in an incredible international career involved African sides, the first coming in the memorable 1990 Fifa World Cup opener that pitted Maradona and his band of reigning champions against a gutsy Cameroon side that, to stand a real chance, had the small task of stopping the finest player in the world.
And they did stop Maradona — who, suffering from an ingrown nail, played with the aid of a protective carbon fibre "bionic toe" — the only way most teams ever set out to: bruising, brutal tackling. The Indomitable Lions, indeed, tore at the heels of the whole Argentina team, but the worst treatment seemed reserved for the best of them.
"Cameroon neutralised Maradona mainly by kicking him," wrote Matthew Engel in The Guardian. "He spent much of the game horizontal despite wearing calf pads as well as shin pads."
Their sheer ruthlessness, coupled with lots of pluck, saw Cameroon finish the game two men down but a goal up — one of the all-time stunning World Cup results, and only the beginning of the Lions' great run at that tournament in Italy. It helped that, that day at San Siro, Cameroon enjoyed much of the support offered by the locals — and Maradona, ironically, was the reason.
***
His arrival on the peninsula in 1984 had upset the Serie A order, traditionally dominated by Italy's northern aristocrats, as the club he joined, south-based Napoli, rose to become a formidable force. I Partenopei's 1990 league triumph — only their second ever, and both reeled in by Maradona's genius — had wrested the title from the grips of the Milanese clubs that had won it in the preceding two seasons, so Maradona wasn't a very popular man in those parts.
Milan, thus, lent its allegiance to the rather unfancied Cameroonians, and they, in turn, basked in it. Sarcastically, Maradona claimed his credit.
"My only pleasure this afternoon was in discovering the Italians in Milan have stopped being racists: today, for the first time, they supported the Africans," he fired in his post-match remarks.
But Maradona, ever the sportsman, nodded respectfully to the victors, despite having a target on his back all game.
"I don't think they had any intentions of beating us up to win the game," said Maradona. "I cannot argue, and I cannot make excuses. If Cameroon won, it was because they were the best side."
Maradona and Argentina would recover from that early blow, going on to reach a second successive World Cup final, and losing to the team they beat at the same stage four years prior. He never graced another final but, with Africa, 'El Pibe' wasn't yet done.
In an April 1994 friendly win over Morocco, Maradona took in his second game, and scored his only goal — a penalty kick — against African opposition, the aftermath of which saw Argentine photographers knock over an advertising board for more intimate shots with Maradona on the turf.
The next time Maradona took on an African team was two months later, at the 1994 World Cup, and the stakes were much higher. Nigeria, debutantes and surprise Group D toppers, were the opponents, and though every bit as uncompromising as their eastern neighbours of Italy '90 fame, there would be no upsetting Argentina this time.
The Super Eagles scored first, quickly and superbly through Samson Siasia, but Argentina rallied back into a 2-1 lead within half an hour. Both goals resulted from freekicks inspired by Maradona's cunning, beating Nigeria's goalkeeper and captain, Rufai — mentioned earlier — to seal an Argentine victory.
The man assigned to mark Maradona in that game was 19-year-old Sunday Oliseh, and he did a good job, without necessarily resorting to Cameroonian extremes.
"He was such a great step in my career," Oliseh said of Maradona, in an article for BBC Sport, this week.
"After that game, I got so many accolades from the international press and from back home. My former coaches confirmed to me that I was on the right path."
But Oliseh, a future skipper of his national team, took much more than just an ego boost from his 88-minute up-close glimpse of the phenomenon that was Maradona, a man whose image he had plastered on his wall back in Belgium where he played his club football.
"What impressed me the most about playing against Diego was the influence he had on his teammates," Oliseh said.
"That spurred me further to work towards having that kind of influence in the Super Eagles of Nigeria and the other teams I played. I aspired to be at the point where my team-mates felt they were better with me, and without me they had problems."
Oliseh — and the rest of the world — didn't know it then, but that would be the last time Maradona's colleagues ever got to turn to him for inspiration. Maradona was escorted off the field by a medical nurse — not to be attended to for an injury, no, but for a drug test. Hours before Argentina's final group game, against Bulgaria, the test results dropped with a thud heard around the globe: Maradona had failed and was out of the World Cup.
***
Before long, he was out of football, too. Already well into his 30s and on the wane physically, this was the one setback Maradona wouldn't recover from. His swansong had come against Nigeria, and he would never again be seen playing in an Argentina shirt.
Fourteen years later, Maradona was back leading the Albiceleste, this time as manager — noticeably heavier and bearded, but with his pride and passion still unbridled. Ghana were the first African side Maradona faced at the helm, in a 2009 friendly that saw both sides name experimental squads; Argentina, with the advantage of two Martin Palermo goals, prevailed.
A more regular Argentina team was fielded the next time Africa and Maradona had a date, Nigeria — a familiar foe by now — the contenders. It was at the 2010 World Cup, the first Mundial to be hosted in Africa, and in a game remembered most vividly for Vincent Enyeama's brilliant, determined, and successful foiling of Lionel Messi. An early Gabriel Heinze's header settled it, giving Argentina a lift-off that only sent them as far as crashing into an efficient German machine in the quarter-finals.
And it was at another Argentina-Nigeria global showdown — Russia 2018 edition — that Maradona made his final headline-grabbing World Cup appearance, albeit in a private capacity, when he turned up in St. Petersburg to cheer his country in a must-win third group game. By full-time, he had been through as much action in his box seat as the players themselves down on the pitch — the biggest star of the night, in some ways.
Maradona begun, pre-match, by unfurling a banner of himself that played on the religious overtones which his career and life always swung along to, before he himself swung excitedly when dancing with a female Nigerian fan. All that was tame, though, compared to what would be seen of Maradona when proceedings began: his wild celebration of Lionel Messi's opener, followed by a double bird salute to Marcos Rojo's late winner… or to whoever it was intended for. Between those animated displays, Maradona even managed to squeeze a nap and, at the end of it all, his exertions left him requiring some medical attention.
Problem?
"I want to tell everyone that I am fine, that I am not, neither was I interned," Maradona posted on Instagram afterwards. "In the halftime of the game against Nigeria, my neck hurt a lot and I suffered a decompensation. I was checked by a doctor and he recommended me to go home before the second half, but I wanted to stay because we were risking it all. How could I leave?"
And so he didn't, also attending Argentina's roller-coaster Round of 16 clash with France. There in Kazan, however, his reactions were relatively muted, and the Nigeria game would remain noteworthy as his last big World Cup 'performance' — where Maradona, the player we all always wanted to be, became the fan we all actually are.
***
For Maradona's most [in]famous 'African' memory, though, one would have to roll back the years to a time even earlier than that fateful USA '94 meeting with Nigeria. Rewind, in fact, all the way back to the game that first etched Maradona's name into football folklore: that 1986 World Cup quarter-final duel with England.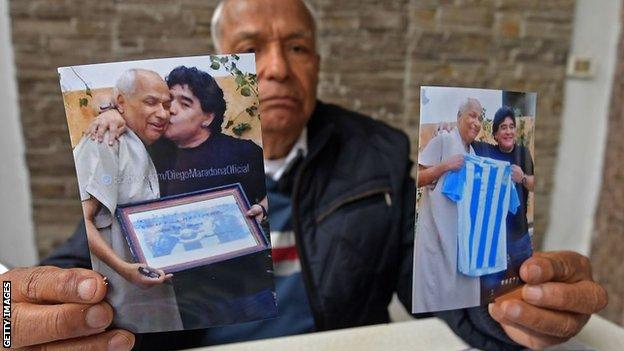 Ali Bin Nasser, a Tunisian, officiated it, and he had a small part to play — even if unwittingly — in both epic goals that Maradona scored. You probably know the story of the first; the second, which isn't so well-known, was revealed to BBC Sport by Bin Nasser in the wake of Maradona's demise.
"[Maradona] took off from midfield, and I was shadowing him closely. When you're refereeing someone like Maradona, you can't take your eyes off them. They tried to take him down on three occasions, but his desire for victory kept pushing him forward.
"Every time I would shout 'advantage' until he reached the box.
"I was watching from outside the box, wondering how this player shook off three defenders, and sprinted for nearly 50 metres. I thought 'the defenders will try to take him down now'. I was expecting that to happen and was ready to whistle for a penalty.
"To my surprise, he dribbled past another defender and the goalkeeper [Peter Shilton] to score what would become 'the goal of the century'.
"I'm proud and honoured as a person and as a referee for having played a role in that historical achievement.
"Had I whistled [for] a foul in any of the first three contacts, we wouldn't have witnessed something that magnificent. That advantage I gave is one of my proudest achievements."
Bin Nasser's version of events seems sprinkled with a dash of exaggeration to taste — an almost desperate attempt for a slice of history just before it goes stale (as if it ever would) — given that no English player got so much as a touch on Maradona until the ball was well on its way into the goal, and that referees were hardly ever protective of him.
Nearly three decades later, however, Maradona visited the retired official in the latter's homeland, bearing belated expressions of gratitude that included a signed Argentina jersey that read 'Para Ali Mi Amigo Eterna' (For Ali, My Eternal Friend).
"Had it not been for you," Maradona modestly conceded, "I wouldn't have been able to score the 'goal of the century'."
Well, there you have it: if the great man himself agreed with Bin Nasser's narrative, who are we — mere mortals, eh — to challenge it?
NY Frimpong — Daily Mail GH