Monday, May 20, was supposed to be a big day for Ghana football — you know, the appointed day for announcing the Black Stars squad ahead of the 2019 Africa Cup of Nations.
It did not happen, though, and many were left disappointed by the postponement. However, with Monday still some hours away from ending, another big announcement — albeit unheralded – stung the nation. Delivered late in the day to mixed reception was news from Asamoah Gyan, Ghana's captain of the last seven years.
"I wish to recuse myself from the tournament," Gyan wrote in a press statement that covered a little over a page.
"I also wish to retire from the national team permanently; not pretending my presence would not fuel the purported undermining the country has seen under my captaincy."
That was the truly juicy part of Gyan's release. There were other portions – juicy, too — but that is really all it comes down to: Gyan is done.
Of course, this isn't the first time the Wenchi native has stepped away from international football; early in 2012, after another ordeal suffered for his work in a Ghana kit, he did so a first time. But Gyan ended that sabbatical months later, returned to the fold, and was handed a captaincy he has guarded jealously until now.
In the short-term, Gyan's absence would probably not be felt very much. He's flitted in and out — out, mostly — of the team within the last two years, after all, not featuring since a 2018 Fifa World Cup home qualifier in September 2017, and not scoring since curling home a freekick in a friendly loss to the USA a game and two months prior.
That was the last of his 51 international goals, a tally that makes him the most prolific Ghanaian scorer on record. Those strikes came in 106 outings, translating to a ratio better than the figures Thierry Henry and Robin van Persie notched for France and the Netherlands respectively — and only a few decimal places behind those of Cristiano Ronaldo and Lionel Messi, two men he reached six World Cup goals quicker than. Such was is Gyan's brilliance in front of goal; "one of the greatest goal scorers I have ever seen," in Messi's own words.
Let that sink in, people. All of it.
Still, even though the national team is yet to find one as sharp as the former Udinese man, it is not Gyan's goals Ghana will miss most; it's Gyan himself.
His very presence was the best card he brought to the table, and although the Stars sometimes won without him, they have not looked nearly as frightening without the feared Gyan in attack. In the best moments of the Stars' recent history, he starred — at the Fifa World Cups of 2006 and 2010, at the Nations Cup editions of 2010 and 2015, etc. And in Ghana's worst moments, too, he was there, missing penalties and… well, just those, basically.
Gyan sought one more starring role, however, hopefully the best yet. He always wanted the chance to deliver Ghana's first title in 37 years by leading the charge for glory, with the captain's band firmly strapped to his arm — yes, that flaming, stretchy strip of polyester!
Gyan describes his years as captain as his "proudest," but they also qualify as the most controversy-drenched of his Ghana career, courtesy a power tussle with deputy Andre Ayew. In public, the dispute had been shrugged off, even dismissed; in private, intervention by successive Ghanaian heads of state had barely doused the flame.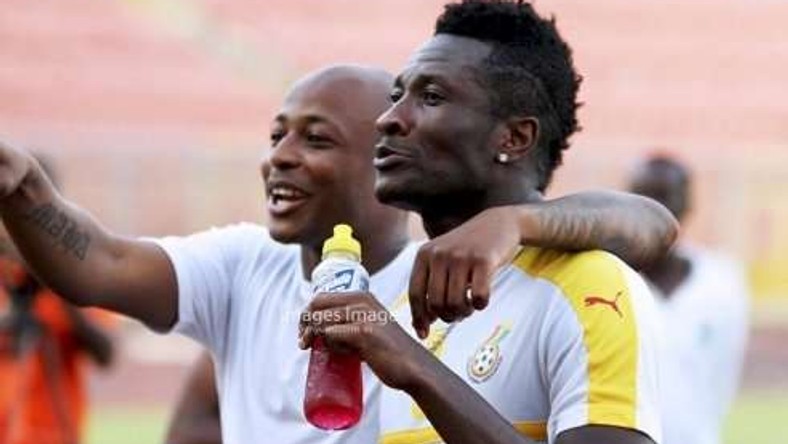 Now, though, boiling point has apparently been reached and the lid blown off by Gyan. In place of much-needed calm and quiet, though, there are only more questions now — and not just about who would take up the captaincy from Gyan (no prizes for guessing, anyway). One stands out, bearing as many question marks as you can spare: who 'forced' Gyan out?
Well, you could blame Ghana boss Kwesi Appiah for demanding that Gyan give up the armband to assume that general captaincy role which marked the beginning of the end for some of Gyan's predecessors — but, hey, Kwesi giveth and Kwesi taketh, right?
Alternatively, you could blame Ayew for doing little to hide how much he covets the skipper's office, but there is only so much he could do to push his superior to the periphery, especially when he has had his own struggles under both tenures of Appiah.
Gyan ended his statement on a pleasant note, but the introductory sentences and general tone paint the portrait of a pained and frustrated man. It is nobody's fault, though — nobody's but his, that is. As opined earlier in this write-up, Gyan's worth to the national team cannot be accurately determined by his goals or by how proudly he wore the armband when he had it; more than anything else, it was his presence — on the pitch and off it — that often made the difference.
And that was probably the only reason why he would have made the trip for Egypt 2019. Sheer presence aside, there is little else Gyan — aged 33 and struggling for form — offers Ghana. Besides, the team has moved on quite a bit since Gyan ceased actively influencing its fortunes. The mere prospect of his participation at the tournament was in doubt, and ownership of the armband should have been the least of Gyan's concerns.
Ultimately, though, the power play mattered more to him, and Gyan thus jumped; he was not pushed — not entirely, anyway. Even if he was, he could have held his ground a little longer, couldn't he?
The armband would surely be passed on to another, while some defender could finally get to own Ghana's No.3 shirt. And while Gyan will surely not be robbed of his status and legacy as arguably Ghana's finest striker of all-time, the big blot would be how — or rather why — he left the way he did.
It is not exactly the send-off Gyan deserves, and he knows it. He walks out on his own terms, just as he had probably wished all along — but not quite as perfectly as he would have imagined it.
Sammie Frimpong – Daily Mail GH