Emmanuel Nettey had just put in the shift of his life. Bossing the midfield at Liberty Professionals' Carl Reindorf Park, his excellent display was a fitting climax to a week that had begun with him joining capital outfit Hearts of Oak on a free transfer.
The goals with which Hearts secured a late comeback — having gone behind earlier — were scored by Bernard Arthur and Kofi Kordzi, but there was little doubt about who the day really belonged to. Nettey would receive his prize for being the game's standout performer, but he headed home with much more.
Just before his post-match exit, Nettey strode to the fringes of the pitch, a spring in his step, to within inches of a section of the ecstatic traveling fans. At the Carl Reindorf — like most other venues in the Ghana Premier League — fans are only separated from the action by fencing made of wires, with just enough gaps between them for generally unobstructed viewing.
When he finally wrapped up his moment with the supporters and turned around, Nettey had his fists full with the bigger cedi notes — not as discreetly as some Ghanaian police officers would handle them, but certainly as firmly as you'd expect of a 'trotro mate'. To the unacquainted, it might all have seemed odd — even shameful. But there was really nothing to be ashamed of here, which is why Nettey made little attempt to hide the money he had received.
Times may be hard in Ghana – isn't that all we ever say? — but parting with some money remains one of the most 'traditional' ways of expressing appreciation and admiration for a great performance; the ultimate salute, if you like. Such spontaneous acts of generosity are usually reserved for entertainers at functions and, indeed, for a showman, there could be no bigger compliment or higher praise. Footballers are showmen, too, and the entertainment they provide on each matchday is what many rely on to brighten a bad week, or make a good one even better.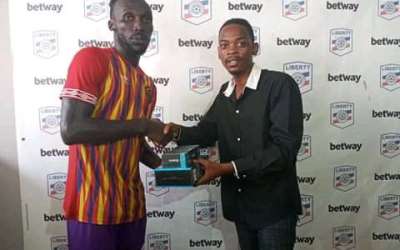 And when the show is as good as what Nettey served, one can't help but applaud — with the hands, but also with any spare cash on hand. Walking away with that monetary gift (substantial, hopefully), along with the NASCO hair clipper and mobile phone that officially rewarded his sterling output, Nettey's grin could only have spelt satisfaction.
Not bad for a day's work, eh?
NY Frimpong — Daily Mail GH