Rainbows are beautiful. They've always been, ever since making their debut in the immediate post-Deluge, Noachian days. Kids point at them in awe, and older ones steal glances when they can.
But not everybody feels so enthused about seeing rainbows in the context of England's Premier League, for not everyone sympathizes with the message they send, namely, solidarity with the LGBT community. I – unashamedly African, conservative, and Christian — am one of those. The likes of Sadio Mane, Mohamed Salah, Pierre-Emerick-Aubameyang, and Riyad Mahrez — Africa's biggest names in the Premier League right now — likely are, too.
It's not homophobia or bigotry, mind. I won't act aggressively against someone, or shift uncomfortably sitting next to them on the bus, because of their sexual orientation. That's wholly their business and I can't keep them from it — just don't shove it in my face.
Seemingly, though, that's what the Premier League and its clubs may have done in recent years with their overtly expressed support for Stonewall UK's 'Rainbow Laces' campaign, dedicating a couple of matchdays each season to that objective. And while the increasingly liberal West would embrace such moves, many who live in parts of the world where projecting sexual themes — especially of a homosexual nature — is almost a taboo aren't so welcoming.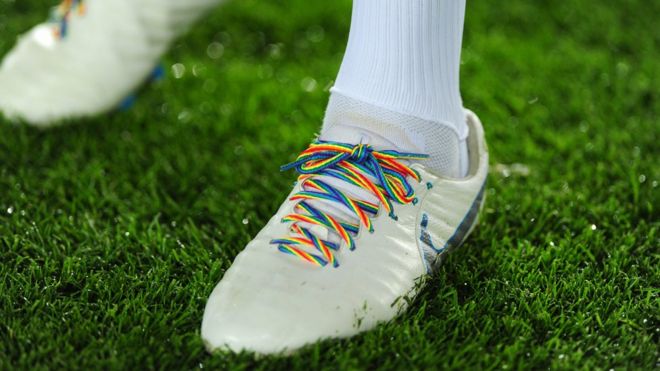 An irate few make their hostility known on the Internet — whenever Premier League clubs change their profile photos on social media for the aforementioned purposes — rather excessively and abusively; that's wrong and should be condemned. But there are many more who choose not to be so loud about it, yet who are left wondering if the Premier League really needs all that extra color and attention-seeking behavior, even if only on a few days in the season.
It's not as much an aversion to homosexuality itself — it is, of course — as it is to how its 'virtues' are being preached on football's grandest pulpits without regard for those whose cultural and religious beliefs don't exactly approve of such. And that's a cost the league's authorities would do well to — though they most assuredly wouldn't — consider.
The Premier League is domestic club football's biggest brand, even if the football played elsewhere — say, ahem, La Liga — is probably more aesthetically pleasing. Also true, though, is that some of the championship's best players have been — and still are — Africans; Aubameyang, Salah, Mane, and Mahrez are only bearing a torch lit and borne in the past by stars like Didier Drogba, Michael Essien, Nwankwo Kanu, and Emmanuel Adebayor. These graced the league with their gifts, but they also dragged their countrymen into the Premier League's ever-widening fanbase, which is why some clubs enjoy huge following on the more conservative continents of Africa and Asia.
Football is an influential product, and the English version of it is an especially powerful tool, all of which makes the Premier League's LGBT agenda feel like a tactless assault on the sensibilities of those who only signed up for the football and nothing more. Promoting LGBT lifestyle or fighting homophobia?
Well, the line — if any exists — isn't very clear.
Granted, if the Premier League keeps up with this promotion of what hardly holds any appeal to some of its numerous and most passionate fans, they wouldn't necessarily lose them. Goals like Heung-min Son's against Burnley on Saturday could make you forget just what color(s) Harry Kane's armband was of, while the thrill of games as the Manchester Derby does have the same effect. However, if the league's authorities believe exposing everyone to that agenda often enough would eventually cultivate a fondness in unwilling hearts, it could reap a consequence — disillusionment, to some extent — that ultimately backfires, at least in these parts. In the end, a bid to highlight the inclusiveness of football could result in the gradual alienation of many.
My point?
Rainbows are beautiful alright — just keep them in the sky where they belong, and the ball rolling along on the ground.
Kow Frimpong — Daily Mail GH