Whenever the FIFA Club World Cup comes around, fans of Hearts of Oak are served a cruel reminder of what might have been.
Eighteen years have already passed since the Phobians missed a chance to play the best teams from around the planet, though not through any fault of theirs. The 2001 edition of the tournament was cancelled by its organizers for quite a few reasons, leaving Ghanaians — Hearts faithful, especially — beating their chests in regret.
And why wouldn't they?
Hearts had been drawn in Group C and were set to play all three matches at the hallowed Santiago Bernabeu Stadium in Madrid, the Spanish capital. Their first two games, versus Los Angeles Galaxy (the 2000 CONCACAF Champions' Cup winners) and Jubilo Iwata (1999 Asian Super Cup champions), were high-profile enough, but the fixture that triggered the keenest anticipation was the third: against mighty Real Madrid, 1999/00 UEFA Champions League kings and owners of the Bernabeu.
It was the dawn of the original Galacticos era, when Florentino Perez's Madrid — starring Iker Casillas, Roberto Carlos, Fernando Hierro, Raul, Claude Makelele, Luis Figo, and newly acquired Zinedine Zidane — was assembled at great expense and with as much care, almost as it is now. Crown jewels David Beckham and Brazil striker Ronaldo hadn't joined yet, but this was still a crack squad, playing to the tune of the brilliant Vicente del Bosque.
Still, Hearts had good reason to march on with belief and in confidence. Theirs was no expensively crafted unit, but it was still a group of players that, not long prior, had proven superior to any other in Africa, featuring the Sammy Adjeis, Dan Quayes, Jacob Netteys, Amankwaa Mirekus, Ishmael Addos, Emmanuel Osei Kuffours, and Charles Taylors.
The famous 'Hearts XI' was a formidable team in its own right, and I daresay [bald] Del Bosque would have found a worthy tactical opponent in Ghana's [bald] Jones Attuquayefio.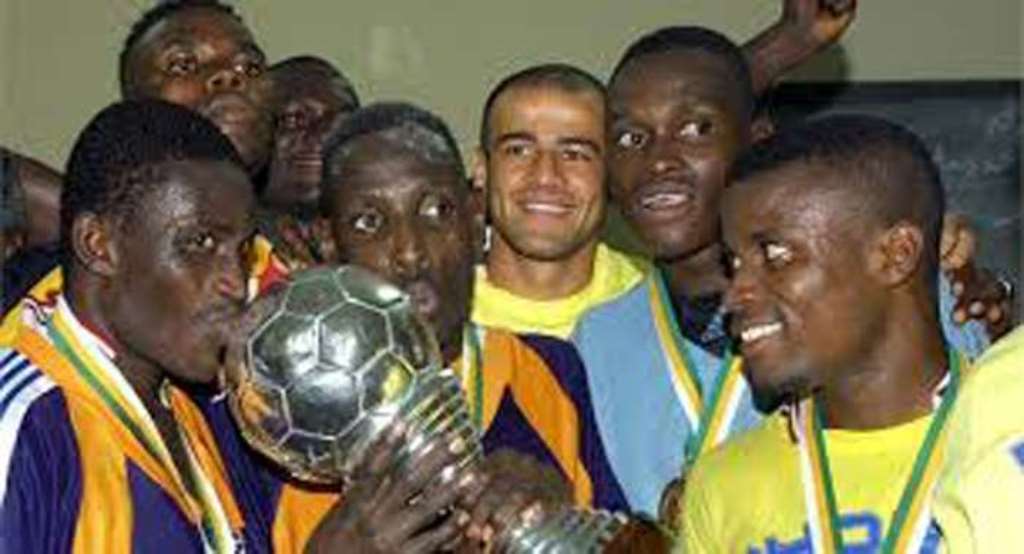 Given the context of timing, however, it is uncertain just what might have transpired had that game come off.
See, many moons had gone since both clubs conquered their respective continents — eight for Hearts, 15 for Madrid — and neither was exactly in world-beating form. At the time, and with the Club World Cup not yet fixed in its current end-of-year slot, Hearts found themselves not quite halfway into the domestic league season, but had already taken — and blown, at the first hurdle — a shot at successfully defending its African title, losing 6-4 on aggregate to Etoile du Congo.
Just around the time they ought to have played Madrid, however, Hearts were in beast mode, thrashing Berekum Arsenal 6-0 in the league on August 5; a day prior, Madrid had traveled to Cairo to take on African opposition anyway, but got pipped 1-0 by Egypt's Al Ahly. Now, side by side, those two results probably meant nothing; Arsenal were are no Madrid, and Ahly weren't quite the force they now are, but there is more to suggest that the scales could have tipped in the Ghanaians' favor.
In six friendlies Madrid played during that month of August, Los Blancos only won two in normal time, one of those against a lower-tier Spanish side. And, perhaps as proof that such poor results constituted no mere blip, Madrid struggled at the beginning of the new La Liga season, failing to string two victories together until Clasico victory over Barcelona on Matchday 11, hitherto winning only three games.
Eventually, they finished third, behind Valencia and Deportivo La Coruna – the capture of a ninth Champions League crown provided no small comfort, admittedly — while Hearts won the Ghanaian top-flight for a fifth successive season by a nine-point margin.
Depending on how you choose to analyze that turn of events, then, it could be argued that Hearts might have stood a fair chance in that aborted August 6 battle with Madrid.
Just how much of a chance, though?
Well, we'll never know, will we?
NY Frimpong — Daily Mail GH