"For me, it is the assistant who does most of the work. If you are a head coach and you are out there, sometimes your mind goes somewhere. Sometimes, you might be looking at three or four players who are not playing well so…"
Well, that was Kwesi Appiah, somewhere within the Chinese-gifted Cape Coast Stadium's bowels last Thursday, reserving some praise for Charles Akonnor, his new assistant.
Not many bosses do, but the Black Stars trainer, even on a somewhat rare occasion when he faced the press with good reason to bask and revel in a good win over a good opponent, acknowledged his No.2 and shared the applause.
"This is where you need your assistant to assess the game because he knows our game plan and he knows our players so he might sit out there, come to you and let you know that, 'why can't we look at this because it is creating problems for us?'" Appiah continued.
Himself a former Ghana assistant coach, Appiah knows too well the importance of having a trusted figure on the bench looking out for finer details and loose ends that the gaffer might miss in the heat of the game. And while the belief held by some that Akonnor single-handedly delivered the magic-making moment which sealed Ghana's 2-0 win over South Africa on November 14 is a mischievous exaggeration — given just how much credit that robs the man in grey of — Appiah's modest concession wasn't.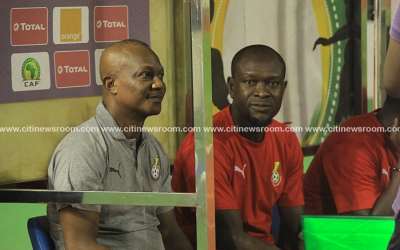 Whatever marching orders Akonnor gave substitute Kudus Mohammed before he came onto the pitch to take in his debut and score Ghana's decisive second goal must have worked a treat, even if Akonnor did nothing else all-game. But, of course, the ex-Wolfsburg star offered far more — "a little more active than most assistant coaches on the touchline," in fact, as an article on citisportsonline.com observed.
Regardless of the plaudits Kudus received, Akonnor surely retired that night as the more satisfied debutante. For Appiah — on a memorable evening for Ghana when his former assistant, Ibrahim Tanko, also covered himself in glory at the helm of the Black Meteors at the ongoing Africa U-23 Cup of Nations in Cairo — that could only be positive. In Tanko and long-time lieutenant Maxwell Konadu, Appiah has already been through two right-hand men, but only now does it feel that he may have found the right fit (no disrespect to the aforementioned pair).
Akonnor — a former Ghana skipper, like Appiah — has worked at Ghana's biggest clubs with considerable success, and could thus bear with some ease the pressure which comes with being a handler of the senior national team, while his record with young talent at Dreams FC ties in well with Appiah's own focus on building a more youthful Stars setup. Public confidence in Akonnor — especially after his recent, remarkable stint with Asante Kotoko — is great, too, and such goodwill would reflect well on Appiah, whose own approval rating among Ghanaians isn't so high.
For all that has been said — mostly unfair, I think — in criticism of Appiah and his methods, he has never been too far from hitting the heights with the Stars, and Akonnor could be the final piece that completes the jigsaw Appiah is putting together. Akonnor could be, to Appiah, a spine, providing some structure to the 59-year-old's unsteady unit.
Should Ghana pass Monday's test in a second Afcon 2021 qualifier — away to Sao Tome and Principe — and possibly securing Appiah's position beyond the end of this year, Akonnor's presence may well prove the best thing to have happened to the head coach across both spells in charge of the Stars.
Hopefully, if it does, Akonnor won't be denied his share of the glory — as on Thursday.
NY Frimpong — Daily Mail GH