Between a little white spot and a nearly empty goal lies 12 yards — and Ghanaian dreams that have been crushed and stomped on, time and again.
It's a pain generations of Ghanaian football fans have known — stretching back to the 1992 Africa Cup of Nations final, I think — and one even more could have to grapple with. But maybe posterity could be spared all that trouble, should we refuse to view the country's poor penalty record as we always have: a mystery that has us at our wits' end.
That belief has been rubbished by Ibrahim Tanko, the latest Ghana coach to have a side miss out on a prize via penalties (and already the third this year). In the aftermath of his Black Meteors team's defeat to neighbors Cote d'Ivoire in the semi-finals of the ongoing Africa U-23 Cup of Nations last Monday, Tanko sought to place the blame where, at least in his opinion, it rightfully lay.
"Ghana's losses to Cote d'Ivoire have happened to three different generations and I think that shootouts are a matter of concentration," Tanko told the press.
"Today, my players did not have that in them," he conceded. "I cannot say that there is a curse on Ghana when it comes to penalty shootouts but I believe that we have to do better next time."
Tanko is probably right about the 'concentration' challenge on this occasion — he knows his team's psyche best, after all. However, there is one fact he definitely nailed: for every shootout setback Ghana has suffered, there is a reason — or reasons, for that matter; we just haven't paid enough attention after the heartache dulls.
Frimpong Manso, also a Ghana player-turned-trainer, places greater importance on another 'Vitamin C': Confidence.
"Penalty-taking goes with confidence so as a player if you are a good penalty taker and you don't have that confidence, you will miss it. Players should practice on their own if you really want to be taking penalties. They can get a goalkeeper before or after training and be practicing because scoring penalties doesn't depend on luck," he told Happy FM the morning after.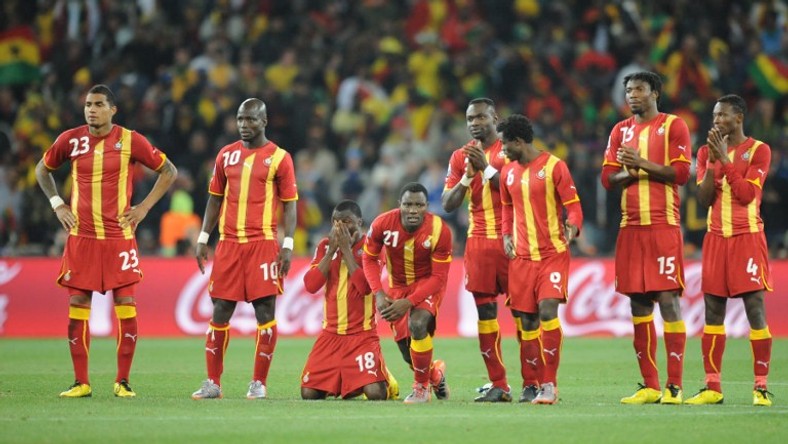 Manso's point is as valid as Tanko's, and, perhaps, there are other similarly legitimate points we've simply not considered yet. Yes, success in penalties owes a little to chance, but it hinges on much more: concentration, confidence, etc. Ghana's struggles aren't down to a lack of 'luck', for while the nation hasn't gotten many shootouts right, there have been some highs in recent memory, though relatively few: the Black Satellites in the 2009 Fifa U-20 World Cup final (versus Brazil), the Black Starlets at the Africa U-17 Cup of Nations in 2017 (v Niger), and the Black Stars B team during CHAN 2014 (v Nigeria) and at this year's WAFU Cup (v Burkina Faso), etc.
It's not all gloom, really, and if we analyzed and addressed the failures right, there could be more of such happier times to celebrate — heck, even England have figured it out.
Now, um, when are we having that national forum on penalties?
NY Frimpong — Daily Mail GH