At first glance, it looks like a collection of some of Hearts of Oak's best players in, say, the last five years. And maybe it looks that way because, well, that's just what it is.
Not every player on the list put together by Citi Sports sparkled for Hearts, true, but a good number of them did. The compilation comes up at a time when Hearts has lost Joseph Esso, arguably its best player, and certainly one of the domestic game's finest forwards at present.
But Esso isn't the only one stripping off the famous rainbow colours right now (there's talk of a U-turn for the former Ebusua Dwarfs star, but it hasn't materialised); also part of the exodus, as confirmed on the club's own social media platforms a week ago, are Benjamin Agyare, Christopher Bonney, Abubakar Traore, and Bernard Arthur, all moving on following the expiration of their contracts.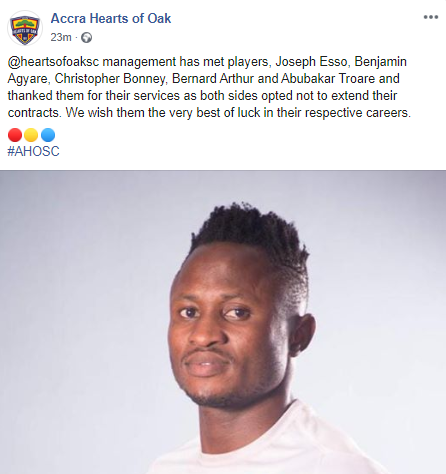 That quintet hasn't been on Hearts' books very long; Arthur only joined last year, with the others arriving in 2018. They are, in fact, only the latest high-profile departures, stoking an already raging debate about player loyalty, but Yaw Amankwah Mireku — possibly Hearts' most successful skipper – believes the club should look within.
"Sometimes, the players decide against extensions but professionally I think management should always start early negotiations with the players if they need them," Mireku told Nkunim FM.
His is a fair point. In modern football business, where sentiment isn't the most valued commodity [anymore], players aren't obliged to stay with clubs any more than clubs are to keep them; leaving it late – often too late, seemingly, in Hearts' case – only makes it harder. And, although board member Frank Nelson Nwokolo is right in asserting that "no player will be forced to play for Hearts," a legitimate argument could be made about the earnestness — or lack thereof — of Hearts' efforts.
But that doesn't stop Kwame Opare Addo, another Hearts official (public relations officer), from trying to hurl the blame elsewhere.
"In fact, football agents are not helping the game at all. Everyone knows there is something good abroad for players but… agents influence players not to extend their deals with clubs, which Hearts of Oak is a victim," Addo claimed on Atinka FM.
"This is affecting so many clubs."
Perhaps, but Hearts' player turnover is particularly startling, worsened by the fact that only two of the 29 listed names — Winful Cobbinah and Patrick Razak — have fetched transfer fees. The concern, though, isn't solely about just how little money Hearts has gained from these losses; the biggest regret, I believe, is about just how little the club reaped when it still owned the players.
See, it has been 11 years since Hearts last won major silverware, but the evidence suggests that the club's struggles haven't been down to the playing body's strength, even if one legendary Phobian argues otherwise.
"The problem is a lack of quality players," Harry Zakkour diagnosed on Asempa FM. "Things have changed. The players we used to have are not the same today."
That claim isn't entirely false. Hearts has had finer players, especially when, during Zakkour's chairmanship, the club reached its greatest heights and bossed the continent; more crucially, it had a firmer hold on players. That allure has faded, following years of underachievement, but the quality of playing personnel hasn't been so bad — Hearts just hasn't used its prized assets well enough or, for whatever reasons, held on to them long enough.
And that, however anyone tries to spin this, is on the club.
NY Frimpong — Daily Mail GH