The number '11', on the football pitch, is of significant value. That's, obviously, how many players a team needs to have a fair chance of winning a game; just one less, and everything — maybe results, but certainly tactics – takes a hit.
In the folklore of Accra Hearts of Oak, Ghana's oldest football club, though, '11' means so much more. Phobians — as Hearts and its faithful are nicknamed — take much pride in the fact their club was formed on the 11th day of the 11th month of the 11th year of the 20th Century. It rhymes well — so well, in fact, that some have tried to push the 'eleventh' element a little farther, into the realm of hours and minutes… but, of course, that would likely never be verified.
There is, however, another significant, latter-day '11' reference that you wouldn't hear many Hearts fans speak proudly — or speak at all — of: the number of years since Hearts last won a major trophy, their longest drought yet. That came in 2009, when a final-day victory over Sporting Mirren saw Hearts beat archrivals Asante Kotoko to the Premier League title. It was their 20th and, given how the dozen years before that had gone, it didn't feel like Hearts' last.
Hearts had won the league nine times in that period, highlighted by an unbroken six-title run (1997 to 2002) and, while Kotoko eventually fought and clawed their way back to the top in 2003, they couldn't replicate the sort of stunning dominance Hearts had enjoyed. The following five years saw the title swing between the two heavyweights, before new boys Aduana Stars smashed the duopoly in 2009/10. Hearts best finish in the league since then – five times achieved – has been third.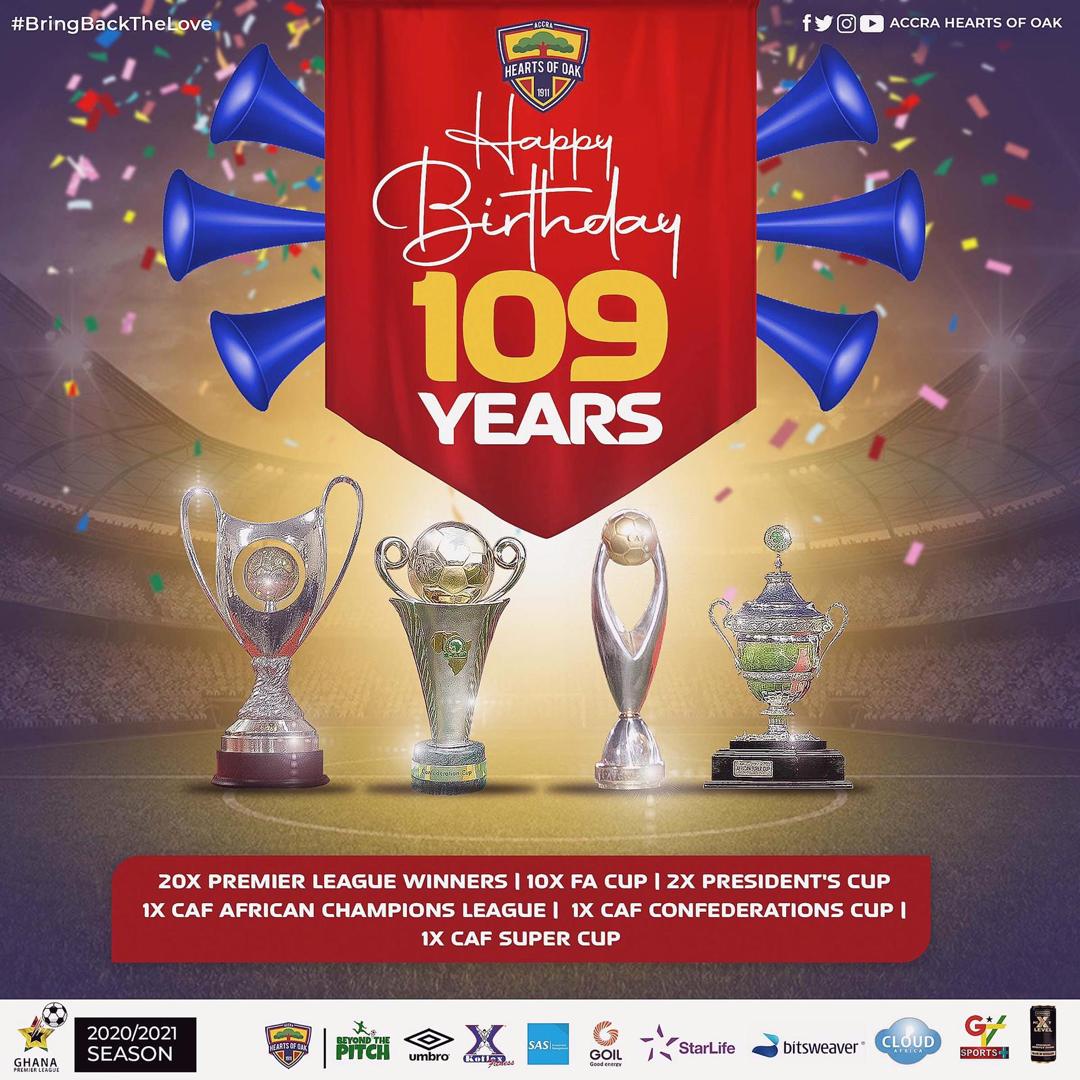 Other competitions haven't yielded much. In Africa — where, between and 2000 and 2005, they won every major CAF title — Hearts have faded as a force, and even the most dedicated fans would struggle to recall, without Google's assistance, the club's last continental game. Then there is the FA Cup, of which they remain record champions, but without success since reeling it in as part of an unprecedented Treble in 2000.
So, what's gone wrong?
Put simply, Hearts themselves have.
The club, a grand old 109 years of age today, have lost the virtues that once made them so formidable and mighty. In their quest to reclaim past glories, Hearts have ditched those time-honored values — stability, mainly — and each season feels like an altogether new experiment, doomed to fail from the start. The frequency with which the club's technical direction has changed, along with the shocking rate of player turnover, has left Hearts drowning in a seemingly constant state of flux.
"We have been reviewing how we have not won a trophy in a while but some of the big clubs in the world have also gone a long time without a title," Frederick Moore, the club's Chief Executive Officer (CEO), told Kumasi FM earlier this year.
"With the consistency at the top, I think we are now on the road to bigger things. I'm very confident Hearts of Oak will start winning trophies soon."
"Soon," if you ask Hearts' long-suffering fans, couldn't come soon enough, and head coach Edward Nii Odoom has been more specific with his own predictions, promising in a recent interview that: "Hearts of Oak will win the 2020/2021 Ghana Premier League and break the jinx that has eluded us for the past ten years."
That's a rather bold pledge, given that the league is harder to win these days (as many clubs have won it in the last decade as in the 42 seasons that preceded Hearts' ongoing barren spell, to illustrate). For all of the club's commendable long-term goals — including the future establishment of an academy that Moore claims would be "one of the best… in the world" — there is a more pressing craving to be sated, and its long-suffering fans are getting ever more impatient.
Next season, which begins in just three days, won't be Hearts' last chance to refresh their rich collection of silverware — no, definitely not the eleventh hour — but there's no better time to do it. And if that trophy comes in the FA Cup – which seems a more realistic target, even if only because Hearts have won it 10 times already and reached the most recent final – there'd be another proud '11' to revel in.
NY Frimpong — Daily Mail GH