"We don't want to go begging any player."
It's a pretty bold statement, but Amaju Pinnick, president of the Nigeria Football Federation (NFF), in an Instagram Live chat, felt empowered to make it anyway.
And why not?
Right now, Nigeria is probably Africa's trendiest national team. They're not the current continental champions, and their last FIFA World Cup campaign underwhelmed, but the Super Eagles still soar. And they sparkle, too, grabbing headlines and lots of great publicity with the brilliant kits sportswear manufacturers Nike has served them in recent years. They'd certainly rock any runway; on the pitch, too, despite falling a little short of achieving ultimate targets, they haven't been doing too badly.
Maybe Russia 2018 won't be remembered very fondly — you couldn't look that good and not make, at least, the second round — but the Nations Cup run a year later yielded more satisfying returns, proof of which is the extension of head coach Gernot Rohr's contract (albeit on terms revised slightly downwards). Nigeria finished third, beating Tunisia for bronze after a narrow semi-final loss to eventual champions Algeria.
Being at Egypt 2019 was, in and of itself, a significant leap, given Nigeria's conspicuous absence from the two preceding editions. Rohr's team at the AFCON was a fine balance of experienced heads resting on young shoulders, and an average age — the finals' third-lowest, in fact — of 24.3 years paints a future even brighter than the present.
What's not to like?
Now you know why Pinnick would feel so assured that the federation he leads need not go chasing foreign-born players of Nigerian extraction — like a certain London-born 18-year-old who he name-checked in striking home his point.
"There are many players that play like Bukayo Saka in Nigeria," Pinnick stated. He didn't snigger as he made that claim, no, but the former Confederation of African Football vice-president may as well have.
Why, Pinnick could even point to the success stories of players who have already picked Nigeria's green and white ahead of the colours of other countries they could have represented, as evidence of the NFF's solid track record on that front! Indeed, for every Tammy Abraham, Dele Alli, or Angelo Ogbonna lost, Nigeria can proudly make a show of what they've made of Victor Moses, Leon Balogun, William Troost-Ekong, Alex Iwobi, et al.
Those aren't luxuries Ghana, Nigeria's West African rival, has. Yes, there is — as Pinnick, indeed, correctly pointed out — plenty of genuine and useful home-bred talents to pick from, in Ghana as in Nigeria, but the options out there are worth pursuing, too, given the more comprehensive footballing education they possess.
The Black Stars are a team currently suspended in transition — unlike Nigeria who have a stable project already going, with Rohr on course to become the side's longest-serving trainer — after the exit of Kwasi Appiah as head coach in December and the subsequent appointment of Charles Akonnor in his stead. The latter hasn't overseen any games yet, due to the COVID-19 pandemic, but his team-building job is already underway, and Akonnor needs all the material — local or 'foreign' — he can get.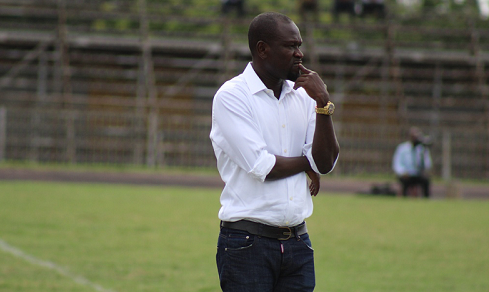 In their bid to convince a long list of potential 'recruits' — headlined by the eye-catching Eddie Nketiah, Saka's Arsenal teammate — Akonnor and the Kurt Okraku-led Ghana Football Association (GFA) would find their pitch a tougher sell. It's not just about Ghana being 15 places beneath Nigeria in the current FIFA ranking. More crucially, it's about the Stars being at arguably its lowest point in a little under two decades. They missed out on the last World Cup, messed up at the one before that, and crashed out of the latest AFCON — for the first time in 11 years — before the semi-final stage.
Add to those challenges the fact that high-profile nationality switches secured in the recent past haven't exactly gone happily ever after (see Kevin-Prince Boateng), and Ghana has one less carrot to dangle in front of Nketiah and Co. So, then, while Nigeria could choose to relax — only relatively, however, for even they would have to put in some work, as an NFF source conceded to ESPN — the GFA should go the extra mile.
Time to hit the road.
NY Frimpong — Daily Mail GH