The 2019 Africa Cup of Nations started a month ago as a 24-apartment condominium; now, it is a villa with room only for two.
Friday's final between Senegal and Algeria will be feisty, a keenly contested battle of wits and tactical nous that will ultimately come down to who wants it more and takes their chances. It is the pair's second meeting in three weeks — their fifth overall at the Afcon – only with higher stakes than ever.
On paper, the combatants look almost even. Quite reasonably, though, much of the pre-match narrative is spun around Premier League duo Sadio Mane and Riyad Mahrez — talismanic figures for Senegal and Algeria respectively. With Mane winning the Uefa Champions League in the colours of Liverpool last season and Mahrez sweeping clean the whole haul of domestic trophies in his maiden campaign at Manchester City, it feels like either man is just an Afcon gold medal away from being named the next African Player of the Year.
The City-Liverpool storyline thickens the plot further when one considers the head-on collision the two northwestern clubs were on for the 2018/19 league title. That challenge yielded an intense match-up in October last year, during which Mahrez missed a late penalty, but the £60 million man triumphed when Algeria met Senegal in their Group C game at this Afcon.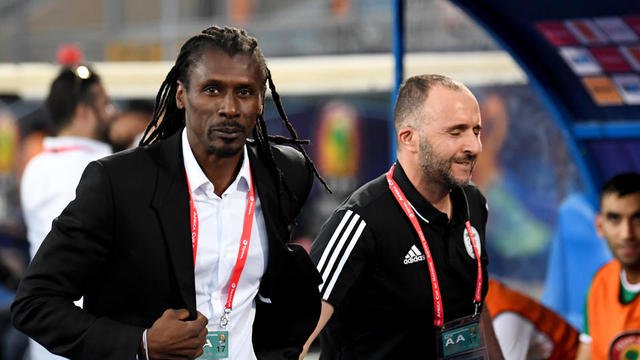 On the touchline, two coaches – once skippers of the national teams they now command from the dugout – who share personal history will have their own exchanges. As it turns out, Aliou Cisse and Djamel Belmadi were born just a day apart and grew up as friends in the same French dormitory town. Former Senegal midfielder-cum-defender Cisse believes his squad has enough motivation to overcome ami and opposite number Belmadi, himself a fine midfielder in his day.
"I have unlimited trust in my players and I felt they want to achieve something," Cisse said after the hard-fought semi-final victory over Tunisia.
"They did all what is needed to win. This generation is better than the 2002 one. My players told me they are ready to prove it, and I am sure they will."
That 2002 group Cisse speaks of was one he led as captain, ultimately getting heartbroken in the only Afcon final that has featured the Lions of Teranga. They seek to go one better this time, but formidable opponents — and huge odds — await at Cairo's International Stadium. Senegal may be Africa's top-ranked team, with Algeria 11 places lower, but it is the latter that has impressed most.
Les Fennecs have defeated two of the Afcon's last three champions en route to the final — juxtaposed with a Senegal side that has had a relatively easier knockout route to July 19 — and are reasonably the bookies' favorites; remember, too, that Senegal have never beaten Algeria in Afcon meetings. Still, Belmadi keeps the lid on hopes only partly open.
"To the Algerian people, I want to say: I'm not a politician, not a miracle worker or a wizard," the former City man says. "But we will fight like we have fought to this point."
The big absence from the party, of course, is Kalidou Koulibaly, currently Africa's finest center-back. The towering Napoli man is suspended after picking up another yellow card versus Tunisia, and his loss could be felt if Algeria's sleek attack exploits whatever vacuum — there will be one, surely — that creates.
Algeria emerged from the penultimate round courtesy a last-gasp bit of brilliance from Mahrez, while it took a bizarre Dylan Bronn own goal to slip Senegal through. Given that contrasting backdrop — and how finely balanced [Afcon] finals can be — it could take no more than a similar moment of genius or one of like madness to settle the decider, the first contested by African coaches since 1998.
Between a team that has won just one continental title in nearly three decades and another that has never won it at all, may the best win.
Jimmy Aidoo & Sammie Frimpong — Daily Mail GH