The Criminal Investigations Department (CID) has arrested the New Patriotic Party (NPP)'s Central Regional Vice Chairman, Horace Ekow Ewusi, over missing excavators seized in the fight against illegal mining (galamsey).
According to Adom FM, Ewusi is being interrogated at the CID Headquarters in Accra "over his role in some missing excavators and other equipment seized from illegal mining operators".
The arrest was based on a request made by the Minister of Environment, Science and Technology, Professor Frimpong Boateng.
The 'Request for Investigation' letter written by Professor Boateng to the Director General of the Police CID said Mr Ewusi was contracted to cart excavators and other vehicles and pieces of equipment seized by Operation Vanguard to designated areas for safe keeping.
The minister's letter said the Ministry had received information that he sent an unknown number of equipment to unauthorized location including one in Tema.
"Information reaching me indicates that he has sold an unknown number of the pieces of equipment including excavators," the minister's letter to the CID said in part.
Find the minister's letter below: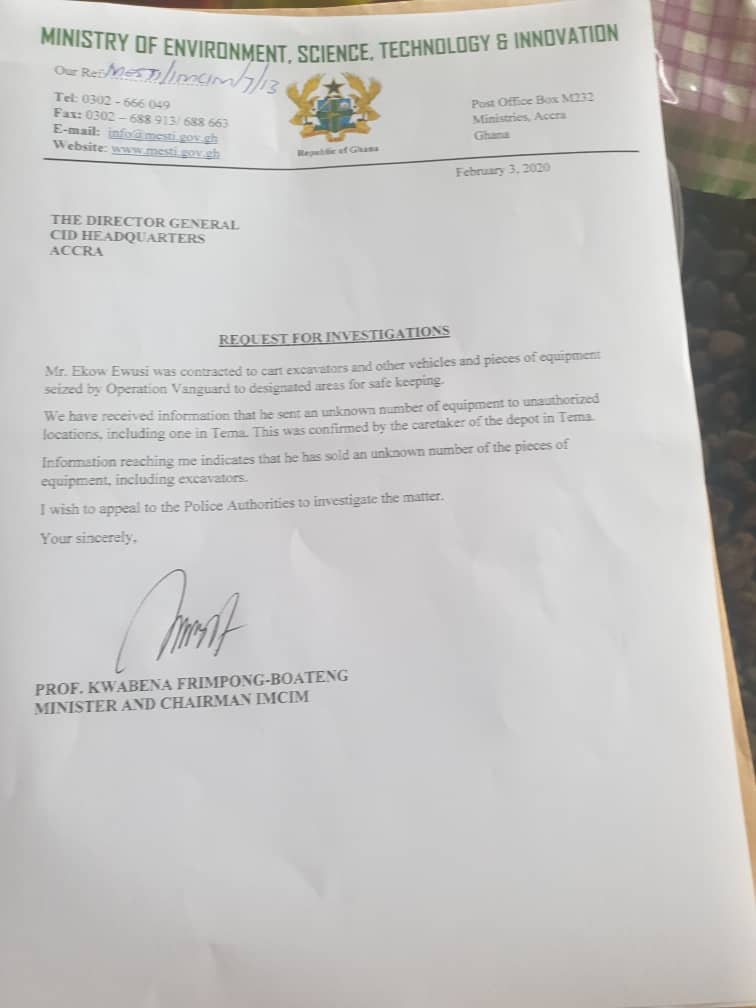 Source: Daily Mail GH with additional files from Adom FM