As the noughties lurched to an end and the world reeled from the Great Recession, football rolled on.
Yes, some clubs did feel the pinch, but the heavyweights — you know, those whose exclusive club remains fenced off by velvet ropes – hardly did. Businesses around them shut, one after the other, but these barely blinked. That only reinforced the belief of some that football, especially at its highest level, might be immune to all that could grind the planet itself to a halt; that if all else ran aground, football, like an insular raft, would remain afloat . . . which is why, 34 days — and counting — without their favorite sport has many fans feeling as though life has taken a sudden apocalyptic turn.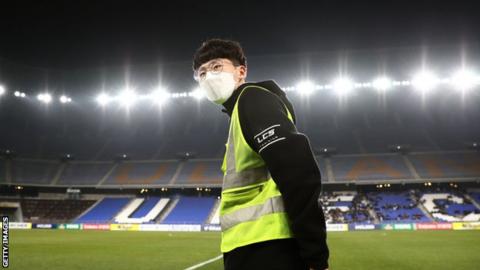 The end of the world [as we know it], surely?
Well, perhaps not. And, yet, perhaps this is just the jolt we needed.
The novel coronavirus disease (COVID-19) pandemic has just scythed its second million of victims, and football — cash-vaccinated, eh? — now finds itself buried in this earth-engulfing crisis, and will likely be for some time. Football would probably recover quicker than most, yes, but that recovery is still far off. Until then, present realities are a stark reminder that football doesn't operate in a bubble; even if it did, clearly, that realm is only separated from the rest of the world by a delicately taut film that has finally burst with a resounding pop.
Consider, first, the casualties: instances when COVID-19 has hit too close to football's major actors thus far. Dolors Sala Carrió, mother of Manchester City boss Pep Guardiola, recently died of the disease at 82. Mikel Arteta of Arsenal, not long ago Guardiola's assistant, also caught the bug, but recovered. Among the stricken, too, are Callum Hudson-Odoi, Paulo Dybala, Blaise Matuidi, and a handful of other players scattered mainly across plagued Italy and Spain.
Then, the finances.
The biggest clubs are negotiating for their players to slash a digit or two off their wages, while applying to furlough non-playing staff (quite a few have since been shamed into backtracking). The biggest players, too, have donated handsomely to support the global challenge of fighting COVID-19 and alleviating its impact.
The greater financial cost, though, might be evident during the next transfer window (whenever it comes), when clubs would be limited to more modest waves in securing targets. Transfers planned for fees in triple figures would be revised — even canceled or postponed until such a time when splashing cash as wildly as had been seen in recent windows makes sense again.
Money from broadcasting and commercial deals may help clubs retain a veneer of sheen, but the other major source of revenue that oils the wheels — matchday income — might only flow at a trickle before, when some sort of normalcy returns, breaking into a stream.
Don't expect fans to flood stadia — almost like junkies, shrugging off all the withdrawal symptoms between highs, and queueing up desperately for a long-denied fix — immediately after football re-opens its doors. That may happen eventually, but only after a post-pandemic life has been adjusted to.
Football, as a famous jockey-turned-horse once said, is merely the most important of life's least important things, but never prior has that fact been so apparent. It may have taken COVID-19's tentacles to squeeze us out of football's bubble of fantasy – if it ever existed, that is — but maybe that's just where it has always been.
Or, at least, that's just where it should be.
NY Frimpong — Daily Mail GH