Chiseled looks, perfect jawline, sexy accent, gleaming white shirt — and I'm not even talking about some version of James Bond.
That is not to say Herve Renard wouldn't be a good fit the next time an actor is sought for the 007 role, but the Frenchman would be more concerned about the present, following his Moroccan team's upsetting elimination by Benin on Friday at the ongoing Africa Cup of Nations.
When Renard first wowed us — and our women — at the 2012 Afcon with Zambia, he was everything described at the outset, along with a football brain that had a continent swooning. He still has all that, with some grey at the temples only adding to the oodles of charm he oozes so effortlessly.
Renard's success in Libreville seven years ago was spellbinding, but also a tad shocking. And it wasn't just the Chipolopolo's unlikely fairytale that had observers stunned; it was also the story of the man who'd worked it all out.
Renard — once a binman — was as unheralded as his team, having only arrived in Africa four years prior as an assistant to compatriot Claude Le Roy — a veteran coach whose years of distinguished work in Africa is credited with the rise from obscurity of stars like Samuel Eto'o Fils and George Weah — on Ghana's bench when the west Africans hosted the Afcon.
"I was excited, of course," he told this writer in September 2013. "I am never apprehensive. I love my job because it is my passion, irrespective of where it takes me. I figured this [the Ghana offer] could become my big break as the sheer magnitude of that country's football dawned on me while I followed the Black Stars' exploits at the 2006 World Cup."
By the time those words were uttered, Renard had already been at three editions of the Afcon with Zambia, across two spells. The first of those appearances saw Zambia contest a quarter-final for the first time in 14 years (lost on penalties to Nigeria), the last yielded a rather forgettable experience, and between those came Renard's finest hour.
Two years later, again at the helm of a team that primarily plays in orange — and which he'd beaten in the 2012 final — Renard had another hour of such grace beckon. Overcoming Ghana, his first African love, in the same manner he'd beaten Ivory Coast with Zambia — via a nail-biting shootout — Renard became the first man to guide two countries to Nations Cup glory.
Clearly, this was no fluke. Here was a specialist. A legend. A 'mercenary', even, but one worth celebrating regardless. Thus, a cult began to build around Renard. He was Midas the king, turning into gold everything he touched. Need an Afcon as badly as Ivory Coast — or even Zambia — did?
Hire him; on a try or two, he'd have it delivered.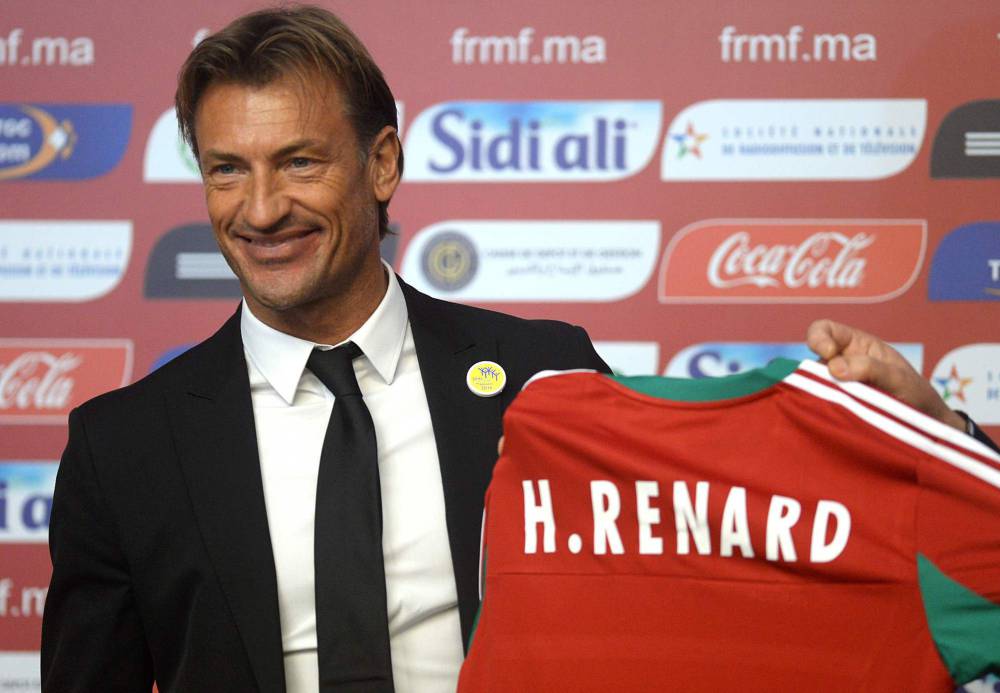 Suitors weren't in short supply. Morocco jumped to the front of the queue, securing his services in 2016.
A try or two, I said?
Well, Renard has had them, in 2017 and 2019. Both occasions saw him beat Ivory Coast in the first round (dude would make a rather terrible ex, wouldn't he?) and advance – to the quarter-finals and the Round of 16 respectively. The outcome of each, though, was the same: Renard and his Atlas Lions lost.
And while there was little shame in the former — a late winner for record champions and eventual finalists Egypt — the latest instance is definitely chastening. Benin had never celebrated a win at the Afcon in 12 previous attempts, and they only slid into the knockout phase for the first time this year as one of four best third-placed teams. Morocco — widely fancied for the crown after a solid run in the qualifiers and a memorable Fifa World Cup outing in 2018 — were expected to shrug off the Squirrels with a minimum of fuss.
Moroccan hearts must have skipped a few beats after Benin took a surprise second-half lead, but a comical defensive error by the team in yellow got Renard's side level before long. A last-gasp penalty should have sealed conquest within regulation time, but Hakim Ziyech's kick struck the post farther from the Beninese goalkeeper.
Trouble?
Well, some nerves were frayed but, with extra-time due, Morocco had ample opportunity to get the job done. They never did. Not after Benin had defender Khaled Adenon sent off. No, not even when a shootout — Renard's patented modus operandi — was invoked to settle the tie.
With four successful conversions to one, the underdogs — managed by another from France, Michel Dussuyer, a veteran of as many Afcons as Renard but with more mileage on the continent under his belt — emerged tops. Benin would have to wait till another day to fetch their first Afcon victory — penalties don't count — but they'd gladly hold on to this for now.
Elsewhere, there would be an introspection; maybe an inquisition. Morocco should have seen the crash coming and, to an extent, perhaps Renard did.
"I don't think we started the tournament well," the 50-year-old admitted before the game. "From a team perspective, we weren't good at all and I'm not happy."
He'd be even less happy now, one would imagine.
"I am responsible for this defeat," came Renard's post-match concession. "I will like to protect my players and I won't say anything against them even though they did not perform well. I think all the players did their best and I cannot blame them."
Enough said.
Morocco had made it out of Group D in perfection but not with style, merely stringing together three 1-0 wins. Against a Benin side that had resisted and eventually held favorites Ghana and Cameroon in their own group, things were always going to be tough.
"We had high expectations but still had difficulties against those who adopted a defensive style," Renard summarized Morocco's underwhelming campaign thus.
End of an era, then?
Not really — more like the death of a well-crafted myth. Renard extends his record of Afcon games not lost to 24 in 27 and will still be in demand. Henceforth, though, his appointment would provide few guarantees, if any, and would probably come at a slightly lower asking price. It's not clear yet if Renard would see out the remainder of his contract with Morocco — it runs till 2022 — or if even he'd be interested in being the next Bond after Daniel Craig.
One thing, though, is certain: Renard has lost his sheen. Sculpted like a Greek figure, he arrived in Egypt marble but departs brick — burnt and broken.
Sammie Frimpong — Daily Mail GH