The latest set of games in the 2019/20 Ghana Premier League (GPL) season treated fans to some exciting football and thrilling outcomes. Here, Daily Mail GH captures the biggest lessons and highlights of the matchday from a satirical perspective.
1. INTER ALLIES ARE THE LEAGUE'S PLAGUE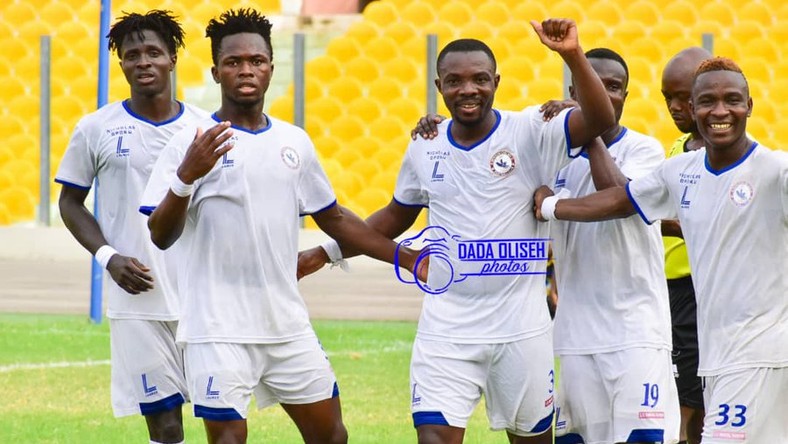 After winning their first three away games and ripping up scripts all over the place, Berekum Chelsea lost their mojo on the road and the rest of the league found some respite – only until Inter Allies came to town last Saturday, that is. Led by Nigerien import Victorien Adebayor (more on him soon), Allies inflicted a first home league loss on the Blues — good for them, obviously, but not-so-good for everyone else. Watching their victorious visitors have themselves a ball on their own turf, something must have clicked in Chelsea's heads and resurrected their taste for a good old away win: cue Great Olympics' 'bleeding'.
2. NUTMEGS STILL IN HIGH DEMAND
Highlights of Adebayor's influential role in the aforementioned Week 10 victory over Chelsea included two nutmegs — the pick of which was reserved for the misery of opposing defender Ahmed Adams — and it seems the fad has caught on well, given that the top-liner of the following game-week (see the next two slides) was settled by a nutmeg-assisted Samuel Bioh last-gasp finish. Not that we're complaining, though; I mean, who doesn't love those spicy little 'megs?
3. GOOD WEEK: ASANTE KOTOKO
In nine previous trips to Dormaa Ahenkro, Kotoko had tried nearly every trick that 11-a-side football permits just to secure a win — all in vain. On Wednesday, they decided to operate outside the box, adopting the unorthodox yet very kosher option of starting with just a man less. Somehow, though, Aduana found a way to match even that rarely employed tactic, eventually edging the keen contest courtesy Bioh's strike. Empty-handed, Kotoko return to Kumasi — but, at least, they do get credit for having outdone themselves for once at their bogey grounds. What more could be asked of them?
4. BAD WEEK: KWAME KYEI
Not much to say here, really, aside the small matter of Kotoko's Executive Chairman missing all the juicy bits of the club's most dramatic game this season. Poor guy!
NY Frimpong — Daily Mail GH