When, sometime in 2019, Alhaji Karim Grunsah declared his ultimately aborted bid for the Ghana Football Association's then-vacant presidency, the general reception wasn't exactly positive.
There was some apathy, even ridicule, and not many believed Grunsah had any serious chances of winning. It wasn't just about the competition being too tough; it was also about how not-so-sparkling his academic credentials are, as well as Grunsah's reputation in the modern Ghanaian game.
See, these days, he is a figure of fun, seemingly sought solely for his one-liners and sheer entertainment value; his club, King Faisal, back in the top-flight following relegation six years ago, are the butt of many a joke over their dated bus, if not for their failure to win a single Premier League game thus far this season. But things haven't always looked so dull for Grunsah and his club. There have been some good times in the past, and the nineties brought arguably the best of them.
In a decade that saw Ghana boss world football at youth level with dizzying peaks and dazzling players, Grunsah's Faisal was one of the country's most productive factories. Faisal's starlets were in high demand, and quite a few ended up at European destinations, including Germany's biggest sides.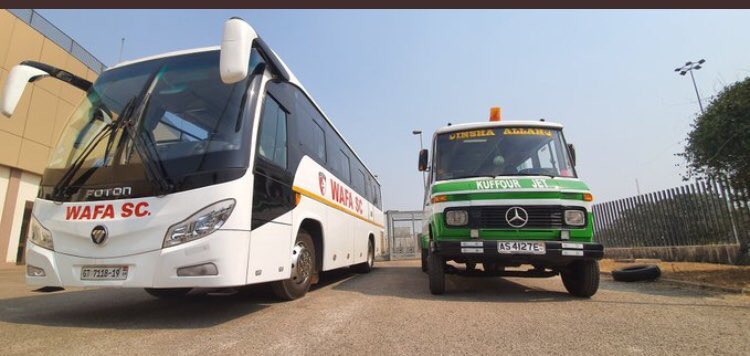 Young defender Samuel Osei Kuffour joined Bayern Munich from Torino in 1993 — two years after departing Faisal, based in Kumasi, his hometown — but didn't really establish himself in the first team until circa 1996, despite his reputation as a medal-winning veteran of the Olympics and multiple youth World Cups.
Just around that period, another Faisal graduate, Ibrahim Tanko Anyars, also landed in Germany, at Bayern's archrivals, Borussia Dortmund. Tanko — a forward — didn't bring along the 'boy wonder' tag Kuffour came with, yet he broke a record — as Dortmund's youngest ever debutant (until a certain Nuri Sahin in 2005) — with his very first kick for the club in September 1994, his first goal coming later that season in his maiden start (still the sixth-youngest Bundesliga scorer).
By April 1995, Tanko had wriggled his way into Ottmar Hitzfield's first team for a trip to Bayern, who had Kuffour in a three-man defence. The pair inevitably clashed a few times, given their directly opposing positions, and one of their duels — Tanko on the ball and Kuffour on guard — was captured in an image that would stand as a lasting salute to Grunsah's uncanny ability to spot, nurture, and elevate potential. Both players lasted the game's full course, and a third from Faisal's stables, Dortmund's Mallam Yahaya, joined for the last 22 minutes.
Bayern won 2-1, but Dortmund would cling to their slim lead atop the Bundesliga table, going on to nick the Meisterschale one point ahead of Werder Bremen in the end. Kuffour and Tanko — European champions at their respective clubs — wouldn't have another Der Klassiker face-off, the latter's long struggle with injuries being a big reason, but the 1997/98 campaign would bring another moment of pride for Grunsah. Kuffour — now more of a regular — was still in the mix for the Bavarians; his rival?
Bashiru Gambo, also Faisal-bred.
There aren't any pictures to show for that clash — I really searched, believe me — but it must have been quite memorable, too; for Grunsah, at least, it was. Kuffour featured all game and was again on the winning team, with Gambo hauled off after an hour. The big winner on those two occasions, though, was Grunsah, undoubtedly.
The old man might have lost his touch in recent years, yet those memories are certainly worth reflecting on, ahead of Tuesday's potentially decisive Bayern-Dortmund championship duel.
NY Frimpong — Daily Mail GH