May 23, Dormaa-Ahenkro — Clouds darken on an otherwise fine Thursday afternoon, gathering in the manner that suggests this town near Ghana's western border could soon get drenched in heavy rain.
Many hope not, though.
Today is a special day; a day that brings the kind of buzz a municipality of such modesty does not experience everyday. See, not much happens in Dormaa; between its status as the 'egg capital' of Ghana and the destination of the last Premier League title awarded in the land, there is very little to report.
But not today.
Aduana Stars — Dormaa's 'traditional' football club and holders of the aforementioned league crown — have nemesis Asante Kotoko coming to town and, trust me, there is no fiercer grudge match in Ghana right now. Theirs is a rivalry steeped deep in history and both sides are usually unyielding when crossing swords. Perhaps for once, though, there is little in it for the hosts; it is Kotoko that need the result — at least a point — to secure passage into the semi-finals of the Special Competition (the Ghana Premier League in all but name and format).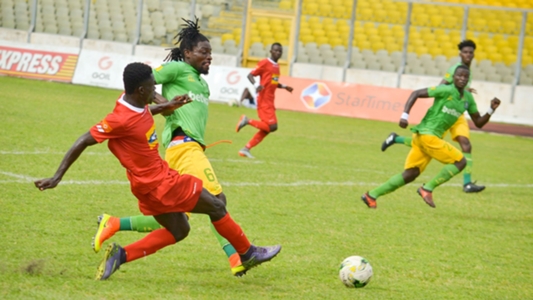 Me?
Oh, I am Sammie Frimpong — a football writer at the venue, the Nana Agyemang Badu I (NAB 1) Stadium, to cover the game for my employers, Daily Mail GH.
It is into one of the NAB 1's six press boxes that I settle, flanked to the left by GBC's Benjamin Willie Graham (big guy!). There are four more cubicles that are unoccupied — for good reason, too, as these dirty, cobweb-ridden dens are no place for a journalist. Besides, they only offer a rather narrow view of affairs, forcing me to relocate to where the real action is: the terraces.
The game is already underway when I find a sweet spot on one of the long concrete slabs that serve as seats — doubling as stairs — at this stadium. For a moment, I take in the sights and sounds, but, somehow, I cannot help but be sucked deeper into everything else happening inside this vast arena — you know, all the mundane exciting stuff you're usually too engrossed in the football to notice. Ideally, I would need a good camera to document what I see but, unfortunately, 'nothing I get' (not counting the inadequate 16 MP camera on my old Samsung A5).
Wait, though; don't they say a picture is worth a thousand words?
Well, isn't the reverse just as true?
Thus inspired, I decide to capture what I see and hear in words — starting with those who have the luxury of covering the game with the one equipment I lack. I spy with my little eye men operating cameras mounted in at least four different ways: in the hand, on the shoulder, on the ground (along with a laptop unto which pictures are uploaded intermittently), and on a stand that offers a bird's-eye view of the game.
Behind these – and behind the inner perimeter fencing — are three lame fellows: one aided by crutches (and with big headphones fixed in place), a second limping on a stick, and a third who just trudges along with no walking aid. Not too far away, an elderly man sits by the fence, dozing and supporting his swaying head with a palm. He is clearly not interested in the game — not any more than I am, anyway.
Then there are those present solely to make money. I am almost tempted to call out to that ice-cream vendor on his Fan Milk-branded bike down there — not quite Kwesi Arthur, but you get the picture — for one of the frozen dairy products he hawks, but just when I'm about to holler, I see this well-rounded lady pass by at a closer distance, carrying a basin stocked with sachets of water and bottles of beverage. Mind changed; do not judge me, charley. Something must 'kill' a man: Beta Malt, if not FanYogo.
Honestly, it is only now I observe that there is so much more to life on the touchline than just coaches barking instructions (I see them), players warming up (those, too) and advertising boards (all those here belong to betting firm Betway, Aduana's headline sponsors). Near one of the four corner-flags, there are two vehicles — a fire truck and an ambulance — jealously guarded by the staff who operate them. All along the fringes of the pitch, security officers are also stationed.
Back to the stands now, though, where there is even more activity than on the turf itself. Take, for instance, the guy sitting next to me — another journalist refusing to be caged in that excuse of a press box — who rattles commentary in the vernacular into his phone. At least twice before the game ends, he 'hires' me as a co-commentator and I oblige — gladly the first time, reluctantly the second. He is not exactly Peter Drury and I am not Jim Beglin either, but if he dares ask for a third shift, I would probably draft a contract right here.
He doesn't, however — but only because there has been a goal by the visitors, Kotoko's first at this ground in a decade. I couldn't be bothered, and the generally muted tone all around suggests I am not alone. Three minutes later — when the home team equalizes and nearly everyone erupts in ecstasy — I feel truly alone.
Thankfully, half-time soon arrives to draw me out of my numbing solitude. Ha, now we are even!
***************
Actually, we are not, as I realize not long after the second half starts. Goals aside, there is a lot of fun on the pitch — but not so much off it; certainly not much in the way of sights, but definitely many sounds to soak in. Aduana's dedicated musical fanbase, 'Ogya Nine' — think of it as the equivalent of Hearts of Oak's famed 'Chapter O' — enthusiastically dish out one 'jama' tune after the other, and there is even more music filtering in from a pub outside the stadium that has come alive on matchday.
At this point, the game regresses into a rather drab affair that, literally, has a cloud (or two) cast over it. The cloudy skies let loose a light, short-lived drizzle that eventuarry eventually clears up — but not before the gust which accompanies it knocks over one of the Betway-branded boards. The nearest ball-boy, crouching at a safe distance, makes the sign of the cross.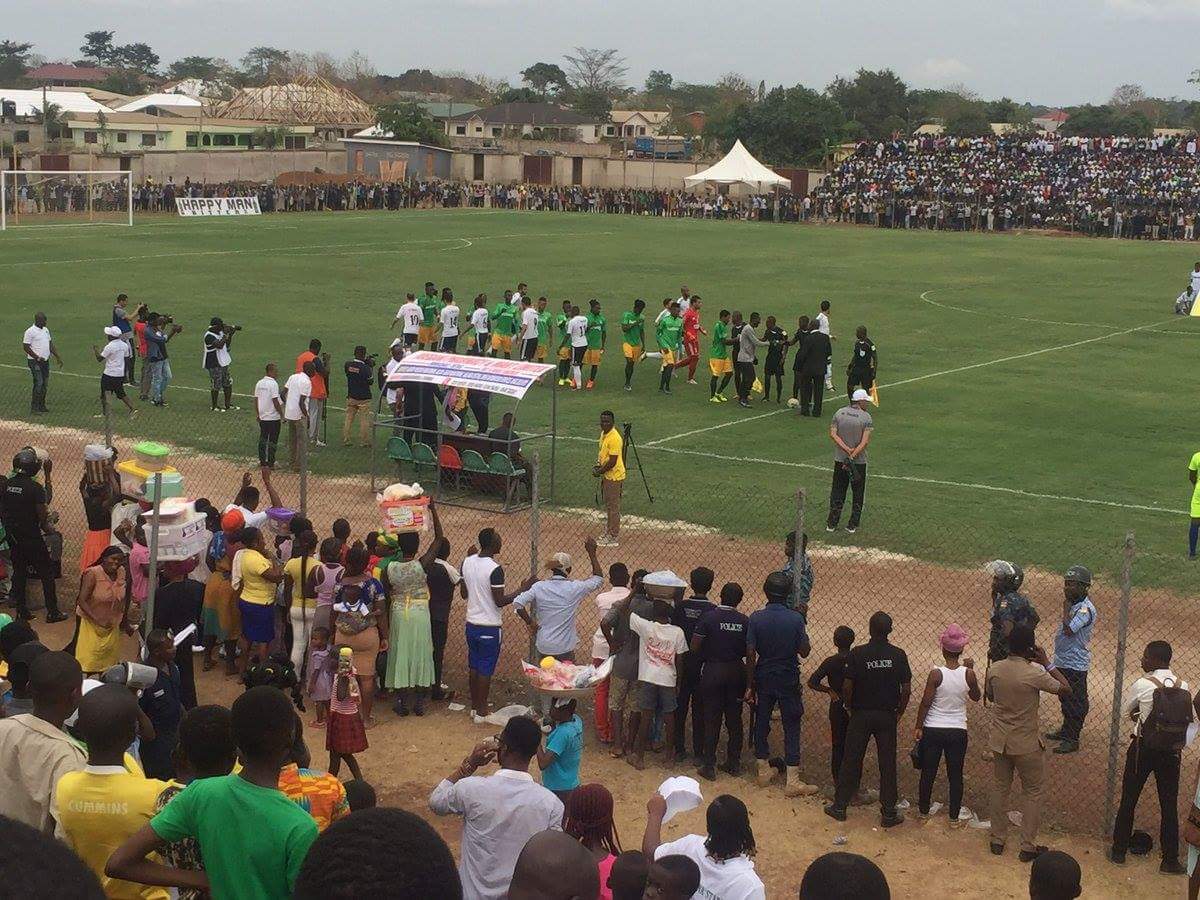 The collective mood of the fans hardly brightens, though. Some angrily yell frustrations about not receiving their money's worth of football; those who remain calm are consoled by the fact that the widely predicted draw, which they probably gambled their money on, seems the surest result here. Frankly, I cannot tell which of those two groups form the majority of fans who file out of the stadium before the three minutes of added time are up.
But as the game ends (in a draw, yes) and the exiting tens grow into hundreds, new 'patrons' arrive: a flock of sheep grazing on the grass that had just served Ghana's elite competition.
Really, who needs groundsmen?
Sammie Frimpong — Daily Mail GH