Between hosts France and holders Brazil, the two best teams at the 1998 Fifa World Cup, stood Said Belqola, the Moroccan tasked to officiate that final at the Stade de France.
It was a moment of pride for African refereeing, a sweet bit of history. And, yet, it had only been a little over a decade since another North African, Ali Bin Nasser, botched a big decision in another World Cup classic, also between European and South American giants.
On this day, 34 years ago, that memorable England-Argentina duel captivated Mexico City and the rest of the world. Gary Lineker got the last of his six Golden Boot-winning strikes, but it was another man — one deft, devilish, diminutive Argentine — who truly stunned the Estadio Azteca crowd with two goals that would forever remain etched into football folklore, stretching his legacy taut between the sport's extremes… all in five short minutes.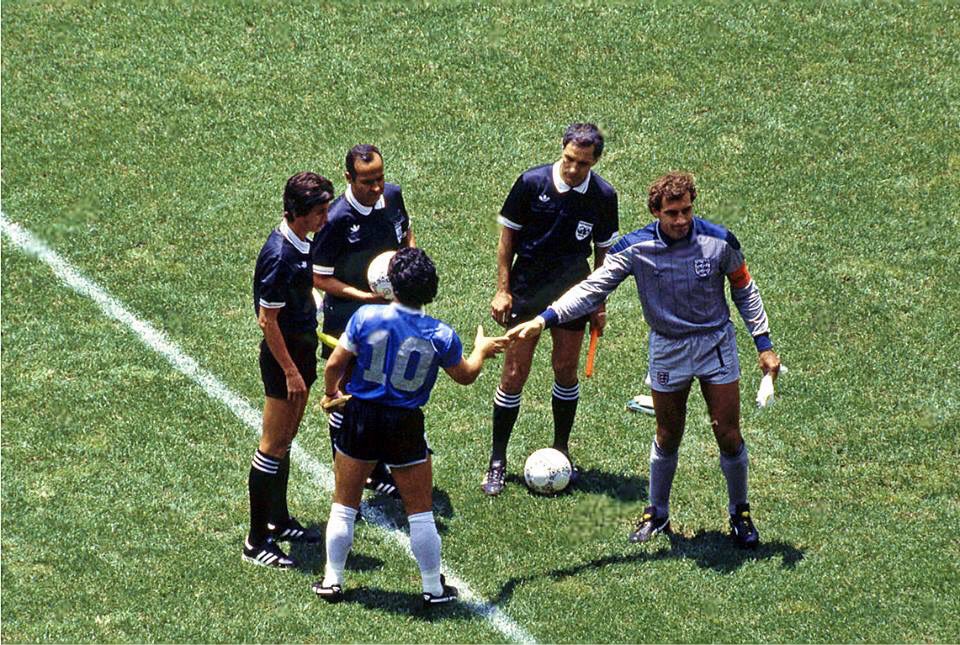 The first could have been remembered almost as fondly as the second, with Diego Maradona, Argentina's captain, picking the ball up not too long into the second half, and not too deep into the English half. He skipped past a couple of opponents, more like a skier than a footballer, until he reached the edge of the penalty box. There, Maradona rolled the ball, which he had held as a prized possession for the last few seconds, to attacking teammate Jorge Valdano.
It wouldn't be with Valdano very long, however, with Maradona already wriggling his way into the box for a return pass. It came from, not Valdano, but his marker, Steve Hodge, setting up Maradona for an aerial duel with fellow skipper and England goalkeeper Peter Shilton.
This was no match.
If it were, all things being equal, Shilton — a full 0.18 meters taller — should have won. But Maradona wasn't ready to play fair, making up for his obvious vertical disadvantage with a thrust of his left arm and poking the ball into the goal, just beyond Shilton's curly mop.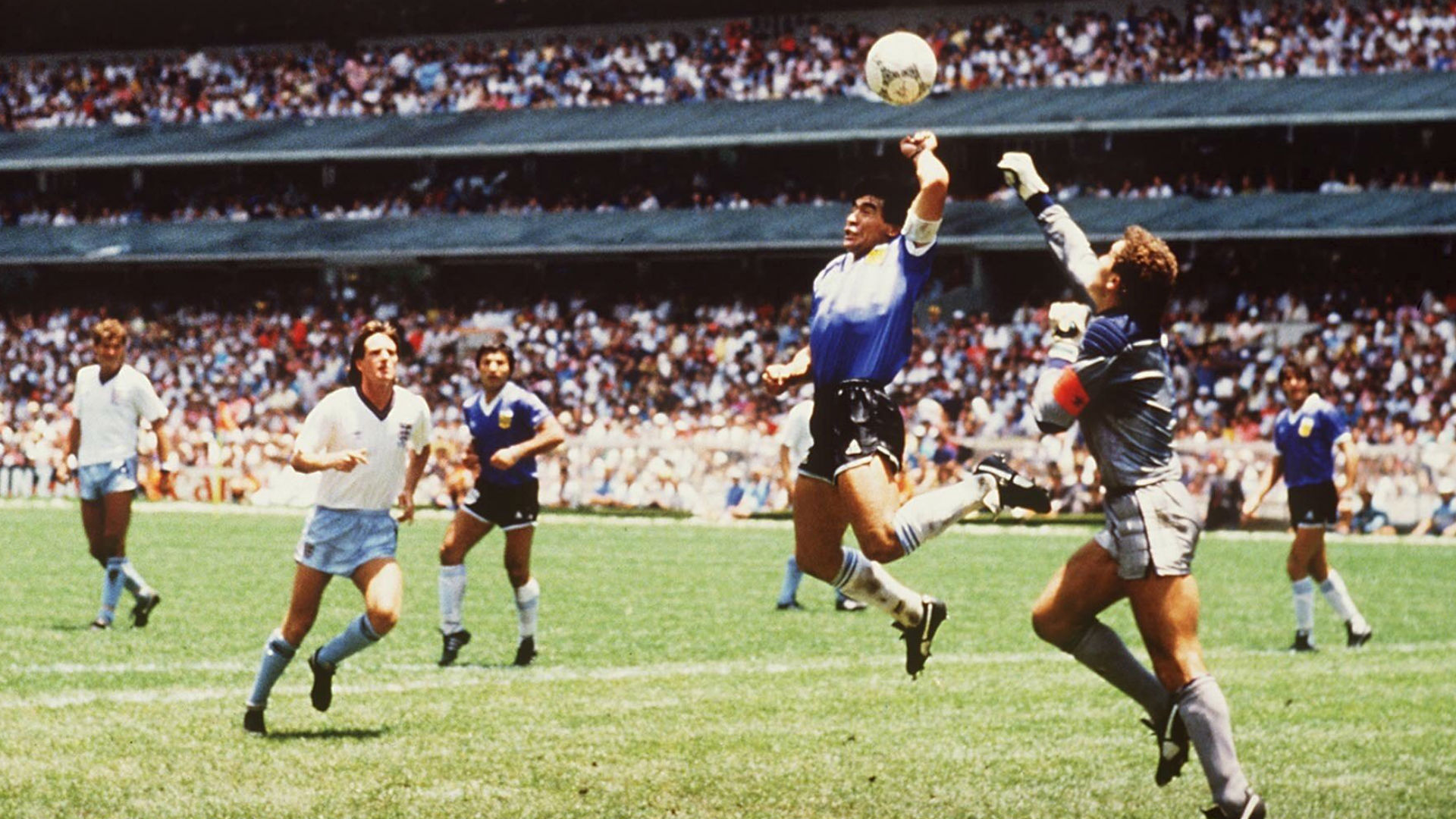 As Maradona wheeled away and pumped his fists in celebration to mask the blatant offence he had just committed, leaving livid Englishmen in his wake, only two men stood in his way: first official Bin Nasser, and the linesman closest to the crime scene, Bulgarian Bogdan Dochev. Should they miss it, the future world champion would pull off what will later be tagged as the 'scandal of the century'.
They did . . . and he did.
If Bin Nasser and Dochev didn't share a friendship before this game started, they hardly had reason to start one after full-time. The former would later argue that the call was Dochev's to make, which is why – even as he jogged backwards to take position for a potential re-start, with a wild pack of [Three] Lions tearing at him — Bin Nasser kept looking towards his right, seeking some confirmation from Dochev.
It never came, partly, perhaps, because the pair spoke no common language and relied heavily on non-verbal cues.
"After Maradona scored, I hesitated for a moment, but then I saw Dochev running towards the centre of the pitch," Bin Nasser told Argentinian newspaper Olé in 2001. "And because he was better placed than me I decided to trust his judgment. No matter what happened I still think I had a good game."
Much earlier, in the aftermath of the match, Bin Nasser had offered an altogether different excuse, one that didn't quite sound right: a hemorrhoid treatment that, apparently, affected his sight.
Ha!
But Dochev, following an admission that he did, indeed, sense something might have been amiss about the goal, hinges his own defense on the fact that "back in that time Fifa didn't allow the assistants to discuss the decisions with the referee."
A fair and mild argument, if only Dochev had ended there — but he didn't, and his next few words weren't so fair and mild.
"If Fifa had put a referee from Europe in charge of such an important game, the first goal of Maradona would have been disallowed," Dochev claimed.
"Bin Nasser was just not prepared well enough to referee such an important game. And how could he be? After all he used to be in charge of some games between camels in the desert."
Ouch.
It was a low blow, to Bin Nasser and the entire African football fraternity.
See, Mexico 1986 was a landmark tournament for the continent, with Morocco becoming its first side to ever progress beyond the Mundial's first round. On the refereeing front, though, things hadn't gone so smoothly, courtesy an incident that marred a Group B fixture between Iraq and Paraguay during which Mauritian official Edwin Picon-Ackong whistled for recess a split-second before Iraqi striker Ahmed Radhi's header hit the back of the net, disallowing the goal and receiving much criticism for it.
Bin Nasser's quarter-final misery, however, came in a game of considerably higher stakes and proved quite the banana peel, for himself and for Dochev. Neither featured in another World Cup match, and both would probably go down as much victims of the less admirable of Maradona's two goals as the poor English themselves.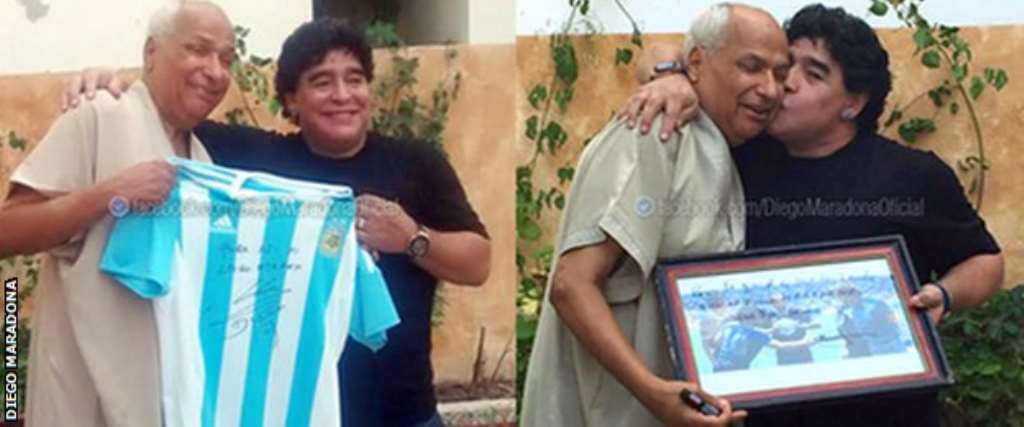 Dochev soon retired, after reaching the age limit for an international referee, and died at 80 in 2017. Bin Nasser's reputation never really recovered from that stumble but, fortunately, African football refereeing did, culminating in Belqola's ascent to the global summit in Saint-Denis 12 years later.
Bin Nasser would get the gift of a jersey from Maradona in August 2015, for his troubles, along with the cheeky 'compliment' of being described by the Napoli legend as an "eternal friend". Maradona received a present, too, by the way: a framed picture from that fateful World Cup match, featuring himself and Shilton in a pre-match handshake, with Bin Nasser and Dochev watching keenly.
That image is poignant, really, given how little either official saw the only other time those hands met.
NY Frimpong — Daily Mail GH