Prince Harry and his wife, Meghan are in South Africa for a royal tour.
This is the first time the royal couple are embarking on an official overseas tour with four-month-old son, Archie.
On Monday the couple visited a women and children's centre in Nyanga township.
Meghan told those gathered at the centre that "I am here with you as a mother, as a wife, as a woman, as a woman of colour and as your sister."
She was also concerned about violence against women and girls.
2,700 women and 1,000 children have been murdered in South Africa just in 2018. At least 100 rapes were also reported daily.
The couple also visited the Justice Desk in Nyanga. Prince Harry told the crowds that "no man is born to cause harm to women" and this was "a cycle that needs to be broken".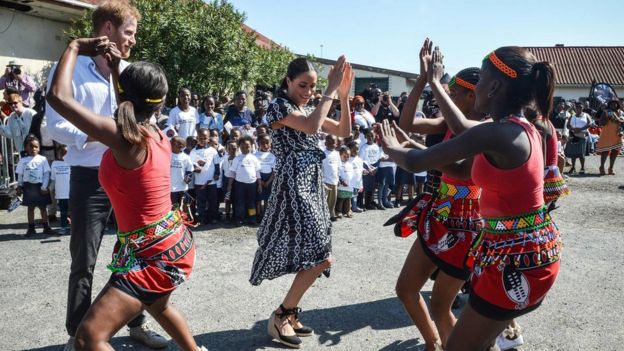 "It's about redefining masculinity," he said adding that "It's about creating your own footprints for your children to follow in, so that you can make a positive change for the future."
Meghan said the work of the centre, which includes teaching children about their rights and how to deal with trauma, was needed "more than ever".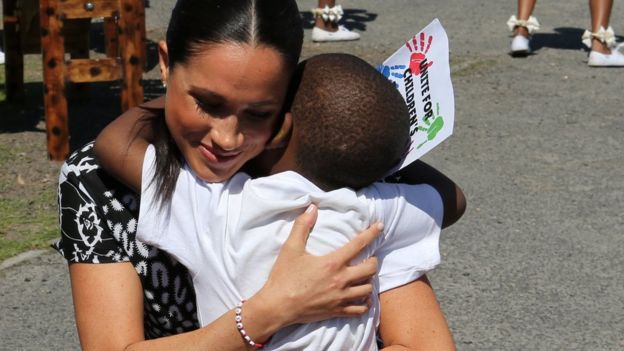 Meghan has been seen during the visit, dancing with performers.
The royal tour will last for ten days. The duchess and Archie will spend the duration in South Africa.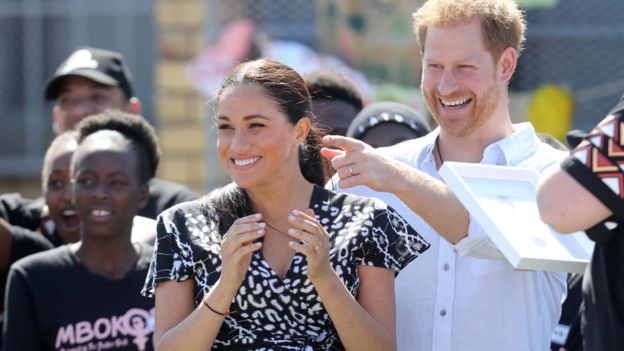 Prince Harry will however tour Angola, Malawi and Botswana before being reunited with his family in Johannesburg.
A Buckingham Palace spokeswoman said: "The Duke of Sussex's love for Africa is well known; he first visited the continent at the age of 13, and more than two decades later the people, culture, wildlife and resilient communities continue to inspire and motivate him every day."
Source: Africafeeds.com