When the Black Stars blinked their eyes open and rose from their hotel beds on the morning of Ghana's third 2022 Africa Cup of Nations qualifying game, only one member of the squad — skipper Andre 'Dede' Ayew — was supposed to have an armband as part of his match-day gear.
By noon, everybody — even Ayew — needed one.
Those black armbands weren't so conspicuous, given the sleeves of Ghana's shirts were just as dark, but what they symbolized couldn't have been missed. The man in whose honour they were worn, Jerry John Rawlings, Ghana's longest-ruling head of state and an iconic African leader of the 20th Century, had died just hours before the game.
Ten of the players who featured on Thursday, against visiting Sudan, were born in the Ghana he ruled — first with an iron fist, then with a velvet glove — between January 1982 and January 2001, underlining just how much of his 73-year-old life Rawlings committed to his nation's service. There haven't been many like him, which is why the Ghana Football Association (GFA) quickly arranged and announced a decision to pay tribute to Rawlings' memory.
"The Confederation of African Football (CAF) has granted Ghana's request to wear a black armband and observe a minute silence in Thursday's game against Sudan," a release on the FA's website read.
***
Ghana won 2-0, both goals scored by Andre Ayew, a man whose father, Abedi Ayew — the finest footballer ever seen on these shores, by some metrics — reached the peak of his powers during Rawlings' lengthy reign. The older Ayew's maiden international tournament for Ghana was the 1982 Africa Cup of Nations, which the country had qualified for courtesy victory over the two Congos — Congo Brazzaville and DR Congo — but wasn't going to appear at, due to diplomatic tensions with hosts Libya.
Ghana's president at the time, Dr. Hilla Limann, had his government allied with the United States of America and was, thus, at odds with controversial Libyan leader Muammar Gaddafi. The Stars missing that upcoming Afcon, then, was a strong statement intended to express, in no uncertain terms, Limann's contempt for Gaddafi and his ways. But that would only have come to pass had Limann had the last word; on New Year's Eve, 1981, he was denied that luxury by a military overthrow.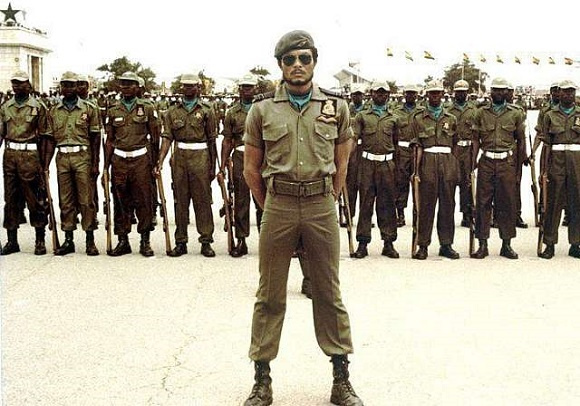 The new guy in charge was, well, the old guy in charge: Rawlings. The young flight lieutenant had handed power — literally — to Limann in September 1979, mere months after claiming it with the first successful coup he staged. This time, though, Rawlings' reign would last much, much longer. The first few days — the first few years, even — were chaotic, as a career soldier tried to come to terms with steering the affairs of a nation teetering on the brink of economic collapse.
Yet, even in those hazy early stages, Rawlings had some clarity in mind, at least with respect to one facet of Ghana's foreign policy: Libya, whose revolutionary leader, Gaddafi, Rawlings had come to admire and even befriend, would enjoy amicable relations again with the West African state, and that decision was signed off with a reversal of his predecessor's Afcon boycott.
It seemed foolhardy — the sort of idea only a man crazy enough to attempt three coup d'etats could conceive. The competition, to Ghana's disadvantage, was only two months away. But Rawlings needed Ghana to participate — and perform well, too, to the extent possible — for still another reason: he sought to ride a wave of patriotism and nationalism, traits absolutely necessary for the success of the 'holy war' he waged, and the Stars were tasked to create one.
A team was quickly cobbled together, and Ghana — unarguably the least prepared of all eight teams at the tournament — greatly overperformed, beating Gaddafi-inspired Libya on penalties in the final to win a record fourth Nations Cup trophy and, more crucially, providing a springboard for Rawlings to launch his crusade.
Those victorious players were cast, unwittingly, as poster boys for the revolution (as Rawlings styled his new regime, and as Gaddafi branded his own forceful takeover of Libya's government of the day). Like Ghana's new leader, the Stars had fought hard and selflessly to overcome huge odds; really, what excuse did their countrymen have not to do same?
"What you have won without expectation of any promised material reward is tribute to your revolutionary strength," Rawlings underscored. "The revolution thrives on women and men who fight without any expectation of reward but for the glory of their people."
***
Ghanaians didn't know it then, but that was the last time they would celebrate Afcon glory in 38 years, and Rawlings, in hindsight, should receive credit for being the reason why that drought isn't longer by some four years, at least. Many would argue, though, that Rawlings is actually the reason why there is any drought at all.
See, ahead of the aforementioned final against Libya, Rawlings reached out to the team, with juicy promises made.
"President Rawlings sent a telegram to commend the team and encouraged us to strive to win the final match," Kwesi Appiah, a non-playing member of that triumphant group and a future Ghana coach, said in his recently published memoir.
"If we [the players] win the trophy," came the pledge, "our children and their children would come and enjoy the reward that we are going to receive upon our return."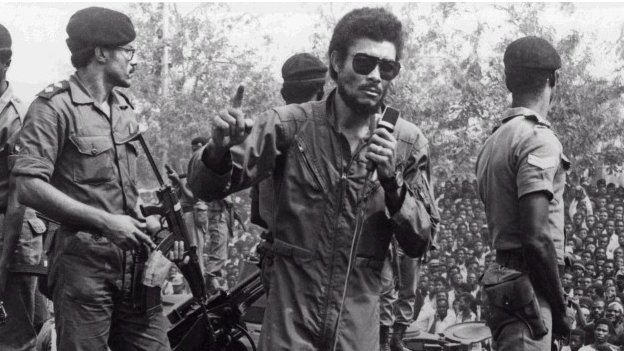 All they got on their return, though, was a meeting with Rawlings and a big, fat presidential salute — certainly worth telling their children and grandchildren about someday, eh?
"The nation was going through difficult times and there was not much that could be given to us [players] in terms of monetary reward," Appiah, citing the official reason given for the unfulfilled expectations, wrote.
There is a belief, widely shared, that the unuttered groaning — and, not so unthinkably, uttered curses — of the aggrieved champions have built up over the decades into a giant wall that even the most determined and gifted teams of later years have been unable to penetrate in a bid to add to Ghana's Afcon-winning count.
But that's a story for another day.
***
While the senior national team failed to replicate that early success in Rawlings' time at the helm — only reaching another final a decade later, losing narrowly to neighbouring Ivory Coast — Ghana's junior sides found the nineties a particularly rewarding period. The Black Starlets clinched gold (2x), silver (2x), and bronze (1x), all in the first five editions of the Fifa U-17 World Cup; the maiden winners, Class of '91, famously had streets named after them in Ghana's biggest cities (better than what the continental conquerors of '82 got for their troubles, surely?)
Also memorable was Ghana's showing at Barcelona 1992, when the remarkable Black Meteors dazzled their way to Africa's first medals — bronze — in Olympic football history. The Black Satellites, at U-20 level, had their moments, too, finishing runners-up at the World Cup in 1993, and also delivering the final international sporting high of the Rawlings era six years later — a second African title, won at home after beating regional rivals Nigeria in the final.
There was one more peak to come, though — just before the new millennium, and a new regime, kicked in — this time in club football. Either side of the December 2000 elections that marked the end of the final four-year tenure of Rawlings and his National Democratic Congress (NDC), capital club Hearts of Oak won both legs of that year's Caf Champions League final, against Tunisia's Esperance, to seal an unprecedented Treble.
Asante Kotoko — Hearts' archrivals, and a club that once had Rawlings' successor and long-time political adversary, John Agyekum Kuffour, as chairman — were the stronger Ghanaian club for the first half of Rawlings' reign, but Hearts grew in might toward the end, winning four straight league titles (two more would follow). There was a not-so-subtle hint — suspicion, anyway — that Hearts' sparkling stream of silverware had been hauled in with the help of forces in government.
***
For one, that period of domestic dominance began in 1996, when Rawlings had as vice-president, Prof. John Evans Fiifi Atta-Mills: a lifelong Phobian who even rose to the rank of Board Chairman. Other powerful figures in Rawlings' inner circle who had known/overt relationships with Hearts included Ato Ahwoi, Harry Sawyerr, Kofi Totobi Quakyi, Ato Austin, Commodore Mensah, and Enoch Teye Mensah (yes, the sports minister 'credited' with wresting key transfer targets from Kotoko's grasp into Hearts').
It wasn't just the men around Rawlings who had Hearts stamped as a de facto 'establishment club', though. The man himself "made it clear that Hearts was the club of the establishment by showing up to matches between Hearts and Kotoko wearing Hearts' well-known 'rainbow' colours" (Fridy & Brobbey, 2009, p.26).
Now, I never saw any of that — how could I, really, when I was only born a full month after Rawlings first got elected? — but I do recall the former president, when called on by the family of the late Alhaji Sulemana Braimah ('Alhaji Hearts'), a Board member of Hearts after the legendary football administrator's demise, with the club's flag draped around his neck. Rawlings' own death, incidentally, came just a day after Hearts turned a grand old 109 years of age.
It is noteworthy, too, that games between Hearts and Kotoko were quite frequent in those days, courtesy annual cup matches played to commemorate Rawlings' two successful coup d'etats — on June 4 and December 31, with one of those occasions providing the backdrop for the infamous handshake snub involving Rawlings and Kotoko star Sarfo Gyamfi — and the J.O.T Agyeman Cup (in honour of Rawlings' father-in-law), although none of those fixtures survived the end of his regime.
***
Rawlings was an avid sportsman — reportedly good at polo, with boxing another known favorite — but, for all the influence he had on the country's football fortunes, the sight of him kicking a ball didn't exactly make for spectacular viewing, as a section of this video documentary (26:00 – 26:40) shows; Rawlings' kicking skills, on display when commissioning Ghana great Asamoah Gyan's pitch project at the latter's alma mater, Accra Academy, evinced slightly more refined technique, albeit in his older years.
Long after he left office, however, Rawlings had fresh motive to be interested in the affairs of the Stars when, for a brief period, his nephew, Junior Agogo (who himself died last year), starred as the team's big forward. And in 2011, as the Stars prepared in Kenya for a game against Congo Brazzaville, not many months after they narrowly missed out on a semi-final ticket — and more, perhaps — at the 2010 Fifa World Cup, they received a special visitor.
"You guys should accept that you made a big mistake in South Africa," Rawlings, on a fact-finding mission in Kenya as an African Union envoy, was quoted by Cafonline.com.
"Everybody knew that the Cup was headed for Africa but because of your mistakes you let it go."
Then, blending humour with seriousness as he so effortlessly did throughout his life, Rawlings added: "When the team returned to Ghana, football chiefs or even the government should have locked you inside a small room for a maximum of two weeks so a post-mortem is done on what had happened in South Africa.
"I always watch you guys on TV playing for your teams in Europe while others, like Dede Ayew, I always see him driving a Hummer, also on TV," he concluded, still on a jovial note.
It is to Rawlings that Ayew dedicated the victory against Sudan, made possible by his stunning pair of strikes on the day. But, oh, if Ghana could go on to the finals itself next year and secure another Afcon triumph — what greater tribute could there be to the man who inspired its last?
Enn Y. Frimpong — Daily Mail GH