Proudly, and to a standing ovation, Liverpool marched unto Manchester City's well-manicured pitch. Just under two hours later, their exit wasn't nearly as ceremonious: bowed heads, dropped shoulders, hurried strides, and with their hosts' victorious cheers for background music.
The mood, this time last week, couldn't have been more different. City had visited Chelsea, a day after Liverpool took a step closer to securing maiden Premier League glory with a 4-0 thrashing of Crystal Palace, and lost. Those dropped points sealed Liverpool's triumph, with Pep Guardiola's team done for as far as this season's title race is concerned. The trophy is now set to be delivered to Anfield, as soon as the small matter of replacing its blue ribbons with red ones is sorted.
Actually, there remained another outstanding issue to be settled: one last wrestle between dethroned City and the new champions. Last season's finale – City finishing a solitary point ahead of the Reds – suggested the margins between the two clubs weren't so wide. On Thursday, we were served a reminder of that; Liverpool might be 20 points ahead on the table, and would likely still finish the campaign as one of the Premier League's more memorable winners, but City remain as formidable a force as they've ever been under Guardiola.
City might have started with young Eric Garcia partnering Frenchman Aymeric Laporte, but there was little else in either line-up to suggest anyone was taking this fixture lightly. As Liverpool begun to wilt in City's blue flame, however, it became only too apparent that one team was a bit more driven than the other. And if you still hadn't figured out the difference by halftime, the scoreboard screamed it.
City 3-0 Liverpool. The last time Liverpool looked this vulnerable was at Vicarage Road earlier this year, stripped bare and picked apart by a Watford side rooted deep in the table's other extremity. Yet, even on that miserable Saturday, those three goals were only conceded in a post-recess, 18-minute capitulation; here, though, Liverpool were buried even before the second half started. Still, there was just enough time for Alex Oxlade-Chamberlain to turn one into his own goal, rounding off Jurgen Klopp's heaviest league loss since, well, a 5-0 defeat suffered three years ago on these same grounds.
That was the season when City swept up a century of points, smashing records and rewriting Premier League history while at it. Here was a memo, from Guardiola to all those who might have revelled in the land having a new lord, that City could again be that dominant incarnation of themselves. Suddenly, the guard of honour the visitors received when taking to the Etihad turf – oh, how that must have hurt City, despite the brave faces – felt exactly like what it was: an ambush.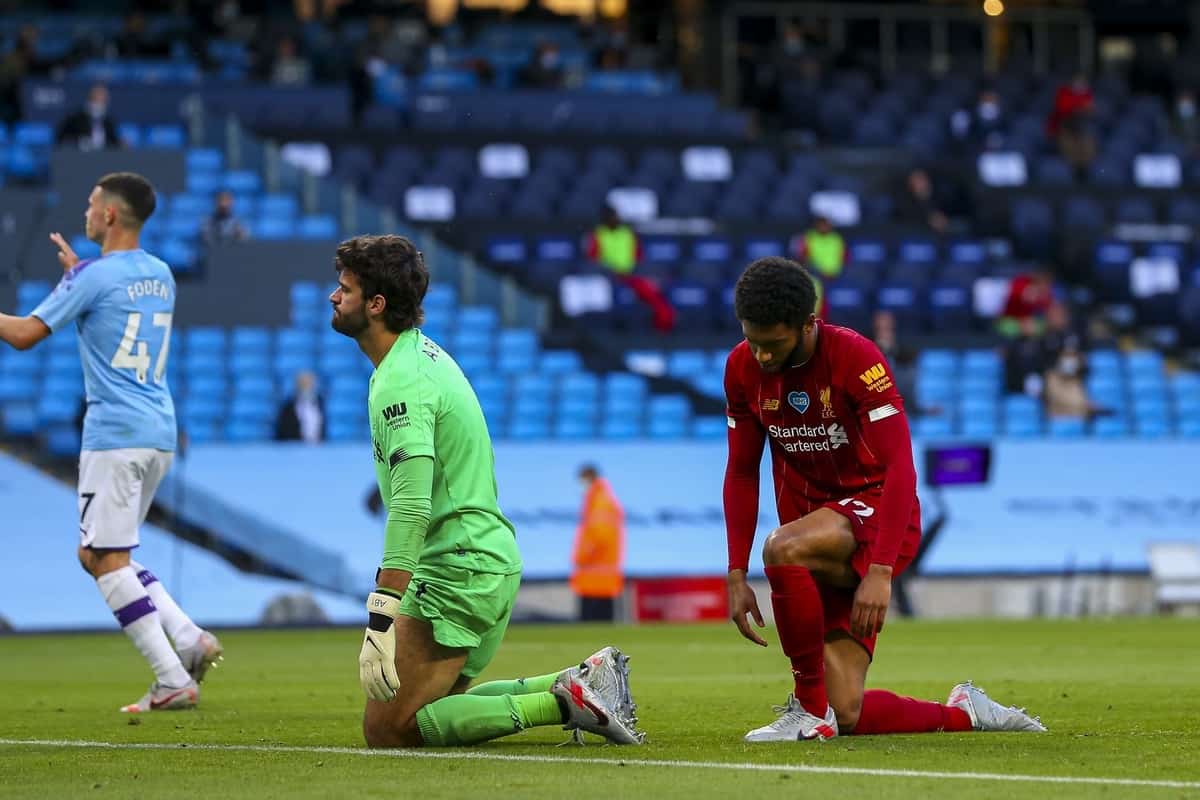 There had been concerns that Liverpool — given the limits of supremacy they've pushed themselves to this season — might suffer from a lack of incentive next term, with answers being sought for the 'where do they go from here' question. Well, now they know. Guardiola wanted a fight from his charges and he got one. Now, Klopp would seek same from his. He might coax it, or he'd have to squeeze it – either way, he'd need it. There are still enough games for Liverpool to match – even better – the incredible points tally of Guardiola's 'Centurions', but they ought to show the appetite for it.
Right now — having gorged themselves so fat on success – they're just not hungry enough.
NY Frimpong – Daily Mail GH