Just about a half-hour drive westwards from Sunyani, capital of Ghana's Bono Region, there is a town that beats to the fast-paced rhythm of football.
There, in bustling Berekum, you'll find quite a few football clubs named after some of Europe's biggest sides: Arsenal, Barcelona, and Chelsea. The most successful of the lot, no doubt, is the latter. Chelsea won the Ghana Premier League in 2011, played in the Caf Champions League the next year, and almost defied huge odds to reach that edition's knockout stage. But, despite all that, Chelsea isn't really Berekum's first love.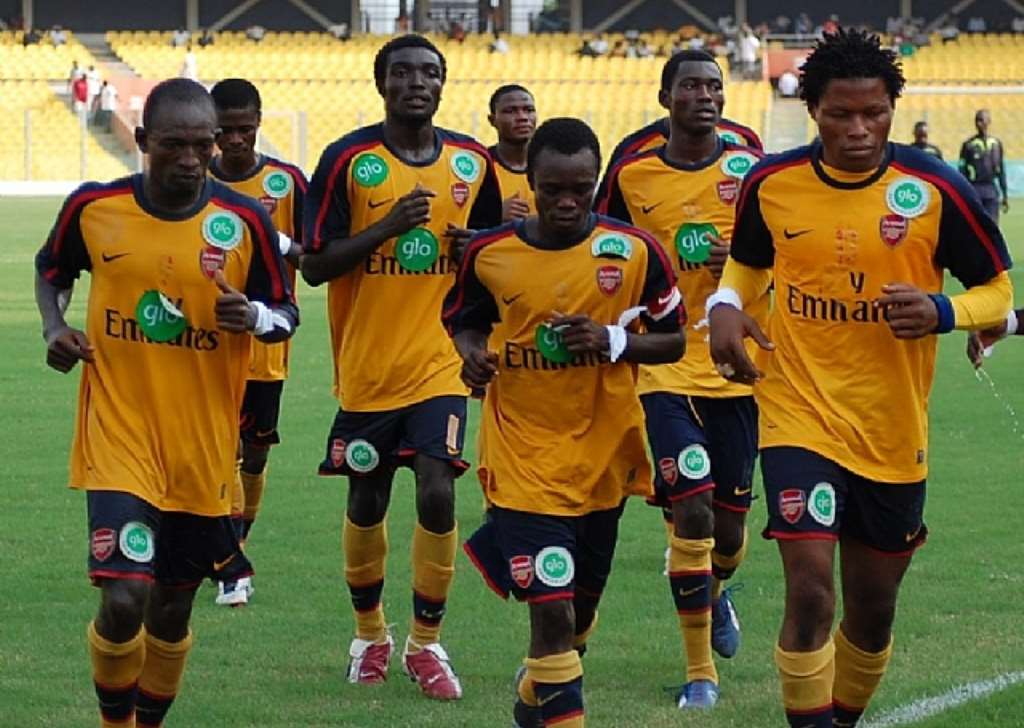 That pride of place is reserved for their rivals, Arsenal: the club which first placed Berekum on the national continental map, and the first to light up the Coronation/Golden City Park. The Gunners came up to the top-flight at the dawn of the 21st Century — when the region's traditional heavyweights, B.A United and Bofoakwa Tano, had started to slump and slip into twilight — and stayed there for more than a decade, finishing quite high on the league table in some seasons.
Their most memorable campaign, 2005/06, culminated in a Caf Confederation Cup run that was terminated by a second-round defeat to Angolan giant Petro Atletico. That adventure didn't stretch as far as Chelsea's six years later, and the competition itself wasn't exactly as glamorous, but it was worth every minute it lasted. Berekum certainly enjoyed it, but one man relished it most.
With his experience and shrewdness, Alhaji Yakubu Moro — Arsenal's founder, owner, bankroller, scout and all — had inspired the club to such heights; with his wit and passion, he'd made it a sensation. Heck, he was himself quite a sensation, wasn't he?
On the Ghanaian landscape, there weren't (and still aren't) many showrunners like him — King Faisal's Alhaji Karim Grunsah, yes, but the list probably ends there — whose personal glow illuminated and, ever so often, outshone their clubs. Moro could talk a game into your guts and, especially at home, Arsenal usually walked that talk — every inch of it. Even the land's biggest clubs found Arsenal formidable, right until that sad day in 2013 when they got relegated from the Premier League. They haven't returned, stuck in the hard-to-escape maze of lower-tier football, with both club and owner consequently fading as a force.
But, while Arsenal might taste life in the big-time again someday, Moro won't, as Friday morning brought news of his demise at the Greater Accra Regional Hospital (Ridge), following a short illness. The flood of tributes that poured out, on social media and elsewhere, left no doubt about the grand stature he attained in our domestic game.
His influence was, indeed, felt far beyond Berekum and these shores. At two Fifa World Cup tournaments, for instance, Arsenal-bred John Paintsil was Ghana's first-choice right-back. And, on this day in 2009, Emmanuel Agyemang-Badu, another player right out of Arsenal's stables — and who, like Paintsil, would go on to enjoy a solid career at international and club level — famously converted that decisive spot-kick which crowned Ghana's Black Satellites Africa's first U-20 world champions.
So there you have it, ladies and gentlemen: the epitaph of Yakubu Moro – a man of the people, and then some.
Enn Y. Frimpong — Daily Mail GH