Monday saw Sadio Mane finish fourth in the 2019 Ballon d'Or rankings — the highest for an African since Didier Drogba a dozen years ago.
Back home in Senegal, fans fumed over such a 'low' placement, some of his international teammates cried out, too, while Lionel Messi — winner for a record sixth time — described Mane not finishing higher as "a shame."
Wednesday came, and the Confederation of African Football (CAF) released its own shortlist of ten players in line for the African Footballer of the Year award, due to be handed out early in 2020. Mane has made the top three since 2016, flanking Liverpool teammate Mohamed Salah as first runner-up in both 2017 and 2018. This year, though, he is tipped as the favorite, having outdone Salah at club level and at the summer's Africa Cup of Nations.
But just in case anyone had any lingering doubts about who really deserves to carry the CAF gong, Mane took the occasion of his club's mid-week Merseyside derby clash to serve a reminder.
Everton only had to make the short trip across Stanley Park to meet runaway league leaders Liverpool, but the Toffees — perilously close to relegation — couldn't be farther in form from their city rivals these days. It's just where most Liverpool fans would want them, yet they still bayed for blood and expected Jurgen Klopp to deliver the kind of result that would make a seemingly imminent decision by Everton's hierarchy to axe under-fire manager Marco Silva even easier.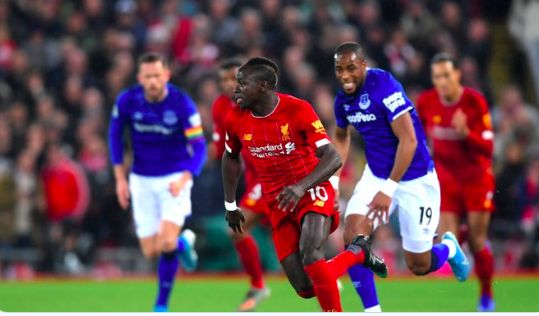 In Mane, Klopp had the perfect tool — the ultimate destroyer.
The 27-year-old was the only member of Liverpool's fearsome regular attacking trident to start, but you wouldn't have noticed. By the end of a frenetic first half, Mane had Liverpool in a rather comfortable lead: an assist apiece for Divock Origi and Xherdan Shaqiri (both rarely playing ahead of Salah and Roberto Firmino), along with a goal for himself. Mane was a bit more subdued in the second half, but Liverpool still wrapped up a solid 5-2 win, and — despite Origi rightfully earning plaudits for putting the neighbors to the sword again — the result had Mane's signature all over it.
Of course, Mane's quality cannot be compressed into last night's masterclass; too often and too brilliantly since he moved from Southampton, it has been evident. For all the solidity that the defensive acquisitions of Virgil van Dijk and Alisson Becker has brought the reigning European champions, for all the goals Salah has packed into a little over two years at Anfield, and for all that has been said by Klopp in highlighting Firmino's often understated tactical essence, Mane might be the signing who defines what could potentially prove the German manager's annus mirabilis at Liverpool.
Against Everton, we were only served just another example of why Mane — perhaps more than any other player — inspires Liverpool's Premier League title challenge. The Ballon d'Or jury may have had, at least, a Cristiano Ronaldo-shaped excuse to perch Mane no loftier than 4th, but CAF would have little excuse not to place him at the very top come January 7 in Hurghada, Egypt.
Kow Frimpong — Daily Mail GH