Zlatan Ibrahimovic smiled.
His AC Milan team still trailed Juventus by a goal last night, but he smiled. And, as he also trotted to the centre for a restart, Cristiano Ronaldo smiled, too — perhaps at his own failure to put Ibrahimovic off as the smooth Swede braced himself, in his ever-glowing halo of confidence and composure, for a penalty against Juventus, his former club. Ronaldo's memo to goalkeeper Wojciech Szczesny, clearly, hadn't been well-received.
Ibrahimovic drilled his penalty into the corner opposite Szczesny's chosen spot, certainly more convincingly than he had in Milan's preceding game against Lazio, Juventus' closest pursuers. Half an hour later, the bemused grin was off Ronaldo's face. Had his bun still been in place, he might have pulled it free in frustration — but, of course, it wasn't. In ecstasy and, perhaps, relief, Ronaldo had undone his stylish yet ill-fitting knot in the immediate aftermath of his drought-ending freekick last time out, a freshly coiffed perm in its place.
Ronaldo's goalscoring form, though, remains intact and in order, with his 26th league goal doubling Juventus' lead against Milan. Ordinarily, the hosts would have been done for. Juventus have won nine of their last 11 games against Milan in all competitions, but this wouldn't be one of those days when the result gets written in black and white. Ibrahimovic's goal, it turned out, was worth more than just a souvenir from a battle well-fought but ultimately lost. In an 18-minute blitz, Franck Kessie got the leveller, Rafael Leao the winner, and Ante Rebic the flourish.
Oh, Ibrahimovic?
Well, his was the last laugh.
Ronaldo looked dejected — and why not? — but the outcome of the evening's other Serie A game safeguards Juventus' chances of winning a ninth straight Scudetto. Lazio's loss to Lecce — two in a row now for the Romans, with Milan inflicting the first — keeps Juventus seven points clear and the prize still within reach. That notwithstanding, trainer Maurizio Sarri might ponder an introspection into what he described post-match as a "total blackout." Capitulations like this usually call for no less, but the former Chelsea boss insists it's "not even possible to find the reasons" and, instead, chooses to focus on the positives.
Fair enough.
For Milan, though, the result could have more significant, more pleasant consequences. It's their fourth win from five games, since football in Italy emerged from the grips of COVID-19. In that time, Milan have beaten the league's top two sides, and – as a direct result of victory over Juventus — move temporarily into the Uefa Europa League places. They'd have a few more games to determine whether any of those slots would be theirs by August 2, including tricky dates with Napoli and Atalanta, but there's a lot of good that could be squeezed from their latest outing.
The last time the San Siro pitch saw a team come from two goals down to score four, it was co-tenants Inter, celebrating at the expense of their neighbors. That was in early January, the first time Milan had lost in a month – and the only other time they have in 2020, counting a setback at home to Genoa just before football froze. With Juventus very much the gold standard on the peninsula, however, results against them would matter a little more to Milan.
Remember the only two meetings from the last 11 in which Milan haven't lost to their rivals?
Well, both have come this term, drawn games in the Coppa Italia. On away goals, Juventus advanced, but Milan did, too, in their quest to be reckoned again as a formidable force in Italian football. Juventus have had only three managers since 2011, when Milan last won the league, and haven't missed out on league triumph even once in this period, grabbing a fine haul of other domestic silverware and European highs along the way. The Rossoneri have been through nine already, with a solitary Supercoppa Italiana and little continental action to show for it.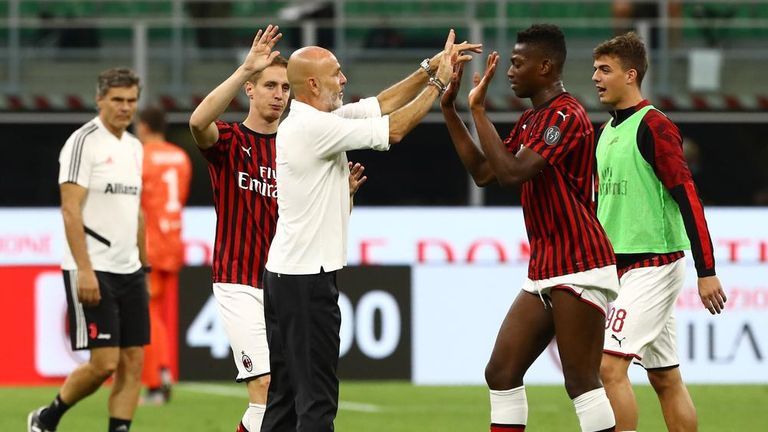 Current boss Stefano Pioli has only been at the helm since October 2019, and in a week during which trusted sources have reported that he'd be out of the job when next season begins, the 54-year-old has delivered the strongest argument yet that he is the man to help Milan turn the corner, even if the next lap would be German Ralf Rangnick's to run.
The highest Milan could realistically finish this season is fifth, but even if they land a little lower, there should be something to smile about. See, beyond Juventus, there isn't a tougher opponent to be found in all of Italy. And this season — last night, particularly — Milan have passed that test with flying colours.
Red and black.
NY Frimpong — Daily Mail GH