Across two spells spent playing for Asante Kotoko, Maxwell Konadu must have had some good memories against Hearts of Oak.
Just ask the 47-year-old, though, and he'd likely tell you that his best Kotoko-Hearts moments have come from being on the touchline for the former. In four games, Konadu hasn't tasted defeat as the Reds' trainer. And in the three that he has won, the outcomes have been sweetened by his team stealing those victories when a draw or a loss felt more probable.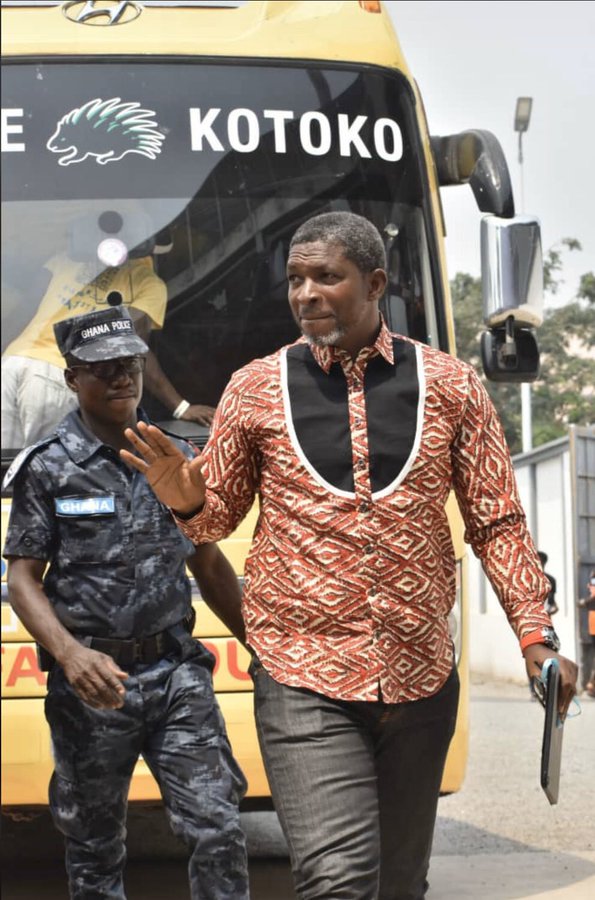 The last 'Super Clash' of 2019 was a case in point. Konadu hadn't been long at the helm of Kotoko — just three weeks into his return to the club after some time away — when Hearts stormed the Porcupine Warriors' home hunting for the President's Cup. They did state their bold intent with an early lead, but Kotoko quickly smothered the threat and had the result — and the trophy — bagged with about a third of the game still to be played.
Seven years earlier, a more famous victory was recorded at the Baba Yara Stadium when Konadu first faced Hearts as Kotoko coach. Remembered fondly by fans of Kotoko for how cruelly that last-gasp Michael Akuffo stunner ripped the 'Arose' choruses out of Phobian throats, it was another occasion when Hearts thought they had picked an unlikely result off their archrivals — Mahatma Otoo's freekick erasing the deficit of a Kofi Nti Boakye opener — only for it to end in tears.
It wasn't unlike what transpired last Sunday as Konadu's Kotoko beat Hearts in Accra for the first time. The late winner might not have been as spectacular as Akuffo's wonder strike, but it — Naby Keita's penalty — was every bit as valuable and memorable. Headers from Justice Blay and Joseph Esso had canceled out each other, and while the packed terraces may not have had room for another soul, the pitch — even at the very end — had space for a little more drama, culminating in a third 2-1 triumph over Hearts for a Konadu-led Kotoko team.
Beating Hearts is always great for Kotoko, of course, but doing so in Accra brings an extra feel-good vibe. From not winning in the capital in years to making a habit of it, Kotoko just can't help themselves — how many games now?
On individual performances, there were a good few. Man-of-the-match Blay stood out, as did Hearts striker Esso who proved worth more than just his goalscoring. The real star[let] of the show was young Matthew Anim Cudjoe who — at just 16 — faced Hearts a second time and again shone beyond his years. His introduction cost Hearts a man last time out; yesterday, it earned Kotoko the winning spot-kick after center-back Mohammed Alhassan handled Cudjoe's ball.
Ah, poor Alhassan!
Well, let's just say his miserable record suggests he shouldn't be anywhere near this fixture in the future: in two appearances last year, he missed a decisive penalty and conceded an own goal; now this.
Hearts, however, are the biggest losers, left sore and wondering just when — and where — their next victory versus Kotoko would come. Their last was in Kumasi two years ago, a Patrick Razak strike the clincher, but they haven't been so fortunate since, losing in three different competitions (the Special Competition, President's Cup, and Ghana Premier League). On the all-time charts, Hearts are now one win behind Kotoko — just as they were in March 1958 after the maiden meeting of the clubs. Square one?
Well, Hearts may not be so silly in thinking they enjoy some superiority over Kotoko — their big 4-0 win is a priceless souvenir from a distant past when it was Kotoko that couldn't catch a break — but, right now, they're certainly quiet. Hearts, though back in the table's bottom half, can't afford to let this setback throw their house into disarray as almost always happens when the old enemy gets the better of them.
For Kotoko — now fourth on the log and challenging again — all is bright and beautiful like, er . . . a rainbow?
NY Frimpong — Daily Mail GH