The first task of the Ghana Football Association's new administration — from a to-do list as long as Kwesi Nyantakyi's regime — has been a move to reclaim supposedly lost interest in the business of Ghana's national teams, especially the flagship side, the Black Stars.
#BringBackTheLove, exhorts the hashtag that accompanies the colorful artwork which — according to a release signed by the FA's Communications Department — is part of a concerted effort "aimed at igniting passion and galvanising support for the Black Stars as they seek to redeem themselves after their disappointing Afcon 2019 campaign in Egypt."
The concept itself, for what it's worth, is commendable, and the timing seems just perfect as the Stars' first Afcon 2021 qualifying games come up shortly. That's fine — only that none of this is really necessary. See, the campaign, though noble, is premised on a popular yet erroneous idea — from my perspective, anyway — that Ghanaians have lost love for the Stars (thus the need to bring it back).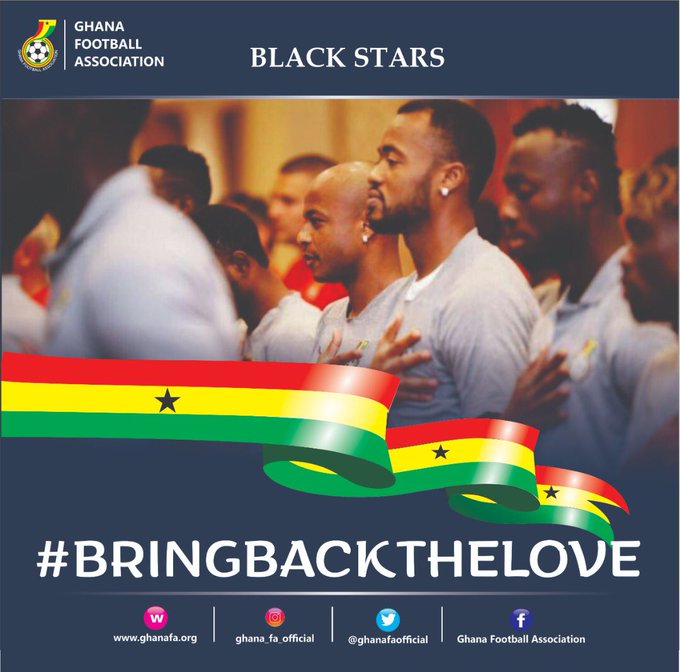 The truth, however, is that the country has never really stopped loving its national teams — certainly not the Stars. Many claimed feigned a lack of concern regarding the team's fortunes after the embarrassing episode that played out at the 2014 Fifa World Cup, yes, but it only took a strong performance at the very next international tournament — when Ghana reached the final of the 2015 Nations Cup — to pierce, if not absolutely shatter, that facade of indifference. Suddenly, after narrowly missing out on a first continental triumph in 33 years, there were quite a few willing to throw a comforting arm around the team.
This, clearly, was a side still capable of pleasing their countrymen, and while the Stars haven't done much to deliver on that promise in the years that have followed, the generally loud response to each of those failures — namely, not qualifying for the 2018 Fifa World Cup and underwhelming at the next two editions of the Afcon — and to little gains the team has made in that period hardly suggests significantly diminished interest.
The love, if we're being honest, never run out; it only narrowed from the pre-2014 gush into a trickle, but flows regardless. Or it could even be argued that the unrestrained adulation — almost veneration — hitherto enjoyed by the Stars has been converted into tough love. Put simply, Ghanaians still reserve much affection for their dear Stars (and, by extension, the other national sides); we're just not so keen on 'spoiling' them anymore.
But, hey, if you insist . . . #BringBackTheLove.
NY Frimpong — Daily Mail GH