The Ghana Football Association (GFA) has a new face: bold, fresh, and bespectacled.
If you're thinking of Kurt Okraku, the organization's new president, fair enough. If newly appointed Communications Director, Henry Asante Twum — the subject of an interview I conducted in May 2019 — is the guy on your mind, well, we are on the same page.
Okraku's might be the biggest office but, when you think of it, Henry really has the biggest job. As the link between the FA and the public, it places him right in the furnace — lit by an unforgiving press and populace — when things aren't going well. He would be charged with fighting fires he didn't set, answering for the faults of others. Clearly, it's no easy work, but Henry — the affable and articulate fellow with whom I sat that Saturday afternoon — looks like he's up for it. I know this because . . . well, let's just say I did test his patience a little that day.
I arrived furious and 30 minutes late, still quenching the flames my temper caught from a particularly torrid experience at Circle — Accra's buzzing, often frustrating, transport hub — en route to Starr FM's Nima offices. Needless to say, negotiating several flights of stairs made me no calmer.
It was a problem Henry didn't have, however. He had just emerged from the studio after his Saturday afternoon show, Extra Time, but he hardly looked like it. Even in his professional space, he appeared quite at ease: clad in a T-shirt embossed all over with Versace's iconic 'Head of Medusa', the blue of the cuffs and collar matching that of his denim pants, all over some trendy footwear. A little bag slung across signed off the smooth look; the only thing cooler was how Twum welcomed his sweaty, incredibly late guest.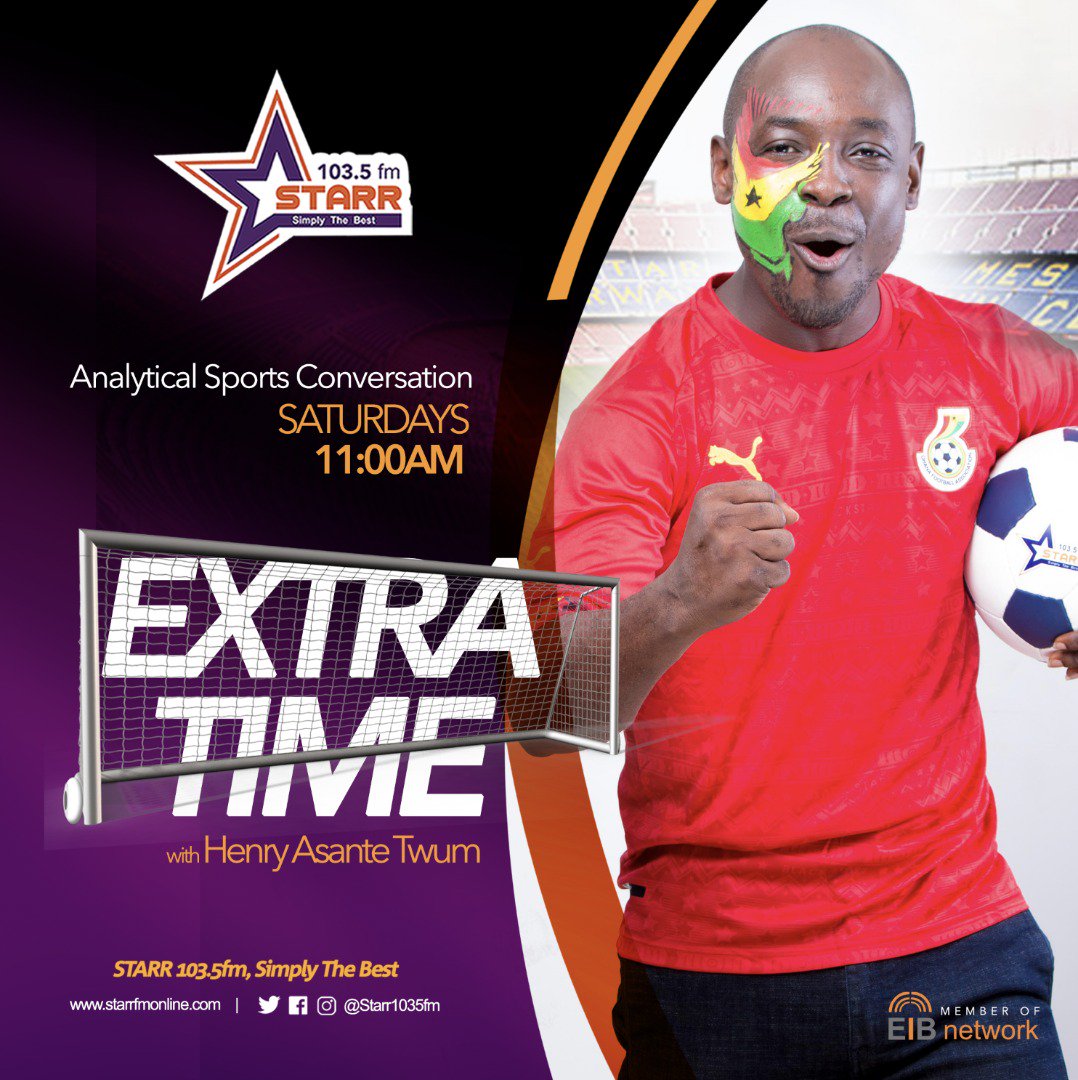 Promptly, and before I could finish delivering my apologies, he deflected them with a warm smile and waved me on into the building's conference room for our interaction. This was the first time I had met — or even interacted with — him, yet it felt like the 20th.
Perhaps his humble background, from little Asuboi in Ghana's Eastern Region, inspires his down-to-earth attitude which colleagues and others speak highly of. For a young man who graduated with a degree in Chemistry, a lifetime spent in the laboratory with test tubes seemed a likelier prospect for Henry . . . until he stumbled upon something else — something life-changing.
It happened circa 2004/05 at Koforidua-based Sunrise FM, where his uncle was editor. Henry had visited and, perhaps for the first time, the man realized just how powerful a voice his young nephew possessed; empowered by a microphone, it sounded even better. And, just like that, Henry's working life was re-routed into a world he had never imagined. With Mr. Alexander Martin Twum — his father — convinced, Henry was soon sent on his way to Accra, the Ghanaian capital, where his potential would be honed by the very best.
With keen interest, the older Twum monitored his son's ascent — right up to a little over a week ago, in fact, when he passed away aged 75. His demise came just days before Henry's GFA appointment was officially announced. Over the weekend when the good news broke, Henry was in his native Asuboi to mark a week of his dad's death.
"Mixed feelings," came his short WhatsApp message when I sent my condolences.
He will miss him, for sure, but Henry has not lacked father figures since venturing into journalism. At every turn, he has had distinguished men to look up to and learn from, including some of Ghana's finest broadcasters. He hails Nii Lante Vanderpuije and George Lartey — all of the Ghana Broadcasting Corporation (GBC) — for providing nurturing in his formative years, but the greatest debt is owed to yet another veteran of the craft.
"Kwabena Yeboah added a lot to my value, taking me through the rudiments: how to speak, when to pause, script-writing, etc.," Henry says of a man who has been a fixture on Ghanaian television for decades. "He remains, without a doubt, the biggest influence on my style."
Henry has come far — very, very far — from those early days and has carved, diligently and humbly, his own reputation as a top Ghanaian journalist. On radio and TV, home and abroad, he has excelled. But even Henry, so widely admired for his broadcasting brilliance, acknowledges the industry's latter-day dominant force: digital media.
"People spend a lot of time on their phones and laptops these days, with news only a click away," Henry concedes. "Digital media is here to stay. It's the way to go."
It would be interesting to see how much that awareness reflects on the various digital platforms employed by the GFA in conveying information to the public — its website, social media accounts, YouTube channel, et al. — and how far into the digital age Ghana football leaps as a result.
Speaking of leaps, Henry took one years ago, landing in a realm where few of his colleagues dare tread and even fewer succeed: football administration. Armed with his communication skill-set, Henry brought an air of modernity and professionalism to two teams that have spent some time in Ghana's top-flight, Tema Youth and Dreams FC. Those adventures have been challenging, yes, but enlightening, too.
"You get first-hand insight into football administration and it helped me appreciate things better," he says. "It has changed my perception of football and taken me through the whole range of opportunities and emotions, being so close to the game, its main actors, and the day-to-day running."
Key to his success has been patience, a virtue that I witnessed firsthand during my meeting with him. At both outfits, Henry experienced triumph and disaster, but — treating "those two impostors" just as Rudyard Kipling famously prescribed — he has emerged with distinction.
The initial line-up of aspirants for the GFA presidential elections featured the men he reported directly to at either club: Osei Kwaku Palmer of Tema Youth and Dreams' Okraku. At the time of this interview, neither had officially expressed interest in the office vacated unceremoniously by Kwesi Nyantakyi. Both did, eventually, with Palmer controversially disqualified and Okraku winning overwhelmingly. Henry had a good word to say about each, regardless, but the most glowing praise was reserved for Okraku, his mentor: of his work at Hearts of Oak, of all they achieved together at Dreams, and of his credentials as potential GFA boss.
Their relationship is a healthy one, characterized by mutual respect for each other's abilities. Together, they've dug trenches, graced stages, built a fairly formidable club, and worked their way to Ghana football's upper echelons. Under Okraku, Dreams have developed a well-manicured image, and its communications department — manned by Henry — took much credit for that.
If it's not obvious just how essential communication — crisp, clear, and refreshing — is to the reputation of an institution, consider the struggles of the erstwhile GFA regime. Henry, though, brings along more positive vibes, which is why his appointment has been roundly applauded by his colleagues. One of them, Kent Mensah, is an online journalist who, until recently, worked with Henry at Starr FM.
"Henry is a broadcast journalist par excellence," Mensah, former chief editor of Goal Ghana, begins.
"I have no doubt he'll live above reproach due to his enviable human relations and professionalism. He has proven his worth as someone who understands football administration and the communications side of the game."
And rather than draw battle lines with journalists beyond the walls of the GFA in the manner some of his predecessors may have done, Henry is advised to build bridges.
"He should just be himself and respect his colleagues in the media," Mensah exhorts, "because they'll be the main stakeholders in making his job easier."
Knowing Henry, he won't have it any other way.
NY Frimpong — Daily Mail GH