Dredge Masters Limited, a subsidiary of the Jospong Group of Companies has acquired two brand new Water Master Classic V dredging machinery to intensify dredging of the Odaw River and other drains.
The two amphibious multipurpose dredgers is a new addition to the fleet of dredgers the company uses to fight flooding in the capital, including four already existing water-master classic four dredgers.
The classic V is a well-known world-class high-tech multipurpose water-master dredge used worldwide with a selection of heavy-duty attachments. The versatile water-master can do all the work that conveniently requires seven machines including dredging, excavating, raking, piling, and hammering.
The equipment also has a bigger water-master cutter pump, a more powerful engine and other features which reaches 900 m3/h pumping output.
Speaking at the unveiling, Managing Director for Dredge Masters Captain Khan underscored the machine's capability of bringing the latest generation cutting edge technology to shallow water dredging.
He said "Dredge Masters Limited has acquired these dredgers to add to our existing fleet to further save lives through our operations. These dredgers will augment our capacity to control floods, dredge rivers, lagoons and dams, etc.
"The acquisition of this equipment has been made possible through our partnership with Aquamec Limited of Finland, the world leaders in the manufacturing of amphibious dredgers," he noted.
Captain Kahn recognized that flooding is a natural phenomenon that affects the world including advanced countries and so his company has over the years and is seeking to manage some of the factors which cause floods, to reduce its devastating effects on human life and property.
"As we provide this equipment's to dredge our shallow water to ease the flow of water and reduce flooding, we would also want to use this platform to appeal to Ghanaians, in particular, communities close to this water bodies to desist from using these drainages as dumping sites," he pleaded.
Minister for Works and Housing Samuel Atta Akyea acknowledged Dredge Masters consistent dredging of the Odaw River and Korle Lagoon even though the company had not been paid by the government for a number of previous dredging contracts.
He appreciated the founder of Jospong Group, Joseph Siaw Agyapong, for his dedication to the fighting filth in Accra.
In honouring Mr Agyapong, he said "if you pay regard to any serious work in this world, it is always the power of one man. It is not the crowd. You will see one man with a vision, trying to affect the entire world and we have examples of that,"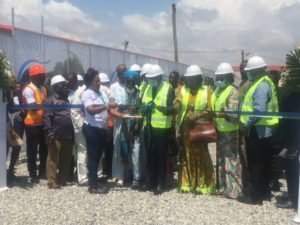 Accra Mayor Nii Adjei Sowah called on opinion leaders including Imams and Pastors to encourage their patrons in the right directions, as part of moves to effect attitudinal change in filth management to make Accra the cleanest city.
Present at the event was the National Chief Imam, among other dignitaries.
Source :Daily Mail GH