Berekum Chelsea, perhaps with a rage inspired by being underestimated for so long, are tearing scripts up in this season's Ghana Premier League.
From three of the most daunting destinations to visit in the top-flight — Hearts of Oak's Accra, Asante Kotoko's Kumasi, and Ashantigold's Obuasi — the Blues have picked maximum points. They haven't done so stylishly, however, rather marching off with the spoils each time in classic smash-and-grab manner.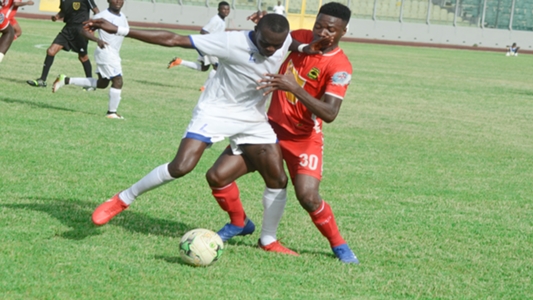 Those victories, along with another 1-0 triumph bagged at home to Dreams FC (and a draw when Liberty Professionals came to town), have Chelsea in first place, occupying a spot that might have been checked for the likes of Hearts, Kotoko, or Ashgold.
Surprised?
In the nine years since Chelsea last won the league, pundits have chosen to look elsewhere when ranking the championship's best sides, overlooking — as suggested at the outset — the one club that has given Ghana its most memorable Caf Champions League experience in recent years. So, really, these impressive results aren't strung together by mere ambition. Chelsea have always had it in them; we've just not been looking close enough.
They are the only team that hasn't conceded thus far this term, with young goalkeeper Ibrahim Danlad — on loan from Asante Kotoko — stacking up clean sheets behind impressive center-backs Zakaria Fuseini and Ahmed Adams. And while one other club — WAFA, down in seventh — remains unbeaten, it's Chelsea that have the most to show for it.
Of course, it's early days yet, and Chelsea — only a point clear — still have company at the top, with the fixture list offering many opportunities for the chasing pack to catch up and even overtake. Alternatively, we could all sit, watch, and admire as Chelsea attempt to repeat a feat that — also to our surprise — they pulled off in 2011.
And, this time, we certainly can't say we didn't see it coming.
NY Frimpong — Daily Mail GH