On Monday night, while Arsenal suffered yet another away setback in the Premier League at Bramall Lane, five of the six candidates seeking election to the Ghana Football Association's presidency were engaged in a debate at Accra's College of Physicians and Surgeons. Each had the chance to highlight their respective plans for the Ghanaian game regarding a wide range of topics, and there were lessons aplenty for the many who followed proceedings. Daily Mail GH shares five:
1. AMANDA HAS AN ACCENT – AND LITTLE ELSE
Well, I dare not comment on just how beautiful Amanda Clinton looked in her blue dress — these days, one can't be too certain what does, or doesn't, constitute sexual harassment — but, by all means, allow me to gush about her lovely accent. Throughout Clinton's relatively few submissions, her delivery in English sparkled with an exotic glint, likely picked up during the years she spent training in London. Not much more would be remembered fondly about Clinton's presence at the debate, however. A few good punches were landed, yes, but she struggled for the most part, seemingly out of her depth – and, perhaps, out of sorts too? Her boldest statement yet in this race, it appears, is the decision to go up against men who clearly know more about running football than she does.
2. KING GEORGE BOSSED THIS, BUT…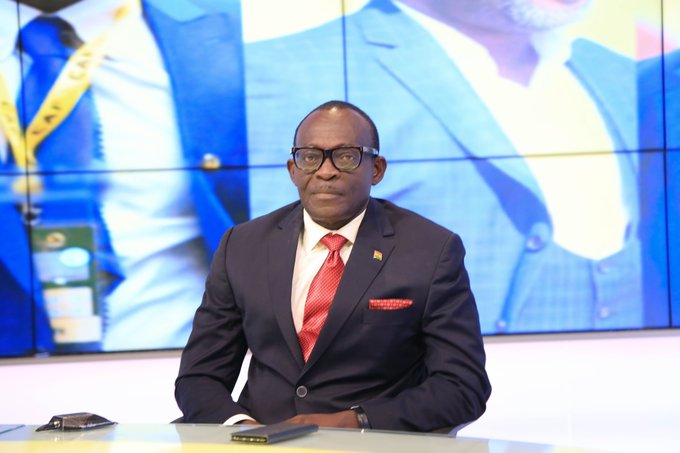 Ha, George Ankomah Mensah — man, where do I even start from?
Like Clinton, little was known about Mensah before he stepped onto that stage, but he emerged arguably the most convincing of the quintet. From issues concerning officiating to the thorny subject of sponsorship deals, the lawyer looked hardly ruffled and held his own. He has certainly won the public over, and if nothing else mattered, he'd be king already (hello, Shatta Wale!). But, of course, Congress runs on the collective opinion of just 120 persons and a lot of politicking, which would ultimately have the biggest influence on the outcome of the elections. Mensah doesn't seem to tick that box — and it's the only reason why he probably isn't going to win. Sad, eh?
3. AMPONSAH COULD BE THE REAL DARK HORSE
In the build-up to the October 25 polls, 36-year-old Nana Yaw Amponsah has been described as a potential dark horse, and he turned up at the debate truly looking the part — black attire and all. Yet he shone as one of the brightest candidates on the evening, especially when matters of player welfare came up, bringing his decade of experience as a licensed agent to bear. Overall, it was a solid performance, one that would give frontrunners Kurt Okraku (polished and composed), Fred Pappoe (mature and even coming to poor Ms. Clinton's defence after she fumbled at yet another question), and George Afriyie (more on him later) a run for their money.
4. CAN'T WE HAVE THE WHOLE LOT?
In the end, some fared better than others, but one thing was obvious: each candidate has a plan and possesses key traits that could advance the interests of Ghana football. Put together, they'd make quite a team, so why can't we just stuff them all into that big office at the FA's Ridge Secretariat?
5. ERM, ABOUT THE OTHER GEORGE…
One George [Ankomah Mensah] covered himself in glory at the event last night, but the other — Afriyie — didn't even show up, for reasons best known to him. It's his loss, though. See, Congress might have the final say in deciding the direction in which power swings, but whoever wins would be subject to the scrutiny of public opinion, and this was a rather fine opportunity to court some goodwill. Afriyie missed it, however, and while the fate of his campaign might not necessarily be hinged on this debate, the Okyeman Planners capo's absence won't exactly count as a gain.
NY Frimpong — Daily Mail GH