Asamoah Gyan was not quite 23, but Ghanaians didn't remember. Or maybe they just didn't care, even as he was brutally bashed for being so profligate at the 2008 Africa Cup of Nations. Junior Agogo, deceased earlier this year, was the hero, as Gyan's confidence ebbed to zero.
It was hard to blame the fans, though. They had first seen Gyan turn out as a teen for the Black Stars in 2003 and, even by the time Ghana hosted the Afcon five years later, the lad had already taken in appearances at the Olympic Games and the 2006 Fifa World Cup (where he had caused quite a stir with his only goal at the finals). Here was a young striker, eager and sprightly, but something — a certain je ne sais quoi — felt missing about his output, and at the aforementioned Afcon, that deficiency was painfully evident.
Even worse, he proved emotionally immature. Gyan — with his big brother, Baffour — nearly left camp after a particularly bad day in Ghana's second group game against Namibia, and it took a call from the highest authority in the land — reportedly — to rescind that decision borne out of frustration and misery.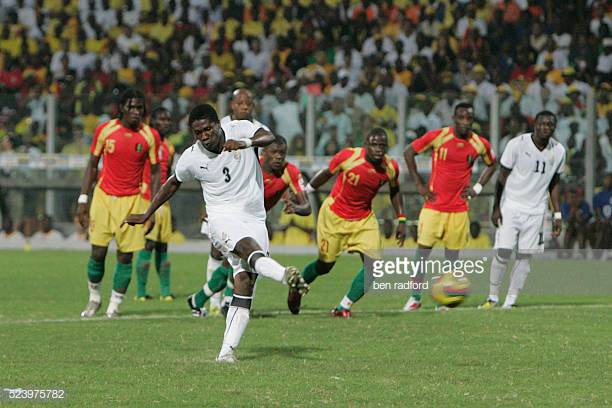 Gyan would really depart the Stars' set-up four years later in the aftermath of another Afcon that proved disappointing on a personal level, attracting a fresh wave of abuse. This time, though, he was older, wiser, and better. Ghanaians truly couldn't have cared had Gyan actually gone through with his threat of a walk-out in 2008 — so dispensable was he at the time — but few sincerely rejoiced over his 2012 exit. When he eventually returned from self-imposed exile a little over a year later, he was welcomed with an instant restoration to favor, along with the honor of a captaincy that would come to define the rest of his international career.
He was a veteran now: a star at the World Cup in 2010 where he was just a last-gasp penalty miss away from slipping Ghana into the semi-finals, and earlier that year during the Afcon as he proved the one-man fuel for Milovan Rajevac's one-goal project which nearly secured the West Africans' fifth continental title.
On his return, Gyan resumed prominence, maintaining it at the 2014 Mundial even when standards fell all around him. But then his own light dimmed afterwards, as the Stars' drowned in a torrent of cash from the Ghanaian government, of vitriol from the Ghanaian people, and of selfishness from within. Not even he, so long the poster boy of the team, could save face.
Personally, too, Gyan suffered a dip in form, mainly induced by a bout of injuries from which he hasn't really recovered since. He went months without playing [for Ghana], months without skippering. By the time the most recent Nations Cup came around, the armband had gone — to Andre Ayew, his deputy and a guy who had eyed the elastic symbol for a while.
Gyan reacted badly to that move by head coach Kwesi Appiah, the man who made him captain in the first place. In a fit of petulance, Gyan retired, but in an almost immediate show of contrition — following another presidential intervention, we heard — he returned.
Relations between Gyan (on one side) and Appiah and Ayew (on the other) were patched up — or so we thought. Gyan didn't have too many minutes at the showpiece in Egypt and — following some comments after Ghana's elimination that hardly flattered Appiah — he might not have many more in the future, especially if the gaffer is retained beyond this year.
It hurts, but Gyan is doing just fine, currently in India where he winds down the final days of a remarkable career with Northeast United — and it might not even prove the last stop for a man who has crowned some of his country's proudest moments and sunk in its most depressing depths, mastering football's grandest stages as admirably as he has in the Gulf and the Far East.
Somehow, Gyan — boasting over 200 club goals, also Ghana's all-time top goalscorer, owner of a record in international football bettered only by Cristiano Ronaldo, with as many World Cup goals as Lionel Messi (in one less tournament), and one-time conqueror of Wembley — just keeps going. Write his obituary, as some have done time and again, and he springs a Lazarus on you.
All those years ago, it felt as though Gyan — like the mythical Peter Pan — would never grow. Once he figured out how to, however, he never stopped. Today, he turns 34; yesterday he bagged four goals [in a friendly].
Need I say more?
NY Frimpong — Daily Mail GH