Dear Kotoko,
I do remember, with much vividness, the moment when I crossed that line. Hearts of Oak, your archrivals and my first love, had just won the Caf Champions League, and I was running crazy in the Bubiashie compound where I was raised.
Those were the early years of my interest in football, and I was still establishing my preferences. Hearts was, I recall, an early and easy favourite, given that I was raised in Accra, and that the capital's premier club had risen to become Africa's premier club. Their maiden continental high, secured after beating Esperance of Tunis on that December evening, brought only the third major piece of silverware won that year — a 'proper' Treble. Boy, was I enchanted by those rainbow colours and the heroes they adorned!
Not everyone was as enthused, though. Bro Kwame, a co-tenant considerably older yet so approachable that I considered him a friend and mentor (before I even knew what that term meant), was visibly irritated as I jumped around in ecstasy. With scorn in his throat, and contempt in his eyes, the middle-aged fellow — now deceased — spat out a statement that would instantly reconfigure my football tastes.
"Shame on you!" he scoffed. "An Ashanti boy supporting Hearts? Bah!"
Wait.
Now that, in some twisted sort of way, made sense — to my eight-year-old self, anyway. It flipped a switch in my head and another in my heart, and that's how my budding affection for Hearts was nipped on the club's red-letter day. Thus begun, on that very day, the beginning of my journey as a Red. It's now lasted the best part of 20 years, and taken me through the full range of emotions.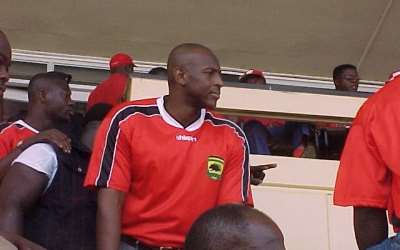 See, you offered little worth celebrating when I found you. That, I recall, was your eighth year without league glory, and there'd be two more. Hearts were winning it all, and you were hardly successful on the pitch. Off it, though, you were a trendy outfit. Herbert Mensah, that brilliant administrator who ushered you into the current century, was moulding you into Ghana's most professionally-administered club, and that was evident in quite a few ways.
You wore suits to games, and looked fashionable in them. You also introduced our landscape to the novelty of a club-owned, club-run newspaper. Kotoko were industry leaders in that sense — all about the glitz of everything else, if not the glitter of trophies. In the years that have followed, I've soared and sunk with you, felt the highs of conquests and the lows of lost finals, embracing triumph and tragedy. I've stuck with you, long after discovering just how flawed Bro. Kwame's reasoning was, and I've found less superficial reasons to stay.
I'll confess, though: you haven't made it easy, and I daresay you're a worse institution than the one I grew to love all those years ago.
Unlike in 2000, you aren't exactly a reference point for how a modern club should be run; like in 2000, you aren't winning an awful lot. Your last league title came in 2014, and while I know you wouldn't go another four years without one, that's the least of my worries. On the 85th anniversary of your founding, I find it heart-breaking that you lack structures that any decent sporting club ought to have.
You haven't lost me, no, but I'm afraid you've lost yourself. Your potential is buried under a thick debris of past glories and, right on top of that, a pile of problems that you keep heaping on yourself. Eighty-five years is the age where you take a seat, in a good ol' rocking chair, and smile at what has been achieved in a lifetime of excellence. In your own case, though, those achievements are so far behind that they hardly provide any satisfaction in the present.
It would all have been easier to take if you were willing to fix yourself, but that's not an impression I've gotten — until now, that is. There is something about your new Chief Executive Officer, Nana Yaw Amponsah, that assures me that his tenure wouldn't be a continuation of business-as-usual; that the challenges which have triggered many a jeremiad from my pen would soon be banished. This is your chance to, once and for all time, prove yourself redeemable.
Don't give up on yourself. I haven't. And, on a day like this, may you never forget that.
NY Frimpong — Daily Mail GH