Twice — in the space of four days — did Ghana's Black Meteors come agonizingly close to making a return to the Olympic Games, yet twice did the team lose out — to Ivory Coast and South Africa — on penalties.
Missing the train to Tokyo 2020 means Ghana has been at the Olympics on only two occasions since securing bronze — the continent's first-ever medals in football at the event — when the quadrennial sporting festival made a stop in Barcelona nearly three decades ago, also stretching Ghana's run of absenteeism to some 16 years. In that time, the football world has moved on in many ways. Consider just 10:
1. KUDUS MOHAMMED
One of the Black Stars' latest debutantes (and possibly the first born in the 21st Century to represent Ghana's seniors), Kudus was probably still in diapers, then a 4-year-old who had only just mastered the art of feeding himself. Or had he?
2. LIONEL MESSI
The great one hadn't yet played a competitive game for Barcelona. He was still a full-term pregnancy's length away from scoring his first goal for the Catalans — he now has 612 — and one more month from signing his first senior contract with the club.
3. CRISTIANO RONALDO
Featuring at that tournament aged just 19, not long after starring at the Euros, Ronaldo only had 13 caps and two goals for Portugal's Selecao. Today, he boasts a record 164 international games and is just shy of a landmark century of goals.
4. ASAMOAH GYAN
Also an Olympian in Athens, Gyan was the youngest member of Ghana's squad. For the senior national side, the then 18-year-old had to his name just a couple of games and two goals. Like Ronaldo, however, Gyan has now risen to claim his country's records for all-time appearances and goals: 108 and 51 respectively.
5. NINE
That many different African nations have qualified for the four subsequent Olympics (2020's included); of the ennead, Cameroon, Nigeria, Egypt, and South Africa have even managed the feat twice.
6. KWESI APPIAH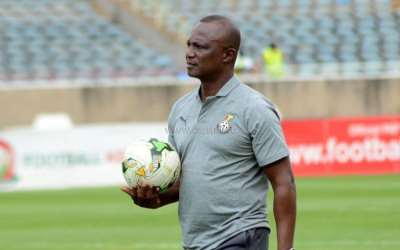 The trainer of Ghana's Black Stars hadn't begun his professional coaching career when the Black Meteors last appeared at the Olympics. However, the former Asante Kotoko left-back has since had two stints in his current role, sandwiching a spell in Sudan — and preceded by a period in charge of the Meteors themselves during which gold was secured at the 2011 African Games.
7. JOSE MOURINHO
Brashly announcing himself to English football as the 'Special One' just two months prior, following his move to Chelsea as a freshly crowned Uefa Champions League winner, Mourinho would go on to enjoy two fruitful tenures at the helm of the London outfit. Eight of the trophies in Chelsea's silverware cabinet constitute proof of his brilliance at Stamford Bridge, while he has also had title-laden years with Inter Milan, Real Madrid and Manchester United. This week, he changed clubs a fifth time since his move from Porto in 2004 – you know, when his hair was still dark and fine.
8. PEP GUARDIOLA
Pep, too, had a full head of black hair when Ghana took in its most recent outing at the Olympics. And he wasn't even a manager at the time, instead seeing out the final days of his playing career in Qatar. A move to Mexican side Dorados would follow before, another two years later, Guardiola took charge of boyhood club Barcelona to begin a sparkling managerial journey that has seen him already win 28 major titles in three countries.
9. ADRIANO
Remember him?
Oh, that troubled gem of a goalscorer who, for a little while, sparkled for Inter Milan and the Brazil national team?
The guy even the narcissistic Zlatan Ibrahimovic rates so highly?
You probably do — or don't.
Either way, Adriano — no longer active — ranked a lofty sixth for Ballon d'Or honors back in 2004, when Ukrainian Andriy Shevchenko — bossing the red half of Milan — won the award. Shevchenko himself retired in 2012, tasted politics briefly, and is now manager of his country's senior national team.
10. ER, ONE MORE THING…
So, this is not exactly football-related but, in the spirit of the Olympics, it's worth mentioning that, by 2004, a certain Usain Bolt was only making his bow at the Games and was hardly the celebrated world-beater he later became. Hey, hold on: Bolt — retired as an athlete — did pursue a football career until recently, didn't he?
NY Frimpong — Daily Mail GH