Africa has more than 30,000 confirmed cases of coronavirus, according to the World Health Organization. And while these numbers are relatively small compared to the rest of the world, the continent is not taking any chances in its fight against the virus.
Residents are creating local solutions to help curb the spread of the virus. In Nigeria, tailors are handmaking protective gear like face masks and medical overalls. And in Kenya, even though schools are closed, one woman is providing food for schoolchildren from poor families.
Now, in Ghana, a software engineering company, Cognate Systems, is using technology to track coronavirus symptoms and hotspots in the West African country.Using a platform called Opine Health Assistant, the company is able to record and track the frequency of coronavirus symptoms like a cough and high temperature in different parts of the country.
Opine Health Assistant
The Opine Health Assistant platform, launched March 26, collects information from residents about their possible coronavirus symptoms and location through a USSD short code, says Kwabena Nuamah, co-founder of Cognate Systems.
USSD is a short code used mostly by mobile telecommunications networks and mobile money service providers like banks for transactions.When you dial a number that starts with * and ends with # to top up your phone credit or make a bank transfer, you are using USSD."
To use the platform, they have to dial the short code *920*222# or *714*444# on their mobile phones and then follow the prompts to answer questions about symptoms and other risk factors," Nuamah told CNN.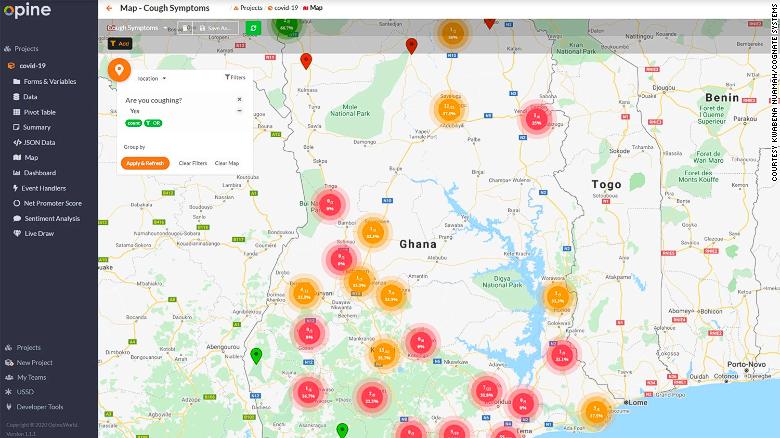 Opine Health Assistant map showing the coronavirus reported cough symptoms in Ghana
"It is free to use and users can make use of it on any type of mobile device they have, even without credit," he added.
Dialing the USSD code allows residents to fill a form with questions about their symptoms, who they have been in contact with, age-range, and travel history.
It also asks if they need essential supplies such as food and shelter in the wake of the pandemic.Nuamah, who is also an artificial intelligence researcher in the UK, says the questions are coined from the coronavirus risk factors established by the WHO and are aimed at helping the platform make sense of the symptoms reported by the public.
"When people fill the form, with the information they give us, we can analyze and predict if the person is likely to be infected by the virus. We can also use the location of those who have symptoms to predict new regions that are likely to get hit by the virus," he said.
Data collected from USSD is built into Opine Health Assistant, and information provided by the public on coronavirus is visualized on maps and graphs to make it easier to understand, monitor, and share.
Where does the data go?
According to Nuamah, the data collected will be shared with public health experts, data scientists, relief providers, and disease surveillance teams who are better suited to understand the information and can use it to provide local solutions to coronavirus.
Ghana currently hasmore than 2,000 recorded cases of the virus, and 18 deaths resulting from it, according to the WHO. Nuamah says Opine Health Assistant is helping the country predict the next possible high-risk areas for the virus, so that it is better prepared to handle the pandemic. So far, 6,000 people have used it.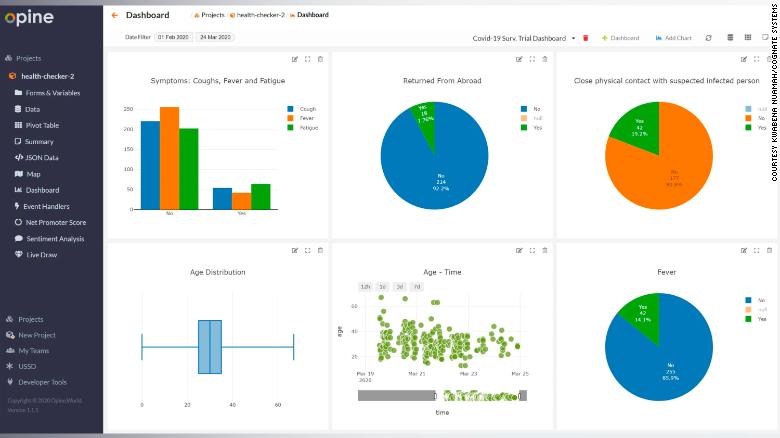 Opine Health Assistant visuals on travel history, age and coronavirus symptoms of responders in Ghana
"We have seen some patterns over the past days that we launched. We have seen that the spread of the virus in Ghana has been mostly within the Greater Accra Region and the Ashanti region," he said.
"From the data we got, we were able to see certain patterns to suggest that the eastern region would have cases of the virus next before it was reported. And almost 24 hours after predicting the spread of the virus in that region, about 16 reported cases were reported there," he added.With the tool, he said, experts and disease surveillance agencies in Ghana can start preparing to contain coronavirus before it hits a particular region.
Providing essential supplies
Opine Health Assistant also links the public with agencies and nonprofit organizations that provide essential supplies and relief materials.Part of the data collected at the point of filling the form generated by the USSD code is information on where a person lives and if they need essentials like food and shelter.
"For people who might need food or shelter, within the series of questions, there is a part that asks for their location. We pass the locations to relief providers who are in our databases like churches and NGOs," Nuamah said.
"If a person says he is in Accra, for example, and needs food. We share this information with relief providers in Accra so they can identify people in that region and match them with supplies," he added.
Nuamah says the team has been in touch with the government of Ghana and one of their goals is to get the Ghanaian government to use their platform to identify coronavirus symptoms and hotspots.
After the coronavirus pandemic, Opine Health Assistant will be used to monitor different diseases in Ghana, according to Nuamah.
"We are already thinking outside of the current pandemic. We want to, in the future, be able to give heads-up as to what type of viruses are coming from different parts of the globe. We don't want to be chasing cases after they have occurred, we want to be able to predict cases coming for different diseases."
Source: CNN