Sergio Aguero might have made the pledge, but he may as well have been speaking for everyone else on Argentina's team ahead of the 2019 Copa America that kicked off last weekend.
"I'm more anxious to be a champion for Messi than for me," he told Fox Sport Argentina.
"It's his dream and everyone's dream. I put myself in his place and I want to try to do my best for him to lift the Copa America.
"It's been a long time that he comes here and he suffers. I also suffer.
Aguero is right; Messi, his long-time friend and teammate, deserves a break from all the misery that has drenched his time with La Selección. But the Barcelona star isn't the only national icon who deserves something from a continental championship this summer; Asamoah Gyan, of Ghana, is another.
Gyan's need, in some ways, is actually greater and more pressing than Messi's. The five-time Ballon d'Or winner would likely have further chances at international success – there is another Copa America next year, for one, while he's got at least one more FIFA World Cup in him – but Gyan doesn't look like he could go beyond the 2019 Africa Cup of Nations.
He almost didn't make the trip to Egypt – first over poor form, and then over a captaincy dispute that took the highest authority in the land to resolve. But here Gyan stands, on the verge of what is almost certain to be his final international tournament for Ghana. He has already taken in nine of those, and, at this year's AFCON, he would be looking to draw level with Messi's rival, Portuguese Cristiano Ronaldo, as the only other man in history to score at 10 consecutive international tournaments.
What Gyan seeks, though, goes beyond personal acclaim. As Africa's all-time topscorer at the Mundial — also Ghana's most prolific ever, officially – he has had a fair fill of that. Goals and records are fine to rattle, but collective glory – as Messi would tell you — carries far more weight, and it is the latter that Gyan craves more than anything; Ghana, too.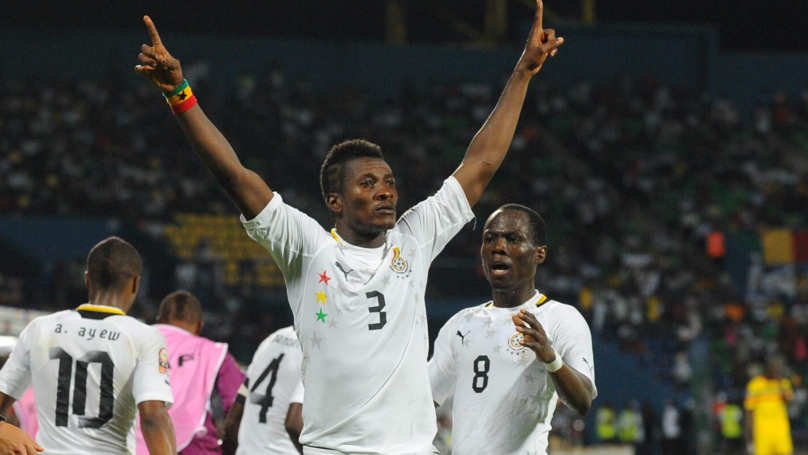 The Kayserispor man has given Ghanaians a catalogue of fond memories to last a lifetime, so often proving the man who bears the burdens of the Stars more than any of the myriad teammates he has had in a stellar 16-year international career. His goals have helped Ghana to the brink of Nations Cup triumph and a World Cup semi-final, but somehow the Stars have always come up short. It can't be due to a lack of effort and/or ambition – at least not on Gyan's part.
Still, the legacy of Ghana's best player in a generation will not be complete without silverware; numbers matter, but they never quite add up to trophies. Gyan's swansong must prove more fruitful, and, perhaps for once, he needn't drag everyone along.
Not that Gyan himself is some weary grandpa, reclining in the armchair while the young ones get the job done. Though without the armband, not exactly in form, swatting off injuries at every turn, and firmly on the wrong side of 30, Gyan remains Ghana's most reliable goalscoring option heading into the AFCON, and his big-moment mentality could see him swing yet a few more results the Stars' way at the upcoming showpiece.
Granted, his demotion to a general captaincy — coupled with regular absences from the set-up in recent outings — suggests an old general like Gyan might not be put to too much use in battle. Whether he leads the line or plays a supportive role, however, one thing is certain: Gyan needs gold more than any other member of Appiah's 23-man unit.
There is a lot said about how much players benefit from representing the national team. But it's not all about the money and racking up caps to sort out work permit issues. For all Gyan has given (a lot) and all he has suffered (even more), his colleagues owe him this service no less than Aguero and Co. do Messi. He has collected a lot of scars; it's time to get that star.
Should that prize be delivered, the privilege would be skipper Andre Ayew's to hoist, but there is no doubt which name should be all over the trophy: Gyan.
Sammie Frimpong — Daily Mail GH