Ghana's economy expanded at the fastest pace in more than a year in the third quarter, buoyed by growth in the services industry as schools that were forced to close last year because of the coronavirus pandemic reopened.
Gross domestic product expanded 6.6% in the three months through September from a year earlier, Government Statistician Samuel Kobina Annim told reporters Wednesday in the town of Winneba, about 80 kilometers (50 miles) west of the capital. That compares with a revised expansion of 5.1% in the second quarter and is well above the median estimate of five economists in a Bloomberg survey for growth of 3.5%.
The fastest expansion since the first quarter of 2020, in addition to upward revisions to data from the first two quarters of the year, suggest Ghana will achieve the Treasury's annual growth target of 4.4%. Still, Ghana's government, which is battling with high borrowing costs, is projecting a budget deficit of 12.1% of GDP this year. A push to raise as much as 6.9 billion cedis ($1.12 billion) in tax revenues through the introduction of a new levy on mobile-money transactions has faced pushback in parliament.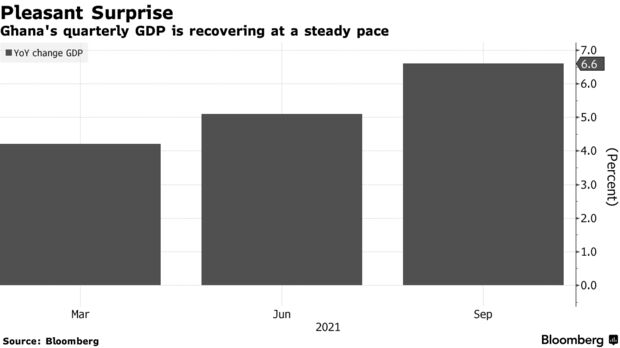 "Despite the better-than-expected growth, we still have concerns about Ghana's debt sustainability," Kevin Daly, investment director at Aberdeen Standard Investments, said in a text response to questions. "They have no access to the Eurobond market and local bonds are not appealing either given the risk of further currency weakness."
The cedi has depreciated 5.2% this year against the U.S. dollar, trading at 6.1863 per dollar by market close on Tuesday, the weakest since 1994 when Bloomberg started compiling the data. The yield on Ghana dollar bond maturing in 2032 eased marginally after the release to 11.4015% at 1:20 p.m. in Accra. 
The services sector expanded 13.4% in the quarter, with the education subsector expanding 24.2% after children returned to school. The government halted all in-person learning in March 2020, and only began reopening schools in January.
The agricultural sector grew 9.2%, led by fishing, which expanded 14.3%. Quarter-on-quarter overall GDP expanded 1.6%.
Source: Bloomberg