A letter dispatched by the Supreme Ruler of Mamprugu— the Nayiri, Naa Bohugu Mahama Abdulai Sheriga— in reply to a petition written by the Paramount Chief of the Talensi Traditional Area— the Tongraan, Naab Kugbilsong Nanlebegtang— has come to light.
The Nayiri, who installed the Tongraan as chief in 2015, says the Tongraan's petition "contains some misinformation which is likely to mislead the public" about the Namoalug Skin, a divisional jurisdiction in the Talensi District, and has replied strongly to "set the records straight".
The Elders of the Mamprugu Traditional Council are openly unhappy with the Tongraan in relation to his petition and a letter he also wrote challenging the authority of the Mamprugu's Crowned Head (the Nayiri) at the Upper East Regional House of Chiefs with regard to the Namoalug Skin. A meeting is said to have been scheduled at Nalerigu, Mamprugu's Seat of Power, for this week on the "disturbing" development.
Below are detached copies of the Tongraan's petition and the Nayiri's reply letter: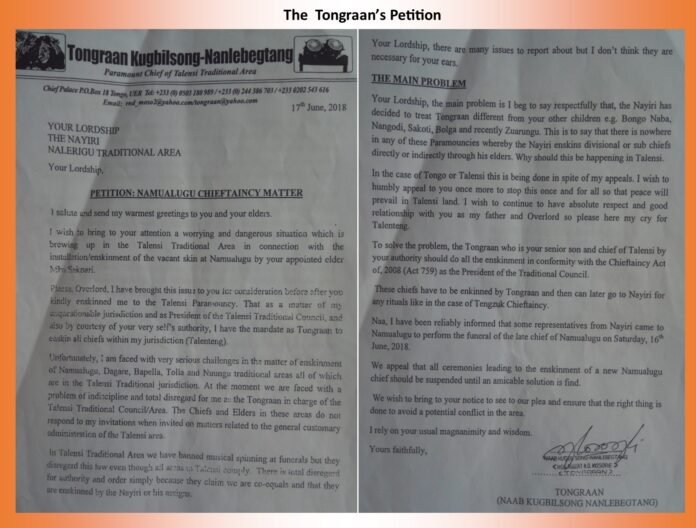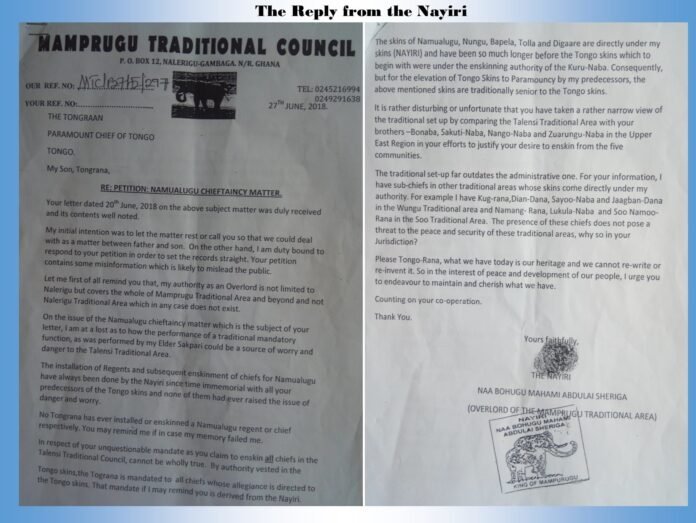 By Edward Adeti, Upper East region, Daily Mail GH