Someday, some generation would hail Mohamed Salah as the greatest Egyptian footballer of all time.
They'd speak of Salah more glowingly than they would of earlier, latter-day Pharaohs: of Mahmoud El-Gohary and Mahmoud El-Khatib, of Ahmed Hassan and Hossam Hassan, of Mohamed Aboutrika and Essam El-Hadary.
They'd tell tales of how Salah became Egyptian football's biggest export, of how he won more African Footballer of the Year prizes than any countryman before him, of how he broke records in the world's biggest league, of how he became the first of his people to win the UEFA Champions League, and of how he scored Egypt's first goals at the FIFA World Cup in three decades even with a bad shoulder — after first getting his country there.
That generation could be ours, if Salah checks one of the few empty boxes remaining on Egypt's 'GOAT' application form: winning the Africa Cup of Nations.
No side has triumphed at the continental showpiece more often than Egypt has; from El-Gohary to El-Hadary, they have all done it — some more than once.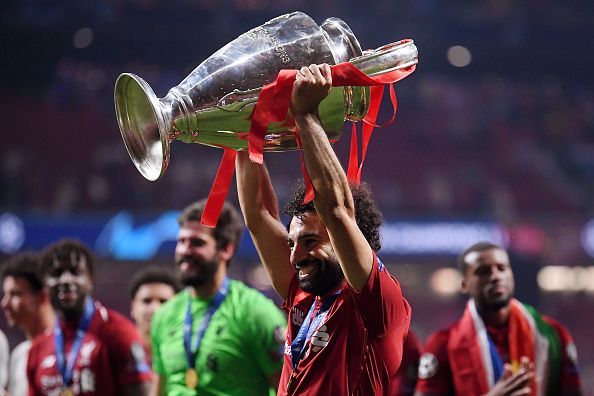 But Salah hasn't, and that is something he would have to set right to gain full admission into the Egyptian pantheon of greats, possibly claiming the grandest of thrones. To be fair, he has not had many chances to do so, having participated in only one AFCON thus far in his young international career. That came two years ago, when Egypt made an appearance at the tournament following a three-edition absence.
There, in Gabon, he led a campaign that saw Egypt narrowly miss out on glory, courtesy a 2-1 loss to Cameroon in the final. Salah was good at the time, but given all he has achieved since then, he is unarguably a better footballer now — the sort who can bear the burden of his country's host-and-win ambitions (on two good shoulders, this time) at the Nations Cup which kicks off in Cairo later this month.
Salah's European triumph with Liverpool in the season just concluded is his greatest feat yet, and, with the winner of the Ballon d'Or — the game's highest individual laurel — picked from a Champions League-winning team since 2014, there is belief that Salah could be the man this year.
Jose Mourinho, one of Salah's former managers, is of the conviction that the fuzzy-haired genius could strengthen his claim for said award with further success at the AFCON.
"Salah has to win the Africa Cup of Nations if he wants to compete for the Ballon d'Or," Mourinho told beIN Sports.
"The tournament is taking place in Egypt, which makes it a demand that has to be achieved."
Mourinho is right: Salah couldn't be too far from adding that coveted gleaming ball to his rapidly expanding haul of silverware. Still, the Ballon d'Or is an award that does not rank very high on an African footballer's to-win list (none has won it since George Weah in 1995).
Being 'Egyptian king', though?
Well, that is far more attainable for Salah. Liverpool fans sing it loudly enough in the Kop's most popular song, after all, and the player himself isn't shy about the prospect.
"I have always followed my way, and I want everyone in Egypt to follow my way," he said, after picking up the first of two BBC African Footballer of the Year gongs in his collection.
"Since I left Egypt, in my mind, I want to be the best Egyptian ever. I work hard and try to be different from them."
That was only two years ago, right at the dawn of Salah's rise to prominence. This summer, with conquest at the AFCON in his homeland, that coronation could take place.
Sammie Frimpong — Daily Mail GH