At least two persons have been arrested in connection with the demolition of a building on the premises of the Nigeria High Commissioner in Accra.
According to the Police CID, the two were picked up on Monday, June 22, 2020 after the weekend demolition.
A statement from the police said the duo have been charged with conspiracy to commit crime – Unlawful Entry and Causing Unlawful Damage.
"The Criminal Investigations Department in the course of investigation on Monday 22nd June 2020, arrested two persons involved in the demolition of a building on the premises of the Nigerian High Commission in Accra."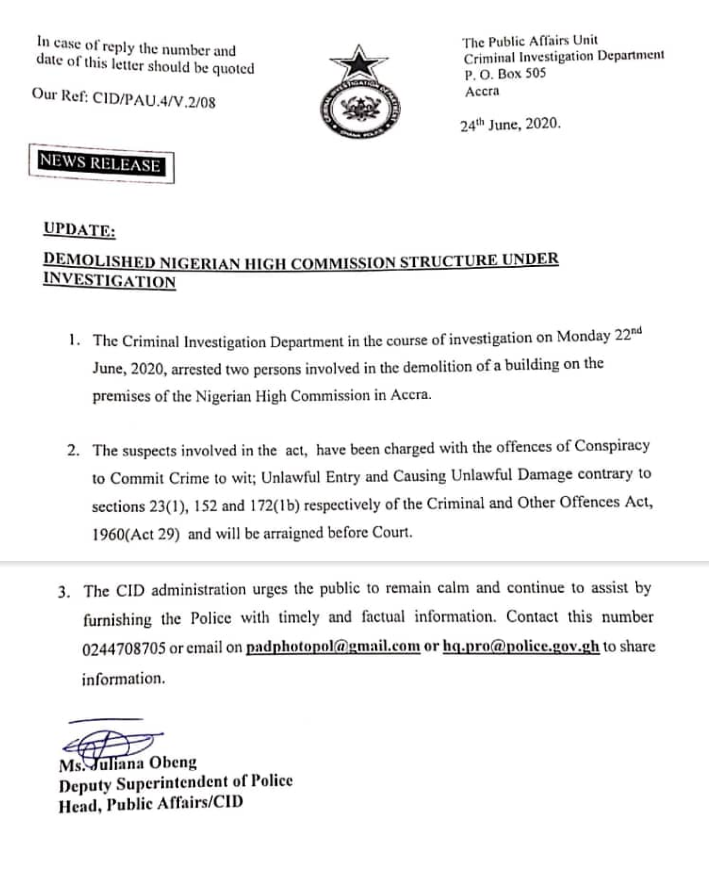 The arrest comes after a building under construction which is said to belong to the Nigeria High Commission in Accra was reported to have been demolished by some armed men on Saturday, June 20, 2020.
The Paramount Chief of the Osu Traditional Area Nii Okwei Kinka Dowuna VI refuted the claim that a building demolished at West Ridge in Accra over the weekend was situated in the Nigerian High Commission.
According to him, it was on a piece of land belonging to the Osu stool which the high commission had trespassed upon and that there had never been a purchase of any tract of land from it by the Commission.
"The said parcel of land belongs to the Osu stool and is to be used for purposes only agreed upon by the stool and its council of elders", a statement he issued in Accra on Sunday said.
Akufo-Addo apologises
Meanwhile, president Akufo-Addo has apologised to his Nigerian counterpart Muhammadu Buhari over the incident.
The Presidency of Nigeria stated President Akufo-Addo in a telephone call told the Federal government "that he has directed full investigation into the incident."
Akufo-Addo said some suspects have been arrested and arraigned before court.
"Earlier in the day, it further emerged that some suspects had been arrested, and will be arraigned in court," the release signed by Garba Shehu, Senior Special Assistant to the President read further.
Source: Daily Mail GH